At Friday night's NBA game between the Brooklyn Nets and the Toronto Raptors, 300 Chinese pro-democracy activists appeared in masks and shirts reading "Stand With Hong Kong."
Friday evening, journalist Yashar Ali shared a thread on Twitter, complete with pictures, of the protest.
"Producer and activist Andrew Duncan bought 300 tickets to tonight's Nets vs Raptors game and is hosting hundreds of Chinese pro-Democracy activists to protest the NBA. They're all wearing 'Stand With Hong Kong' t-shirts," Ali tweeted.
Nathan Law, a Hong Kong politician and activist, was also at the game, sporting one of the shirts. Law is the former chairman of pro-democracy political party, Demosisto, which he co-founded with activist Joshua Wong. Both Law and Wong were jailed last year on a six-to-eight month sentence for an illegal protest, but were released on bail after a few months.
Ali also shared a picture of protesters who brought their own outfits—namely Winnie-the-Pooh costumes. The beloved cartoon bear is banned in China, as Pooh has become a symbol to mock Chinese President Xi Jinping.
The protest at the Nets vs. Raptors game is a response to a recent controversy when, in an attempt to appease China, the NBA distanced itself from tweets by Houston Rockets general manager Daryl Morey. In a now-deleted tweet, Morey shared an image reading "Fight for Freedom. Stand with Hong Kong." In response, China said it would no longer sell Rockets merchandise or broadcast Rockets games.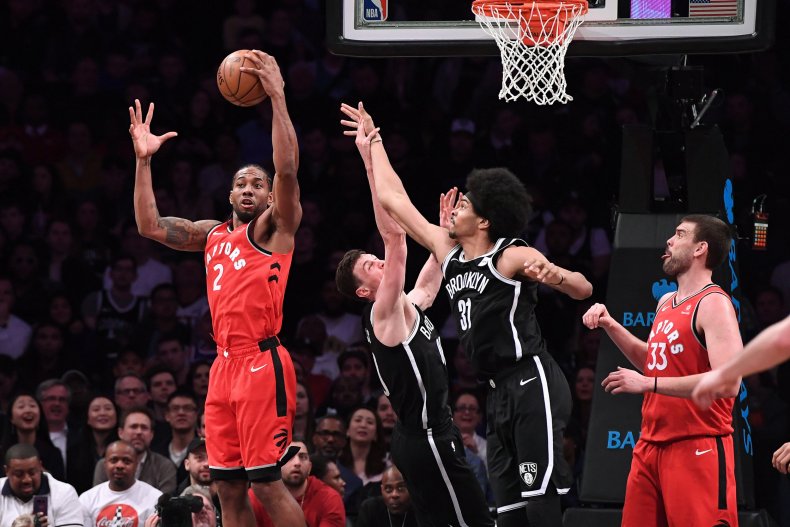 Though many politicians, including Republican Sen. Ted Cruz of Texas and Democratic Rep. Alexandria Ocasio-Cortez of New York condemned the NBA's actions, the organization came under fire again shortly afterward for an incident where two fans were kicked out for holding"Free Hong Kong" signs.
Sam Wachs and his wife attended a preseason game in Philadelphia between the Philadelphia 76ers and the Guangzhou Loong-Lions. Their signs were confiscated by security, and the couple was kicked out of the arena for yelling "Free Hong Kong" during the second quarter.
It's not just physical sports organizations that have caused controversy for appearing to support China. Video game publisher Blizzard recently banned professional eSports player Ng "Blitzchung" Wai Chung for wearing a gas mask and goggles and saying "Liberate Hong Kong" in Chinese during a Hearthstone Grandmasters championship live stream.
Blizzard originally announced Blitzchung had been banned from the game for a year and would not be paid money he had won in the tournament, the company reduced his punishment to six months' banning. Blizzard also announced he would receive his winnings. However, the controversy didn't evaporate, as other live-streamers were punished for lending their support to Hong Kong protesters.
About the writer
Matt Keeley is a Newsweek editor based in Seattle. His focus is reporting on trends and internet culture. He has covered internet history and popular culture extensively. Matt joined Newsweek in 2019 from Hornet Stories and had previously worked at Westwood One. He is a graduate of Pacific Lutheran University. You can get in touch with Matt by emailing m.keeley@newsweek.com. Languages: English.