'Hearthstone' Pro Blitzchung Believes He Was Banned Over 'Pressure From China,' Says He'll 'Probably' Quit Game
It's been four days since Ng "Blitzchung" Wai Chung appeared on the Hearthstone Grandmasters stream to lend his voice to the Hong Kong protest movement. Appearing in a gas mask and goggles, the pro player said "Liberate Hong Kong" in Chinese while the casters ducked underneath their desks before the stream was able to cut him off.
The next day, the publisher of Hearthstone who funds the tournament, Blizzard Entertainment, announced that Wai Chung would be banned from Grandmasters play for a year, would have his winnings confiscated and the casters would be fired.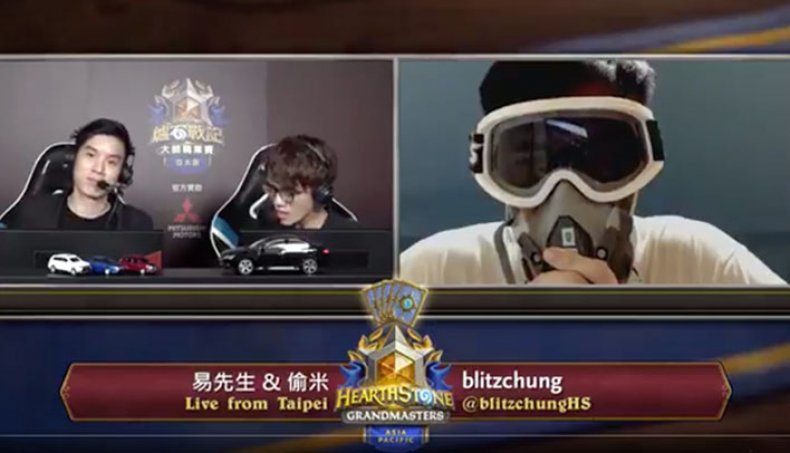 "I feel like the punishment for me is too harsh," Wai Chung told Newsweek. "I believe they ban me because of the pressure from China." He feels "sorry" for Virtual and Mr.Yee, the two Taiwanese casters who lost their jobs who lost their livelihoods and potential careers. According to a PC Gamer interview, around "50 percent" of Virtual's income comes from casting Asian Hearthstone events.
Blizzard's heavy ban of the player sent shockwaves through the internet, sparking unease and anger from gamers and onlookers alike. As "#BoycottBlizzard" trended on Twitter, renditions of Overwatch's Chinese hero Mei drawn to support the Hong Kong protests received hundreds of thousands of upvotes on the Hong Kong, Overwatch and gaming reddits.
After his ban was handed down, Wai chung said he was "having a hard time" but "feels much better after knowing the amount of people supporting me right now." Starting this week with only 400 Twitter followers, his account has quickly grown to over 12,000 and he's been bombarded with media outlets reaching out to him.
Members of the Hearthstone community have lent their support, including three players at American University who held up a "Free Hong Kong, Boycott Blizzard" during a streamed college tournament. A video clip went viral showing the sign briefly during the stream, followed by Blizzard quickly cutting away to the other team.
Popular English casters Brian Kibler and Nathan "Admirable" Zamora announced they will no longer be casting any Grandmasters games as well as the finals at Blizzcon in a sign of solidarity. Wai Chung says he "really appreciates and feels proud of their decision."
Going forward, Wai Chung has no "future plans" except to "travel somewhere and take a rest." He will "probably" give up Hearthstone unless Blizzard "reconsiders their ban" on him, spending those hours he would have spent practicing for the Grandmasters tournament figuring out his next step.