41 Percent of Republicans Are Unconcerned With Violence Before Biden Inauguration: Poll
As law enforcement agencies prepare for possible violence leading up to the January 20 inauguration of President-elect Joe Biden, a new poll has found that 41 percent of Republicans are unconcerned about such violence. Only 17 percent of Democrats feel unconcerned.
The poll, conducted between January 8 and 11 by the Washington, D.C. newspaper The Hill and the market research company HarrisX, asked 2,854 registered voters whether they were concerned about possible violence before Biden's inauguration.
While 73 percent of all respondents said that they felt very or somewhat concerned, 27 percent said they felt not very or not at all concerned. The poll also found that 76 percent of women were concerned, compared to 71 percent men. Black, Hispanic and Asian respondents were anywhere from 5 to 11 percent more concerned about violence than the 71 percent of white respondents who felt the same way.
The poll has a margin of error of plus or minus 1.8 percentage points.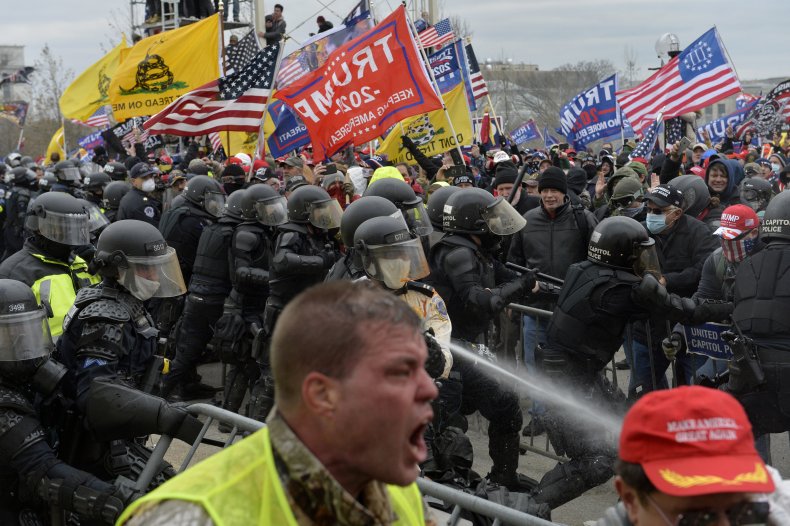 Concerns about violence leading up to Biden's inauguration have steadily risen as President Donald Trump has continued to make widely disproven claims that Biden stole the election through an unprecedented national campaign of massive voter fraud.
Trump repeated these claims at a January 6 "Stop the Steal" rally after which his supporters began an insurrection at the Capitol to stop Congress from certifying Biden's victory. Five people died during the insurrection and at least 50 police officers were injured.
FBI Director Chris Wray has said the FBI is seeing an "extensive amount of concerning online chatter" about potentially violent events surrounding the inauguration.
As a result, security officials in Washington D.C. are prohibiting any public access to the inauguration. The National Mall will be closed through January 21 and over 20,000 National Guard troops will be on patrol in the area.
Numerous states have begun closing their capitol buildings in advance of nationwide inauguration protests which are expected to occur this weekend to next weekend.
Since the insurrection, Democratic House members have said that they feel unsafe around Republican colleagues who may have had sympathies with insurrectionists. Federal authorities are investigating claims that Republican legislators gave insurrectionists tours of the Capitol building the day before the riots.
National security experts have told Newsweek that far-right militias pose the greatest threat to American safety rather than foreign terrorists.
"Al-Qaeda and ISIS have not gone away, and tremendous resources have been devoted to combating them. But look at where we are: there are more troops today in Washington, D.C. than in Iraq and Afghanistan combined. That says a lot about where the gravest threats lie right now," Richard Fontaine, chief executive officer of the Center for a New American Security think tank, told Newsweek.
Newsweek contacted the FBI for comment.