Freshman Dem Introduces House Resolution Banning Donald Trump From U.S. Capitol Complex
Newly elected Democratic Georgia Representative Nikema Williams has introduced a resolution that would prohibit President Donald Trump from entering the U.S. Capitol at any time after the expiration of his term as president, essentially banning and blocking him from the federal building.
The entirety of the resolution reads, "The Sergeant at Arms of the House of Representatives, the Sergeant at Arms and Doorkeeper of the Senate, and the United States Capitol Police shall take such actions as may be necessary to prohibit President Donald John Trump from entering the United States Capitol at any time after the expiration of his term as President."
Williams' bill came the day after Trump was impeached by the U.S. House of Representatives—including all House Democrats and 10 House Republicans—on for "incitement of insurrection."
Those who impeached Trump said that he incited the January 6 riot on the Capitol after leading an afternoon "Stop the Steal" rally in which he repeated his disproven claim that Democrats had used a nationwide voter fraud conspiracy to steal the election for President-elect Joe Biden.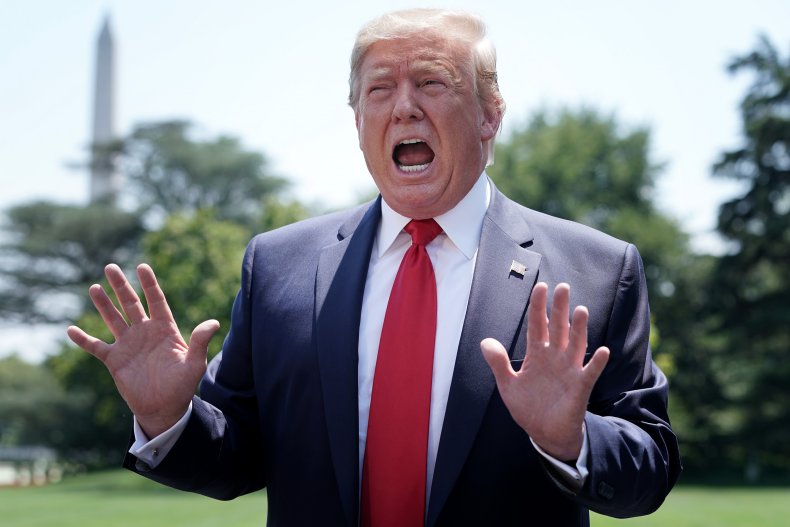 At the January 6 rally, Trump baselessly claimed that he won the election "by a landslide" even though Biden won by over 7 million popular votes. Trump then encouraged his followers to march to the Capitol.
"We will never concede, it doesn't happen. You don't concede when there's theft involved," Trump told his supporters at the rally. "We fight like Hell and if you don't fight like Hell, you're not going to have a country anymore." He has since called his comments "totally appropriate."
Five people died in the subsequent riot, including an insurrectionist shot in the neck as she tried to enter the House antechamber, a woman trampled to death by fellow Trump supporters and a police officer that insurrectionists beat to death with a fire extinguisher. Trump supporters also stole computer equipment, potentially constituting a national security breach.
Since the insurrection, Democratic House members have said that they feel unsafe around Republican colleagues who may have had sympathies with insurrectionists who sought to stop Biden from becoming president. This includes the 138 House Republicans who voted on January 6 against certifying Biden's Electoral College victory.
On Tuesday, the House had metal detectors installed, but Republicans have been walking past them and ignoring guards stationed at them. On Wednesday, Democratic House Speaker Nancy Pelosi said any politicians who do such things will be fined $5,000 or more.
Democratic Congresswoman Alexandria Ocasio-Cortez of New York said that the metal detectors feel necessary considering the fact that Republican Representative Lauren Boebert of Colorado had once pledged to carry a firearm in the Capitol, something disallowed by federal rules. Ocasio-Cortez said that Republican Congresswoman Marjorie Taylor Greene of Georgia had posted a September 2020 Facebook ad in which Greene threatened to shoot Ocasio-Cortez and other progressive female legislators of color.
On Wednesday, Democratic Representative Mikie Sherrill of New Jersey said she witnessed Republican lawmakers giving soon-to-be right-win insurrectionists a tour of the Capitol building a day before they infiltrated the building to threaten legislators.
Newsweek contacted Williams' office for comment.