From Rihanna to Cardi B, Here Are 5 Times ASL Interpreters Stole the Show
Sign language interpreters are becoming increasingly common at musical events, from the Super Bowl halftime show to high-profile festivals and world tours.
Making festivals and concerts more accessible for fans with hearing loss, American Sign Language (ASL) interpreters provide an added element to some of the biggest shows around.
The best part? Interpretations of their performances can truly vary. Because no two deaf music lovers are alike, interpreters spend time planning their own performances to a tee.
ASL interpreter Justina Miles went viral on Super Bowl Sunday 2023 after fans noticed her passionate signing during Rihanna's massive halftime show. Not only was Miles interpreting every lyric perfectly throughout, but viewers at home could see her getting down to the music, too.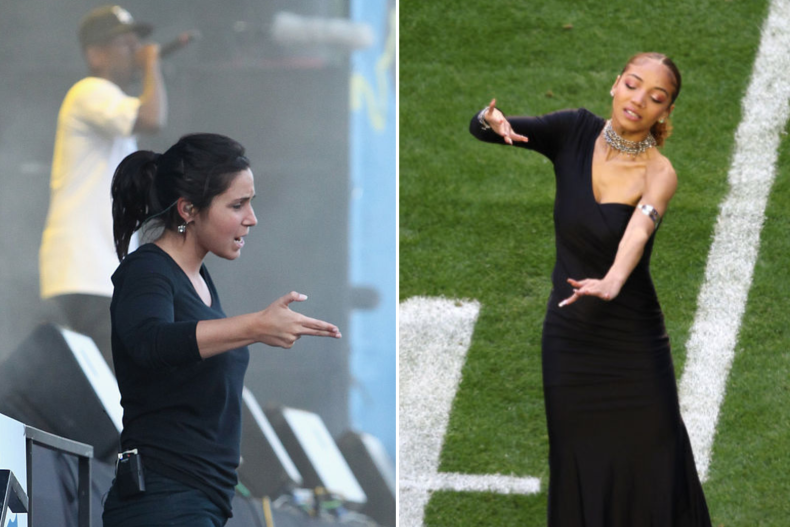 Inspired by Miles, we've rounded up three performances across the industry where ASL interpreters stole the show from the artists onstage:
1. Eminem at the Firefly Festival
Famed for his fast-moving bars, Eminem's lyrics present a unique challenge for ASL interpreters.
Performing his track "Rap God" at the Firefly Festival in 2018, Eminem was accompanied by an ASL performer who didn't miss a beat.
Holly Maniatty has worked alongside Snoop Dogg, Jay-Z, Wu-Tang Clan and the Beastie Boys and gained viral attention when she signed "Rap God" at lightning speed.
2. National Anthem at the 2021 Super Bowl
Warren "WaWa" Snipe wowed the world in 2021 when he performed an ASL interpretation of "The Star-Spangled Banner" during Super Bowl LV.
With an infectious smile on his face, Snipe signed the lyrics to the national anthem while Jazmine Sullivan and Eric Church belted out the song at Raymond James Stadium in Tampa, Florida.
3. Cardi B and Megan Thee Stallion at Lollapalooza
The smash hit "WAP" was given a stand-out ASL interpretation in 2021 when Cardi B and Megan Thee Stallion performed it at the Chicago festival.
One fan at Lollapalooza captured the very animated performance on camera and praised the interpreter, Kelly Kurdi's moves on Tiktok.
Kurdi received widespread attention for her "WAP" performance, which saw more than 10 million views on TikTok alone.
4. "Baby Got Back" on the New Kids On The Block Cruise
Kurdi isn't just known for her stellar ASL "WAP" interpretation. She also brought the house down with a stand-out rendition of Sir Mix-a-Lot's hit "Baby Got Back" on the New Kids on the Block cruise.
A TikTok video of the performance was shared on the platform on Sunday, while a tweet referencing another performance by Kurdi was shared in 2018.
The poster on TikTok, ChristinaWrites, said that she "couldn't stop watching" the impressive performance.
5. Rihanna's 2023 Super Bowl halftime show
Rihanna turned heads during her 2023 super bowl halftime show, but so did ASL interpreter Justina Miles, who was tasked with interpreting RiRi's hits while the world watched.
"Justina Miles stole the show as Rihanna's Super Bowl halftime show ASL performer," said Alejandro Roark on Twitter, sharing a video of the 20-year-old's performance.
Miles also signed "Lift Every Voice and Sing" as Abbott Elementary star Sheryl Lee Ralph sang. The national anthem, sung by country star Chris Stapleton, was performed in ASL by Oscar-winning CODA actor Troy Kotsur.