50 Photos of American Life in 2020
It would be disingenuous to say 2020 started out like any other year.
In January, the U.S. was mired in impeachment proceedings of a sitting president. Tensions with Iran were on the rise, nine people including basketball star Kobe Bryant were killed in a helicopter crash, a U.S. military base was attacked near Baghdad, and, on Jan. 21, the first case of a mysterious virus was reported in the United States.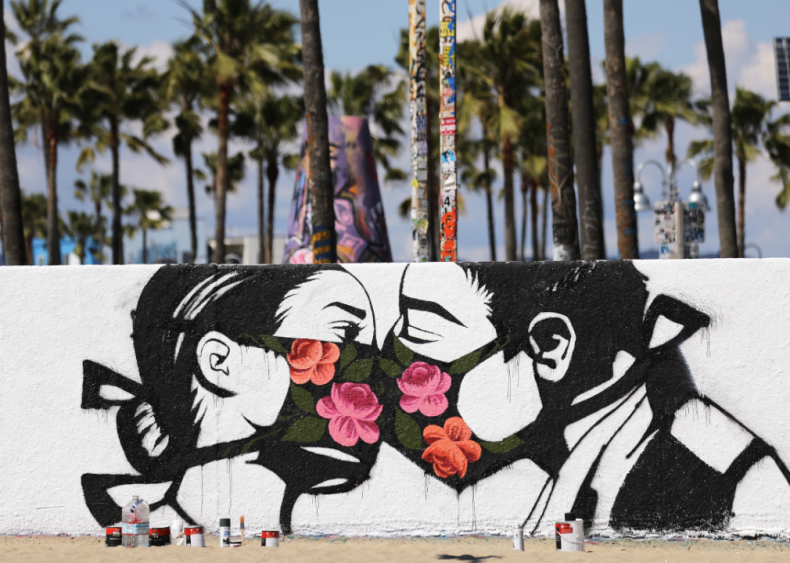 As the months unfolded and the coronavirus spread, businesses shuttered, the economy tanked, and the death toll around the world rose. By Oct. 19, cases had reached 8.19 million in the United States with more than 220,000 deaths from the virus, according to Johns Hopkins University. Virtually all parts of everyday life have changed, from how we socialize and study to how we shop and eat. A new normal has emerged; one featuring social distancing, facial coverings, and an ongoing sense of uncertainty about where we are headed.
To reflect on the utter transcendence of 2020, Stacker compiled 50 photos of American life this year. From hallowed moments to images of perseverance and celebration, keep reading to see just some of all that's happened so far this year.
You may also like: 50 images of parenthood in the animal kingdom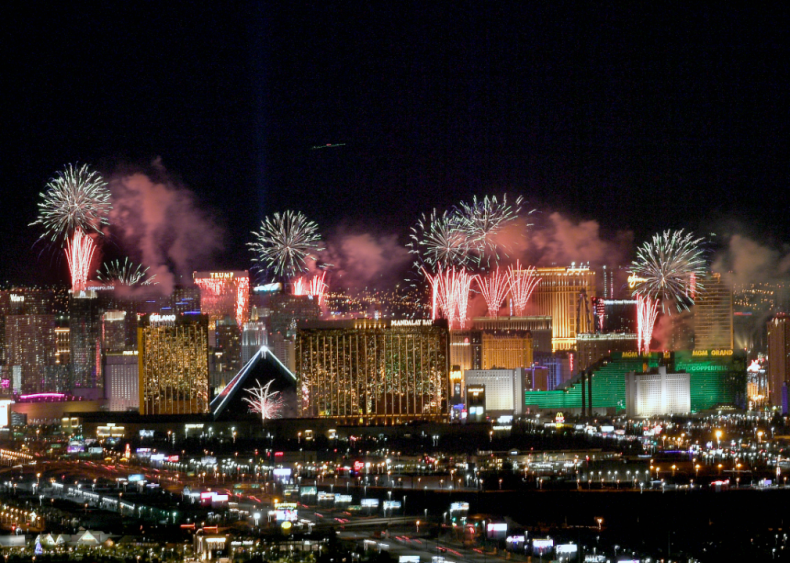 Jan. 1: New Year's Eve celebrations in Las Vegas
Fireworks illuminate the skyline over the Las Vegas Strip during "America's Party 2020," an eight-minute pyrotechnics show by Fireworks from Grucci. About 400,000 visitors gathered to watch more than 80,000 fireworks shoot from the rooftops of seven hotel-casinos to welcome the new year.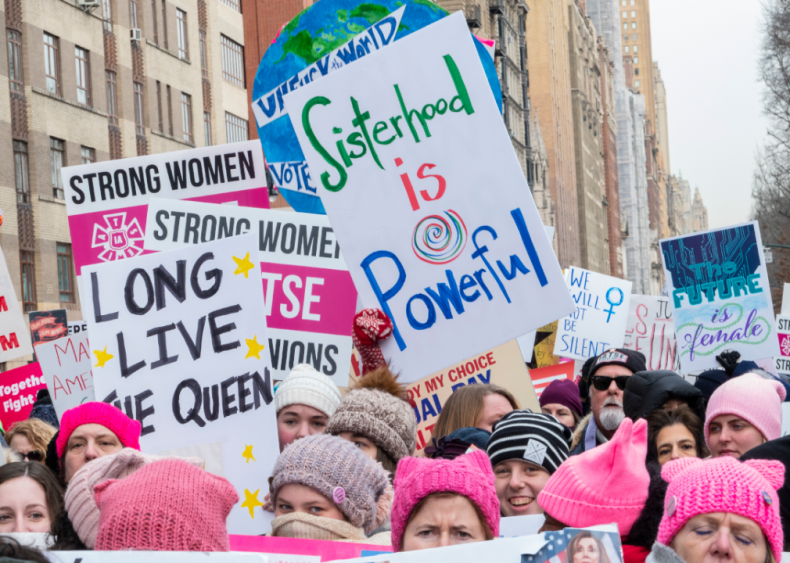 Jan. 18: Fourth Annual Women's March
The Fourth Annual Women's March gathers at Columbus Circle in New York City. Marches were scheduled in more than 180 cities for the annual event.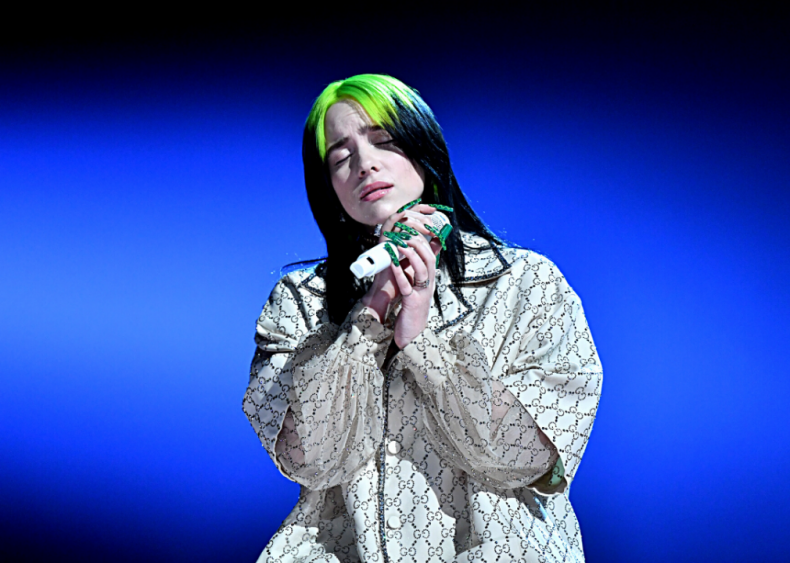 Jan. 26: Grammy Awards
Billie Eilish performs onstage during the 62nd Annual Grammy Awards at Staples Center in Los Angeles.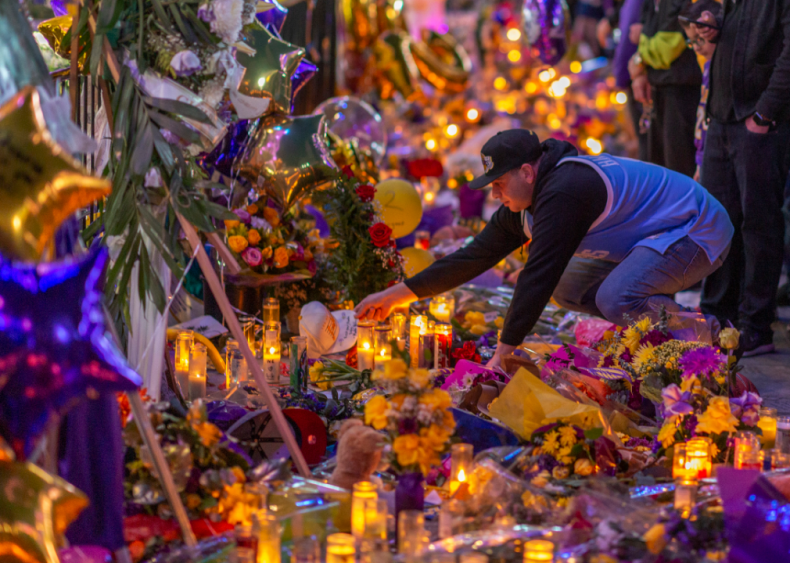 Jan. 28: Kobe Bryant memorial
A man places a hat at a makeshift memorial near the Staples Center in Los Angeles in memory of former NBA great Kobe Bryant who, along with his 13-year-old daughter Gianna and seven others, died Jan. 26 in a helicopter crash in Calabasas, California. The plane was en route to Bryant's Mamba Sports Academy in Thousand Oaks, where he was going to coach Gianna in a tournament game.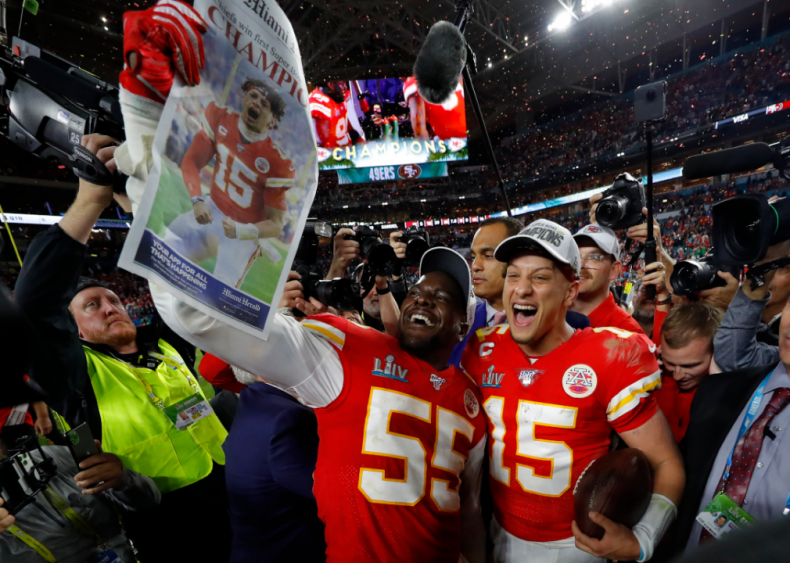 Feb. 2: Super Bowl LIV
Kansas City Chiefs Frank Clark, #55, and Patrick Mahomes, #15, celebrate after defeating the San Francisco 49ers by 31-20 in Super Bowl LIV at Hard Rock Stadium in Miami.
You may also like: Scientific breakthroughs from the year you were born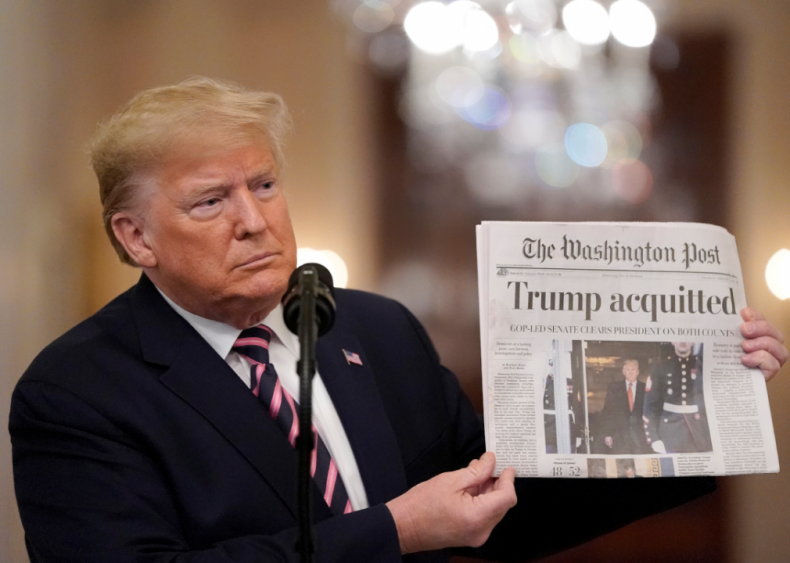 Feb. 6: President Trump acquitted
President Donald Trump holds a copy of the Washington Post as he speaks in the East Room of the White House one day after the U.S. Senate acquitted on two articles of impeachment. After five months of congressional hearings and investigations about President Trump's dealings with Ukraine, the Senate formally acquitted the president of charges that he abused his power and obstructed Congress.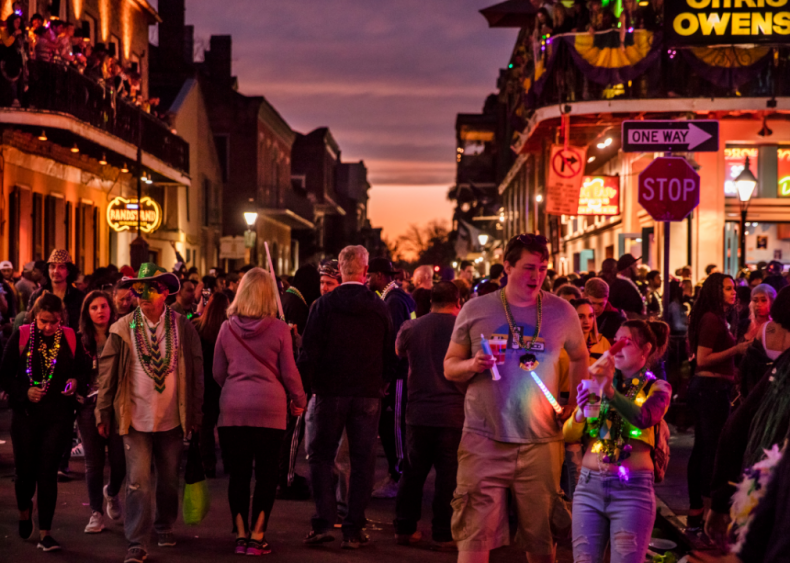 Feb. 25: Mardi Gras in New Orleans
Partying on Bourbon Street during the evening of Mardi Gras on Feb. 25 in New Orleans. Mardi Gras is the biggest celebration the city of New Orleans hosts every year. The magnificent, costumed, beaded, and feathered party is laced with tradition and having a good time. Celebrations are concentrated for about two weeks before and culminate on Fat Tuesday (the day before Ash Wednesday and Lent).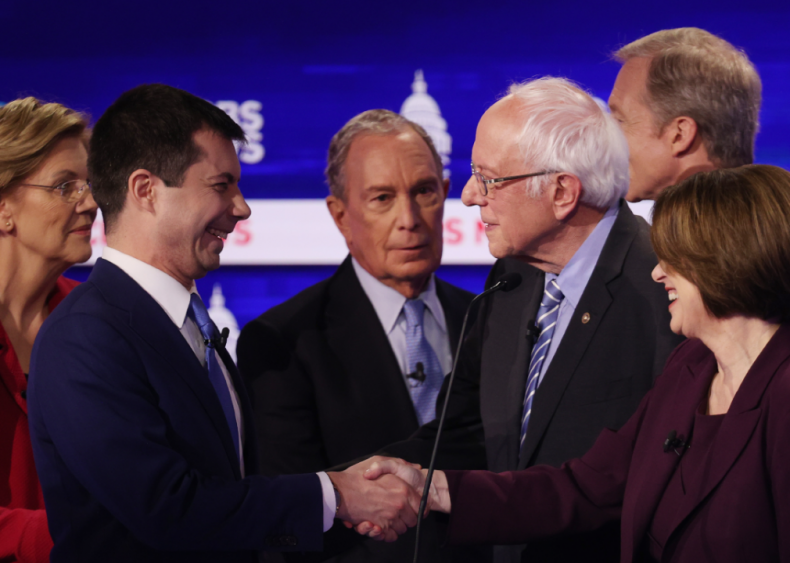 Feb. 25: Democratic primary debates
Democratic presidential candidates Sen. Elizabeth Warren (D-MA), former South Bend, Indiana, Mayor Pete Buttigieg, former New York City Mayor Mike Bloomberg, Sen. Bernie Sanders (I-VT), Sen. Amy Klobuchar (D-MN), and Tom Steyer speak after the Democratic presidential primary debate at the Charleston Gaillard Center in Charleston, South Carolina. Seven candidates qualified for the debate, hosted by CBS News and Congressional Black Caucus Institute, ahead of South Carolina's primary four days following.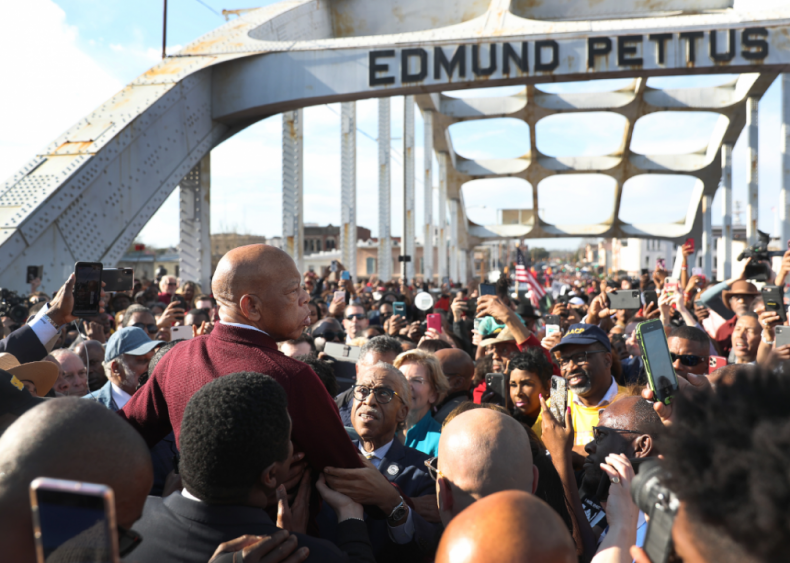 March 1: Selma's Bloody Sunday Anniversary
Rep. John Lewis (D-GA) speaks to the crowd at the Edmund Pettus Bridge crossing reenactment marking the 55th anniversary of Selma's Bloody Sunday in Selma, Alabama. Lewis marched for civil rights across the bridge 55 years ago. Some of the 2020 Democratic presidential candidates attended the Selma bridge crossing jubilee ahead of Super Tuesday.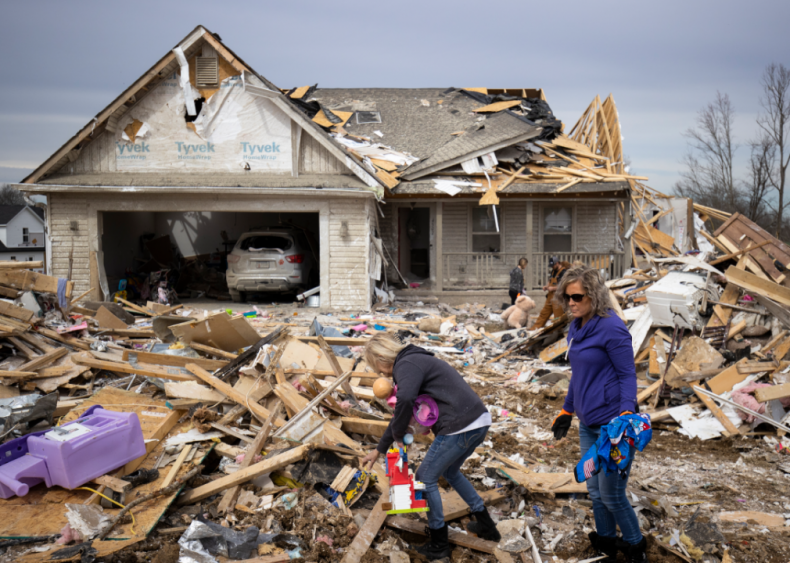 March 4: Tornado outbreak in Tennessee
Families sort through tornado debris to gather possessions in Cookeville, Tennessee. A tornado passed through the Nashville area early Tuesday morning which left Putnam County with 18 killed and 38 unaccounted for.
You may also like: Could you pass the U.S. citizenship test?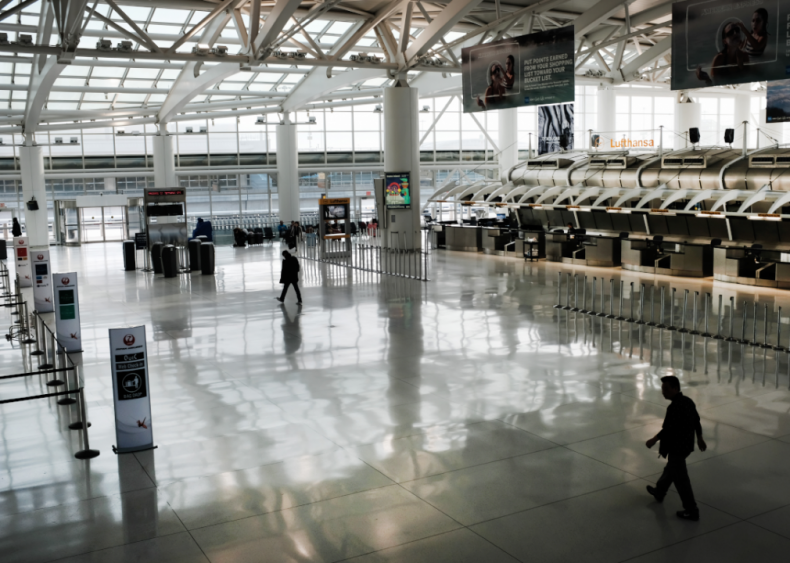 March 7 international travel disrupted
People walk through a sparse international departure terminal at John F. Kennedy Airport in New York City as concern over the coronavirus grows. The number of global coronavirus infections at that point had surpassed 100,000, causing disruptions throughout the globe. The airline and travel industries were hit especially hard by the outbreak, with business and leisure travelers canceling plans.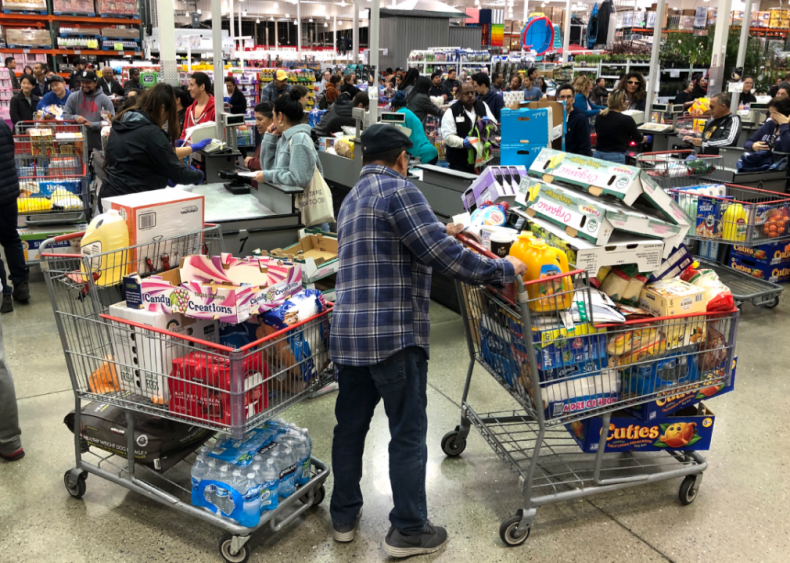 March 13: Stocking up on food and toilet paper
A customer stands by his two shopping carts at Costco in Richmond, California. Many Americans stocked up on food, toilet paper, water, and other items after the World Health Organization declared COVID-19 a pandemic.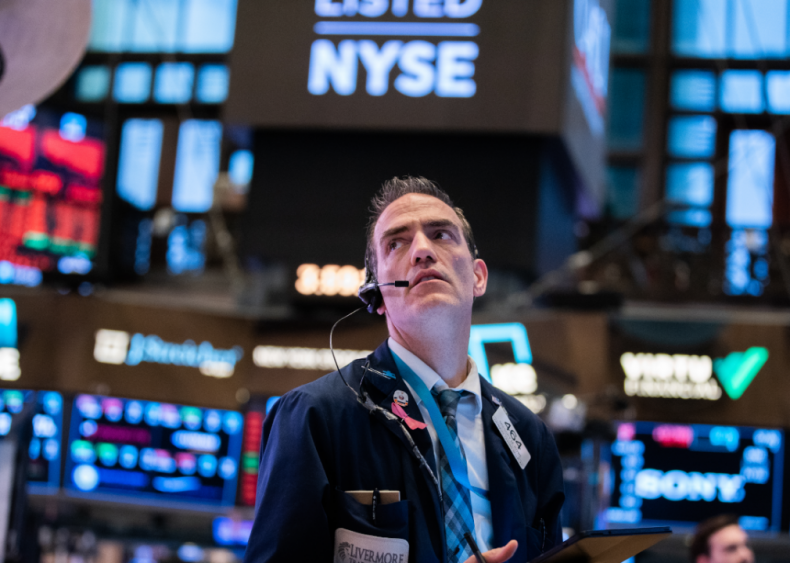 March 11: Stock market reacts to coronavirus
Traders work on the floor of the New York Stock Exchange in New York City. The Dow plunged more than 1,400 points as coronavirus cases rose around the world.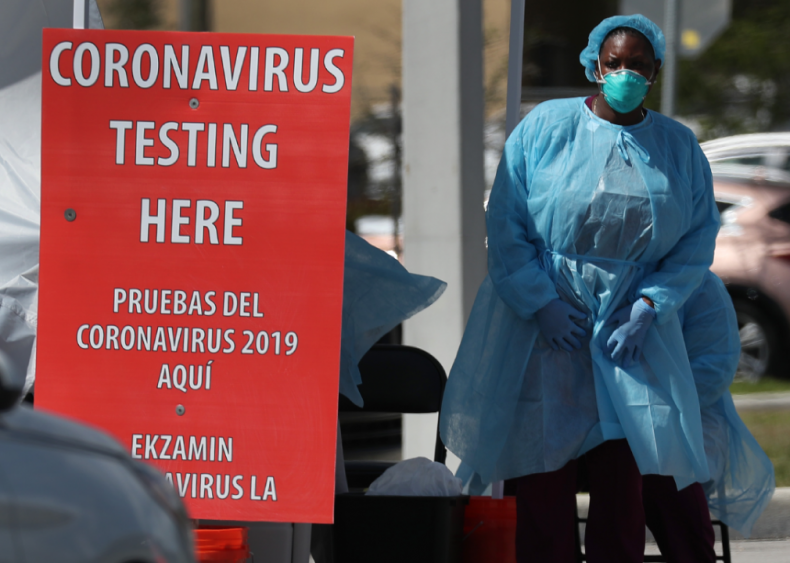 March 18: Drive-through testing
A member of the health care staff from the Community Health of South Florida, Inc. prepares to test people for the coronavirus in the parking lot of its Doris Ison Health Center in Miami.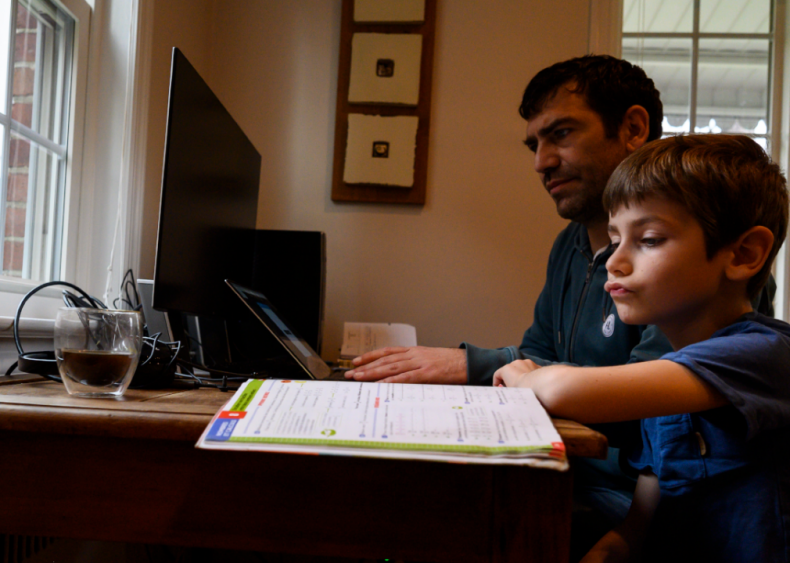 March 20: Schools closed
Joachim, 8, whose school was closed following the coronavirus outbreak, does school exercises at home with his dad Pierre-Yves in Washington. As millions of families hunkered down amid the coronavirus crisis, the sudden reality of schooling from home risked widening the education gap between those with the means and support to keep up with lessons, and those at risk of falling behind.
You may also like: U.S. Marine Corps history from the year you were born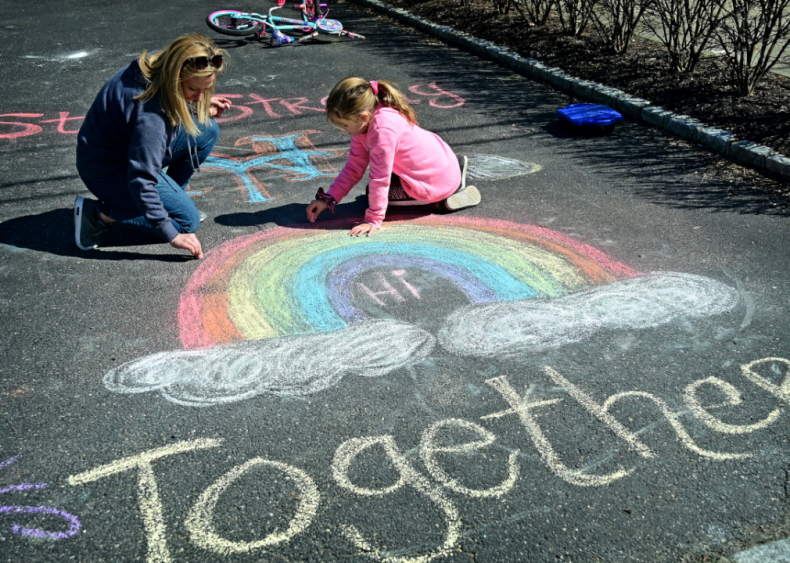 March 22: Inspirational signs to brighten the mood
Eight-year-old Anna Weir and her mother, Melissa Weir, make chalk drawings on the driveway of their West Islip, New York, home to help brighten the mood of people passing by while everyone is under shelter-in-place orders.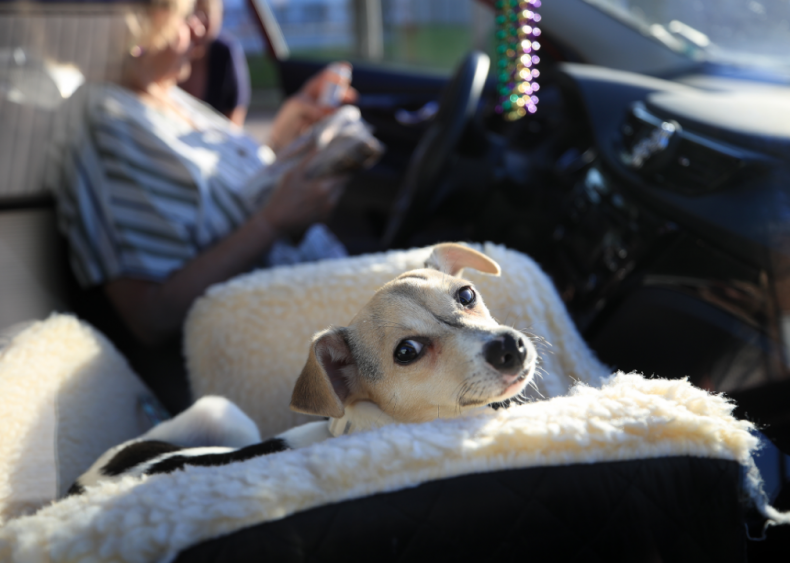 March 24: Pet fostering and adoptions rise
Layla the dog waits as paperwork is completed to take her to a new foster home at the Animal Rescue of New Orleans. There has been a spike in applications to foster and adopt pets throughout the pandemic, but social distancing efforts have made it more difficult for animal rescues to carry out rehoming efforts.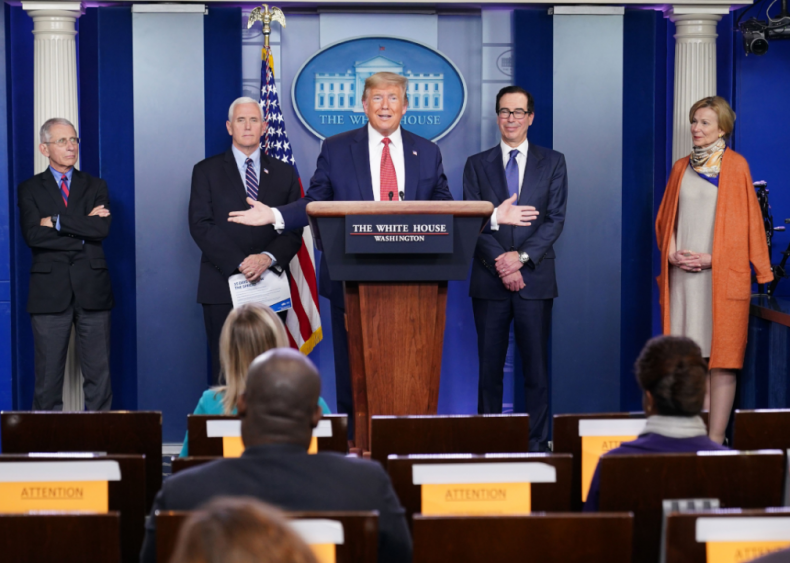 March 25: Daily briefings from the White House Coronavirus Task Force
President Donald Trump speaks during the daily briefing on the novel coronavirus in the Brady Briefing Room at the White House on March 25 in Washington D.C. He is flanked by (from R) response coordinator for White House Coronavirus Task Force Deborah Birx, Treasury Secretary Steven Mnuchin, Vice President Mike Pence, and Director of the National Institute of Allergy and Infectious Diseases Anthony Fauci.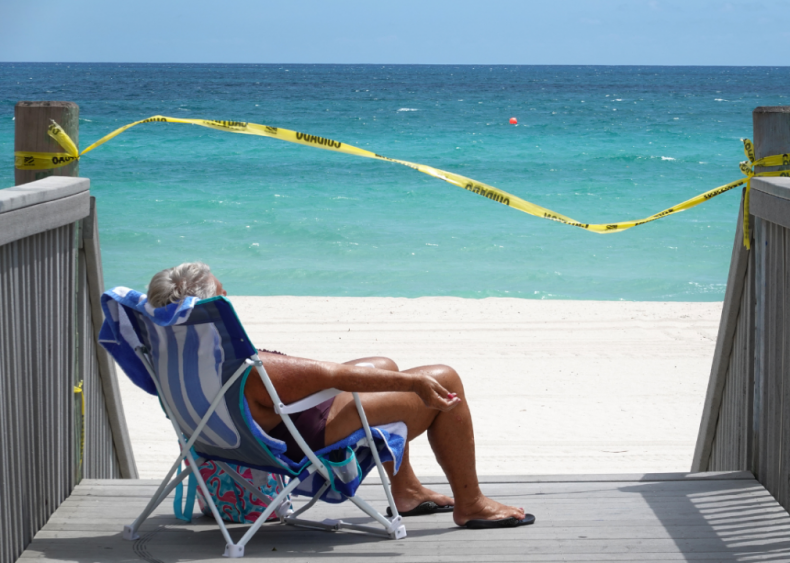 March 31: Beaches closed in Florida
Linda Bodell from Minnesota takes in some sun on the walkway leading to the beach in Hollywood, Florida. Hollywood, along with other cities along the coastline, shuttered their beaches in an attempt to contain COVID-19.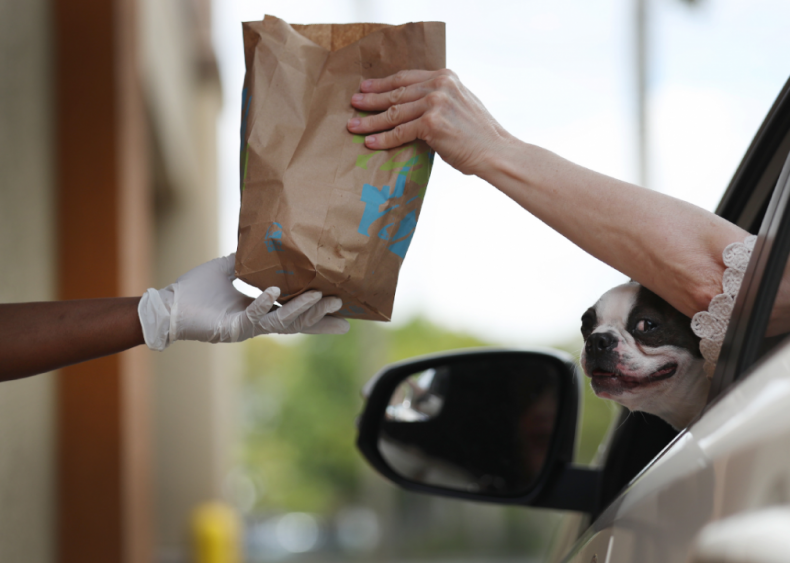 March 31: Contactless meals
A dog peeks out as a Taco Bell employee delivers an order to a customer at the drive-up window of the restaurant in Hollywood, Florida. Mark King, CEO of Taco Bell Corp. announced that Taco Bell drive-thru guests across America on March 31 would receive a free seasoned beef Nacho Cheese Doritos Locos Tacos, no purchase necessary while supplies last, as part of its coronavirus response.
You may also like: U.S. Navy history from the year you were born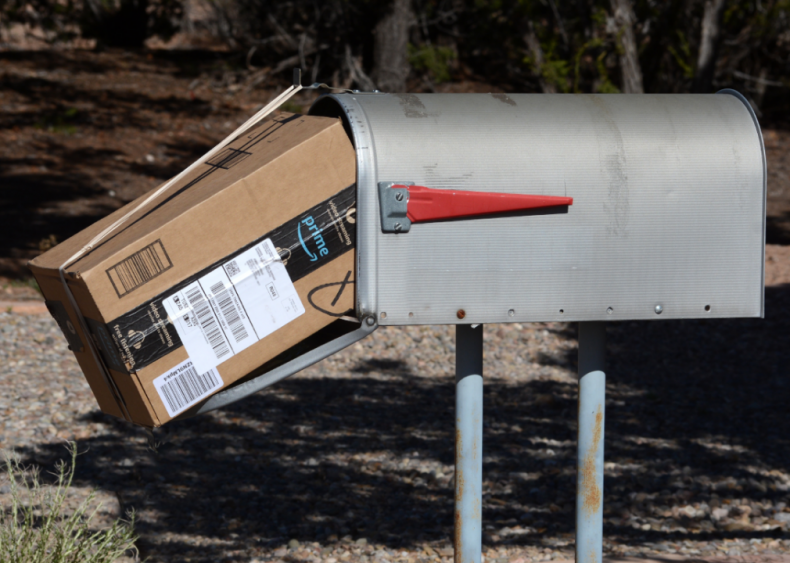 April 5: Online shopping
An Amazon Prime package is delivered to a mailbox by a U.S. Postal Service mailman in Santa Fe, New Mexico.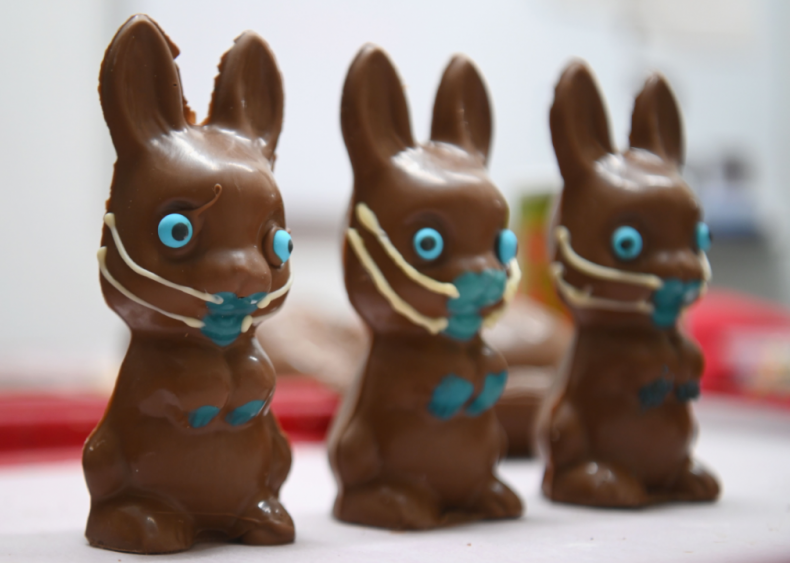 April 10: Pandemic Easter bunnies
Chocolate bunnies for Easter decorated by Michael Rogak, owner of JoMart Chocolates, sit on a table in Brooklyn, New York. Hundreds of millions of people around the world spent the Easter holiday at home as lockdown measures intensified to combat the coronavirus, a pandemic with a global death toll that was at the time rapidly approaching 100,000.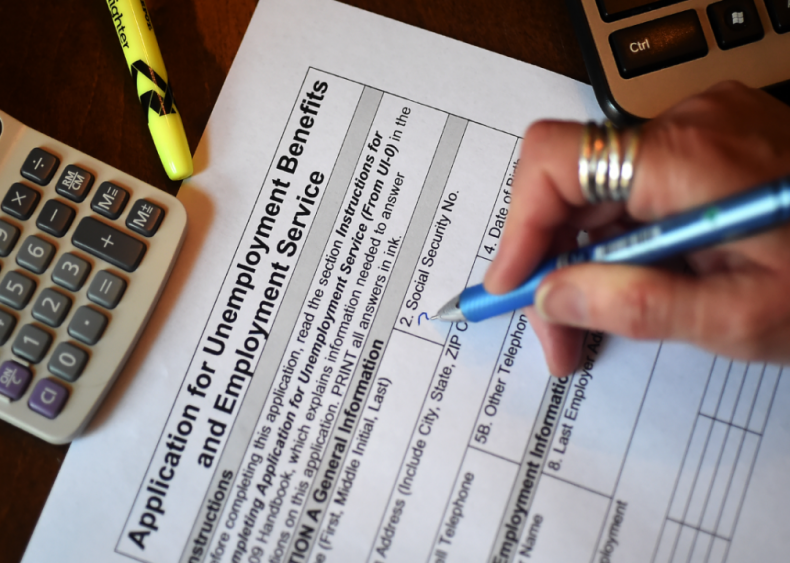 April 16: Filing for unemployment
In this photo illustration, a person files an application for unemployment benefits in Arlington, Virginia. The government reported at the time that another 5.2 million U.S. workers filed for unemployment benefits, taking the four-week total to 22 million, a staggering figure in a downturn that economists said presented the country with its most severe outlook since the Great Depression of the 1930s.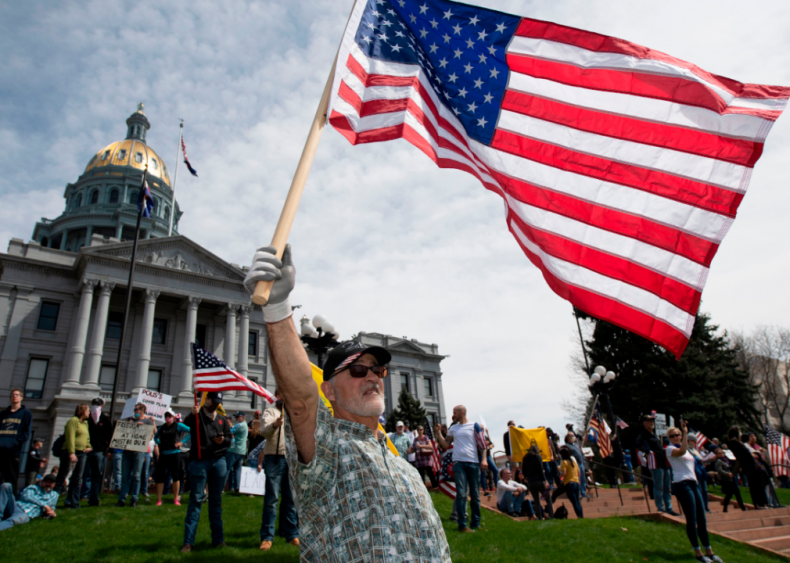 April 19: Protesting stay-at-home orders
A man waves a U.S. flag in front of the Colorado State Capitol building during a demonstration to protest coronavirus stay-at-home orders at a "ReOpen Colorado" rally in Denver. Many protested in cities across America against coronavirus-related lockdowns—with encouragement from President Donald Trump—as resentment grew against the crippling economic cost of confinement.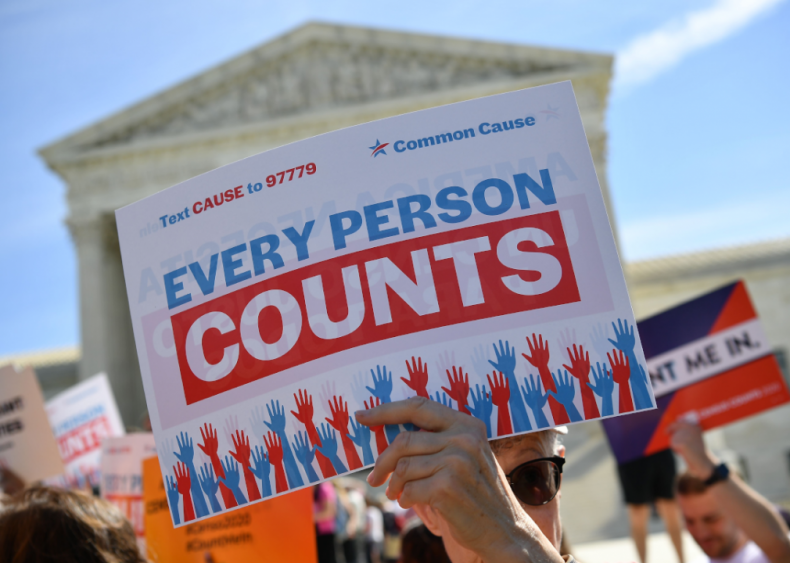 April 23: Census 2020
Demonstrators rally at the U.S. Supreme Court in Washington D.C. to protest a proposal to add a citizenship question in the 2020 Census. In March 2018, Secretary of Commerce Wilbur Ross announced he was going to reintroduce for the 2020 Census a question on citizenship abandoned more than 60 years ago. The decision sparked an uproar among Democrats and defenders of migrants, who have come under repeated attack from an administration that has made clamping down on illegal migration a hallmark amid Trump's reelection prospects this year.
You may also like: Can you answer these real 'Jeopardy!' clues about your state?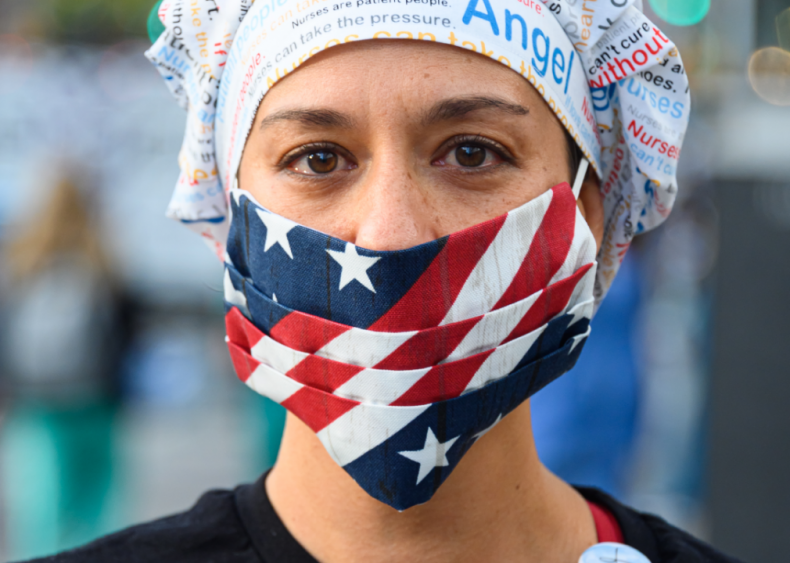 May 1: Gratitude for essential workers
A medical worker poses for a portrait outside NYU Langone Health hospital in New York City as people applaud to show their gratitude to medical staff and essential workers during the coronavirus pandemic. COVID-19 had spread to most countries around the world at that point, claiming more than 239,000 lives with an excess of 3.4 million infections reported.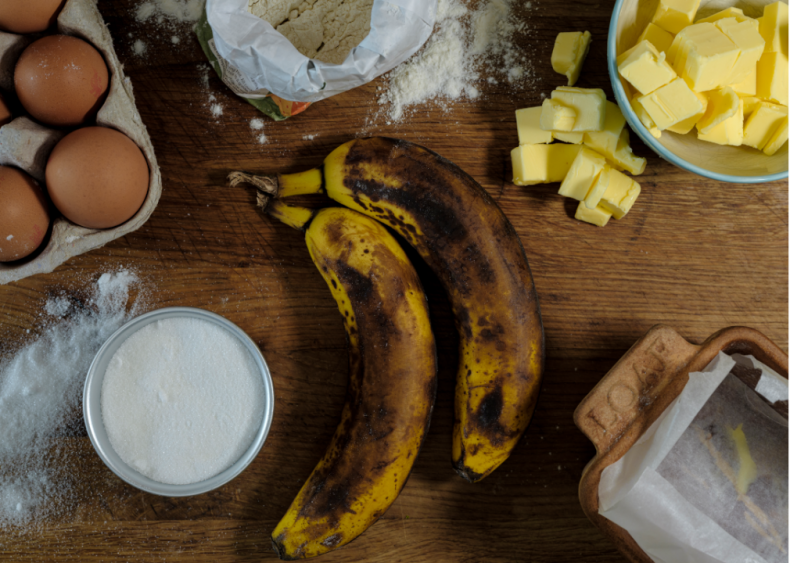 May 4: Quarantine baking rises in popularity
During the COVID-19 outbreak and lockdown, there has been a surge in home bakers posting pictures of their bakes on social media, with more than 1.3 million posts for banana bread on Instagram alone.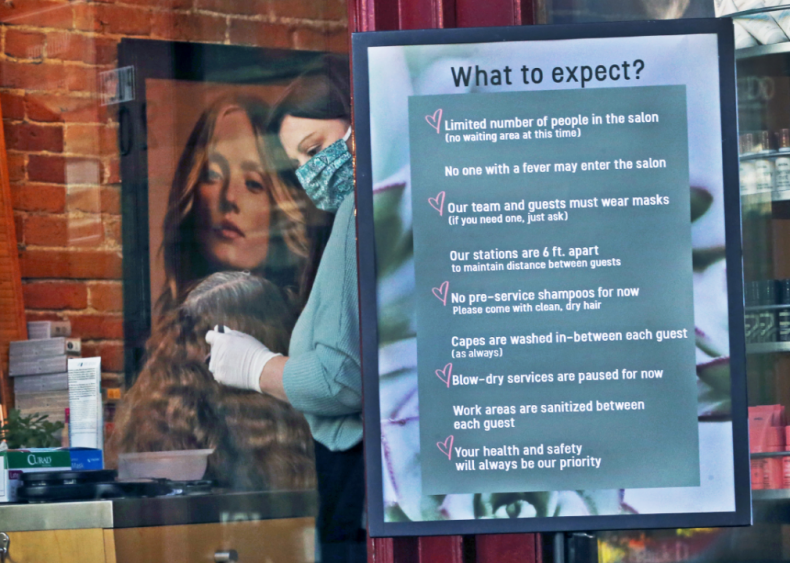 May 13: Resuming haircuts
At the Solari Salon and Spa in downtown Portsmouth, New Hampshire, a sign outside of the front door explains the procedures that will be followed while a stylist works on coloring the hair of a client. The state of New Hampshire had at that point begun to open up some businesses.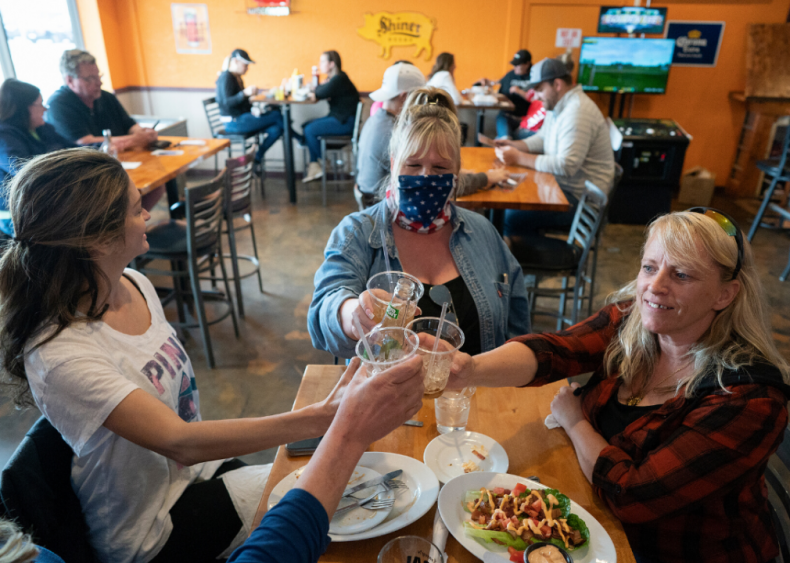 May 14: Reconnecting in person
Friends (from L) Carrie Nasi, Tracey, Cindy Colema, and Lori Stayberg met for food and drinks at Jonesy's Local Bar on the first day of its bar reopening in Hudson, Wisconsin. Bars, restaurants, and everything else began reopening in Wisconsin after the state Supreme Court struck down Wisconsin's stay-at-home order.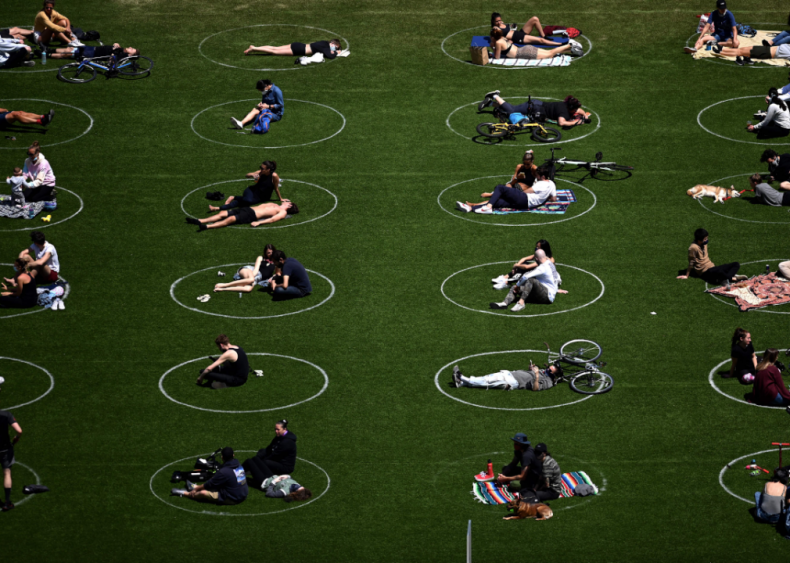 May 17: Social distancing
People are seen practicing social distancing in white circles in Domino Park in Brooklyn, New York, during the Covid-19 pandemic.
You may also like: Least obedient dog breeds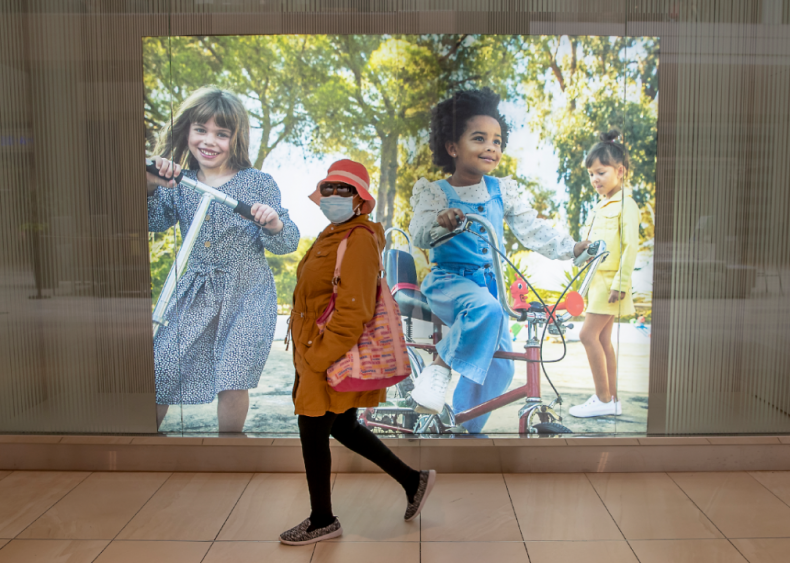 May 18: Retail reopening
Shoppers make their way through Rosedale Center in Roseville, Minnesota, as some of the stores opened for business.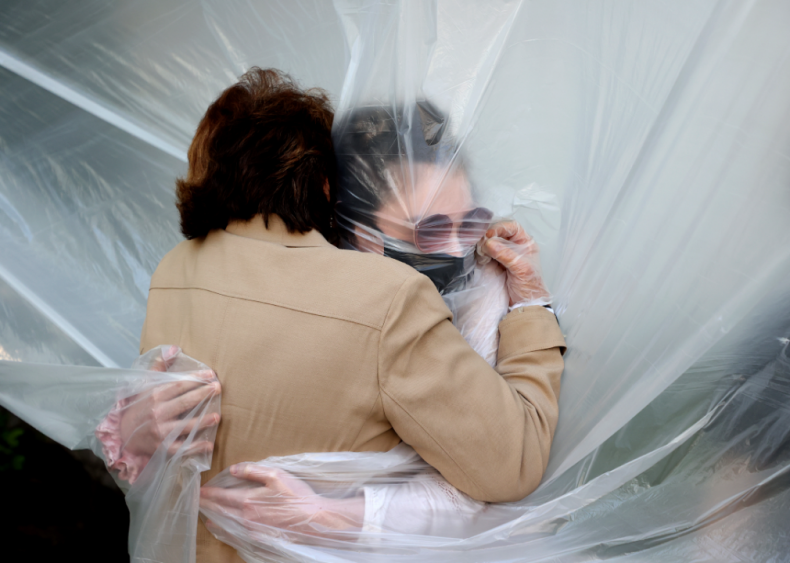 May 24: Family reunions
Olivia Grant (R) hugs her grandmother, Mary Grace Sileo, through a plastic drop cloth hung up on a homemade clothesline during Memorial Day Weekend in Wantagh, New York. It was the first time they had contact of any kind since the coronavirus COVID-19 pandemic lockdown started.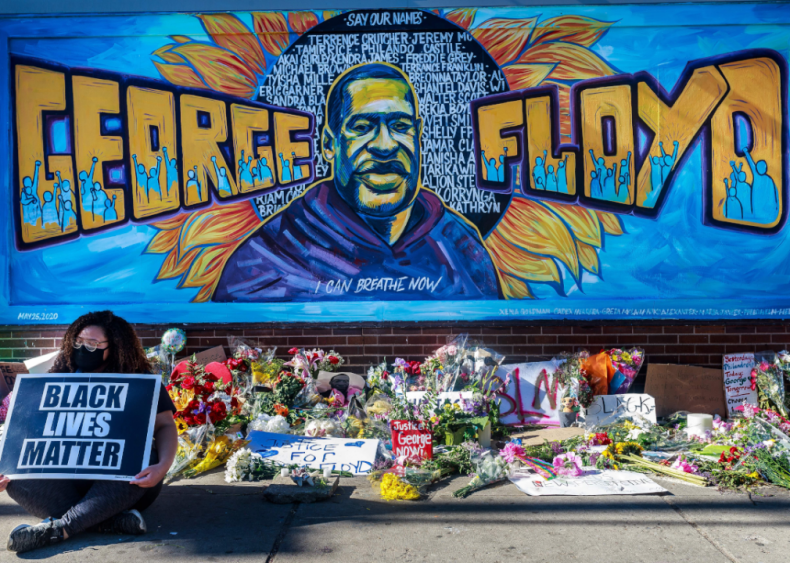 May 29: George Floyd killed, launching widespread protests
Flowers, signs, and balloons are left near a makeshift memorial to George Floyd near the spot where he was killed on May 25 while in the custody of the Minneapolis police. Demonstrations were held across the U.S. following his death in support of the Black Lives Matter movement.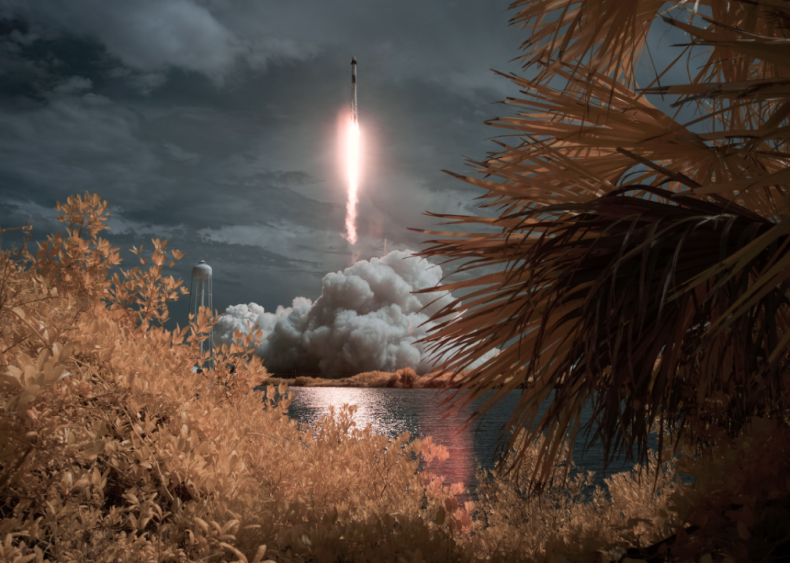 May 30: Space X Launches
In this NASA handout image, A SpaceX Falcon 9 rocket carrying the company's Crew Dragon spacecraft is seen in this false-color infrared exposure as it is launched on NASA's SpaceX Demo-2 mission to the International Space Station with NASA astronauts Robert Behnken and Douglas Hurley onboard at NASA's Kennedy Space Center in Florida. The Demo-2 mission was the first launch with astronauts of the SpaceX Crew Dragon spacecraft and Falcon 9 rocket to the International Space Station as part of the agency's Commercial Crew Program. The test flight served as an end-to-end demonstration of SpaceX's crew transportation system.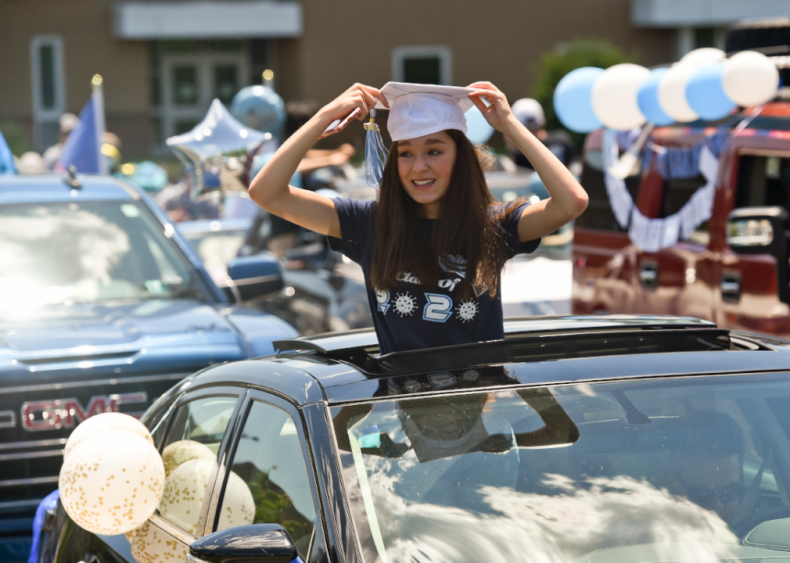 May 30: Distanced graduations for the Class of 2020
Kalysta Reed, 17, stands out of the sunroof of a car and adjusts her graduation cap as she waits for the parade to start at the Daniel Boone Middle School in Amity Township. Daniel Boone High School graduating seniors gathered for a car parade around the district schools, as they were not permitted to have a standard graduation ceremony due to the COVID-19 outbreak.
You may also like: U.S. Navy by the numbers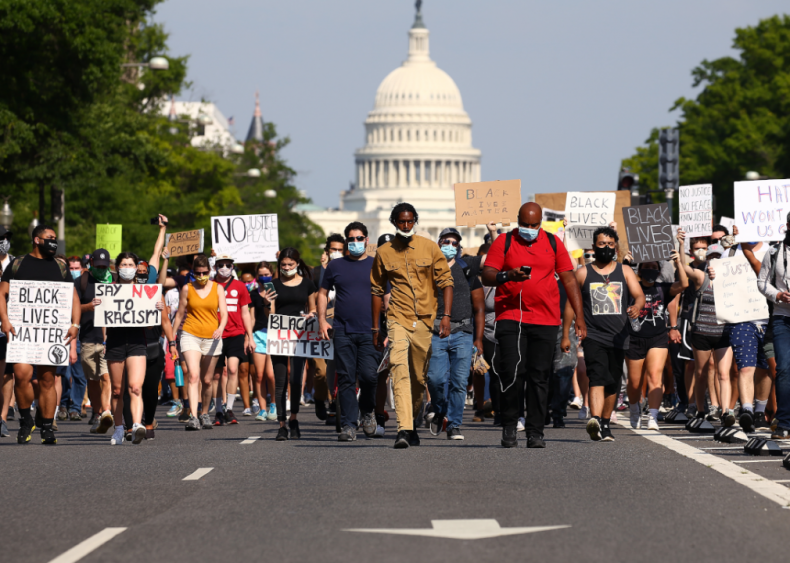 June 3: Black Lives Matters marches across the country
Demonstrators march down Pennsylvania Avenue in in Washington D.C. during a protest against police brutality and the death of George Floyd.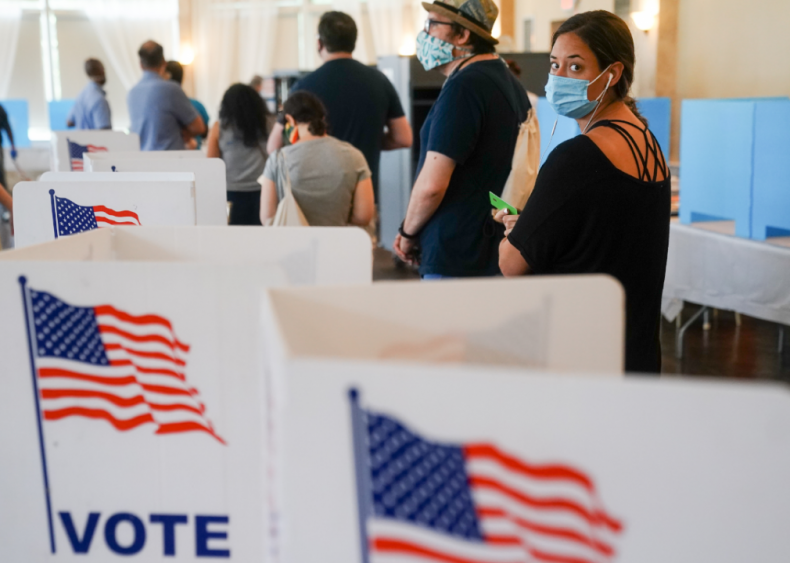 June 9: Primary voting continues
People wait in line to vote in Georgia's Primary Election in Atlanta. Primary voting persevered around the country despite the coronavirus pandemic and with myriad protections in place.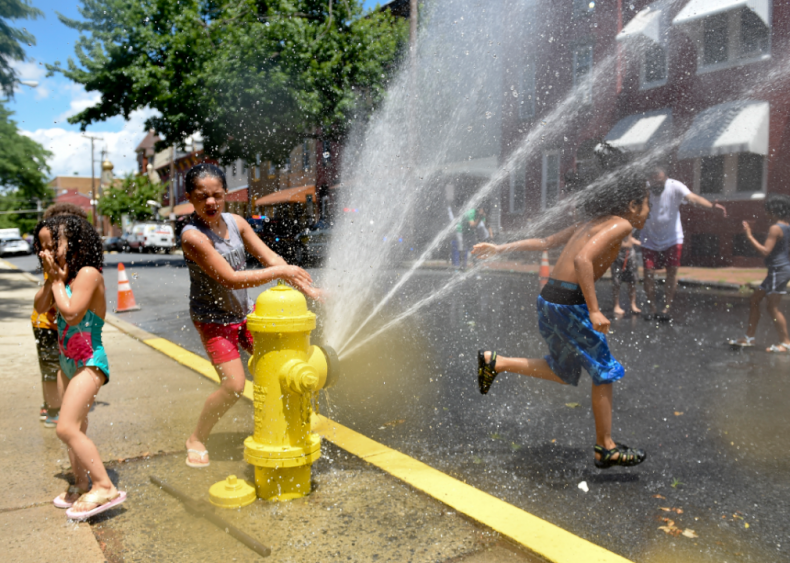 June 24: Summer heat waves
Children play in the spray from the fire hydrant at the Third and Spruce Recreation Center in Reading, Pennsylvania, for the first Wacky Water Wednesday. The city opened a fire hydrant equipped with a special cap that sprayed water up and into the street as a way for city residents to cool off. The city pool did not open this year due to the coronavirus outbreak.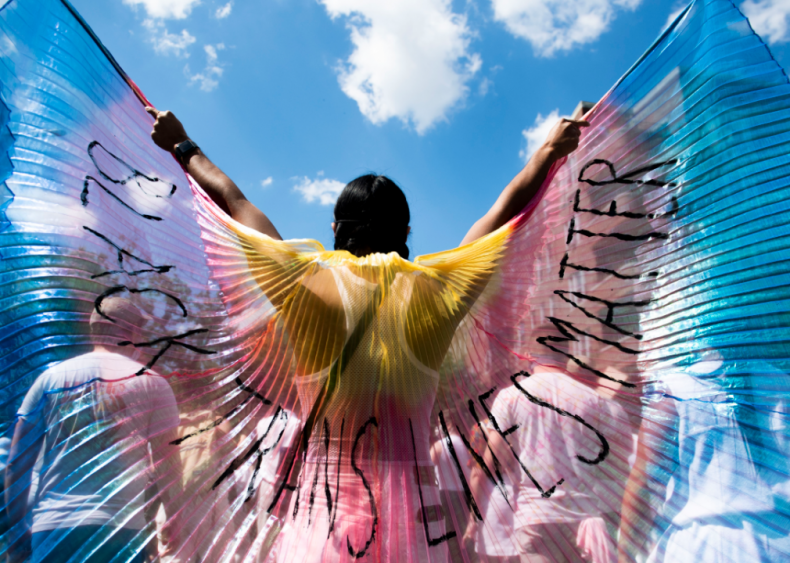 Pride Month: 50th anniversary of Stonewall Riots
A protester displays wings emblazoned with "BLACK TRANS LIVES MATTER" while marching in Brooklyn, New York, for the Black Trans Lives Matter Rally on June 14. Protests continued around the country in the wake of the death of George Floyd, including throughout Pride Month.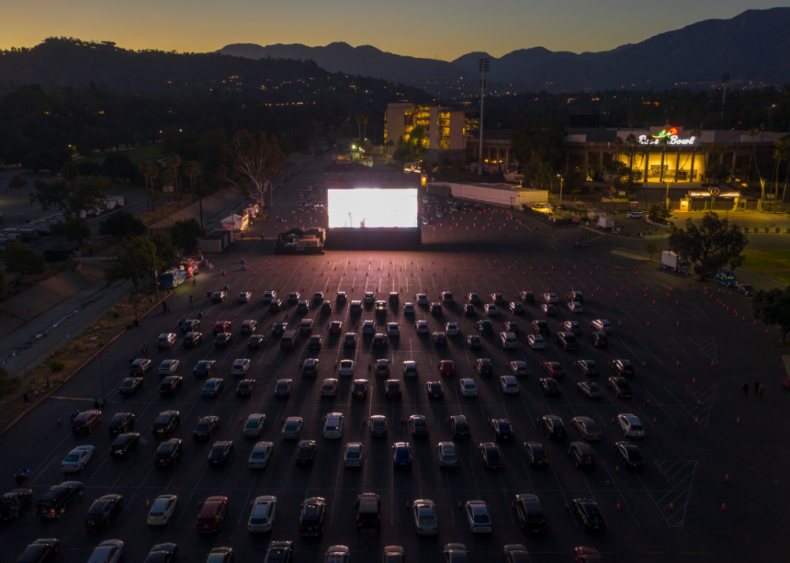 July 4: Safe celebrations
An aerial drone view shows a temporary drive-in movie theater at the Rose Bowl stadium, known for its spectacular Fourth of July fireworks that were canceled this year to reduce large public gatherings. Nearly all events planned in Los Angeles County to mark the 244th anniversary of the nation's independence were canceled or switched to a virtual format because of the coronavirus pandemic.
You may also like: States doing the most for a clean energy future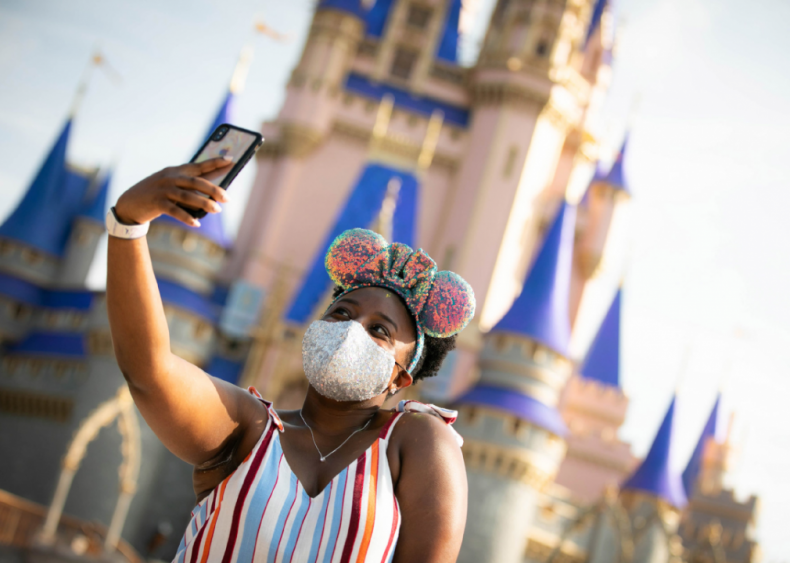 July 11: Walt Disney World reopens
In this handout photo provided by Walt Disney World Resort, a guest stops to take a selfie at Magic Kingdom Park at Walt Disney World Resort in Lake Buena Vista, Florida, on July 11, the first day of the phased reopening.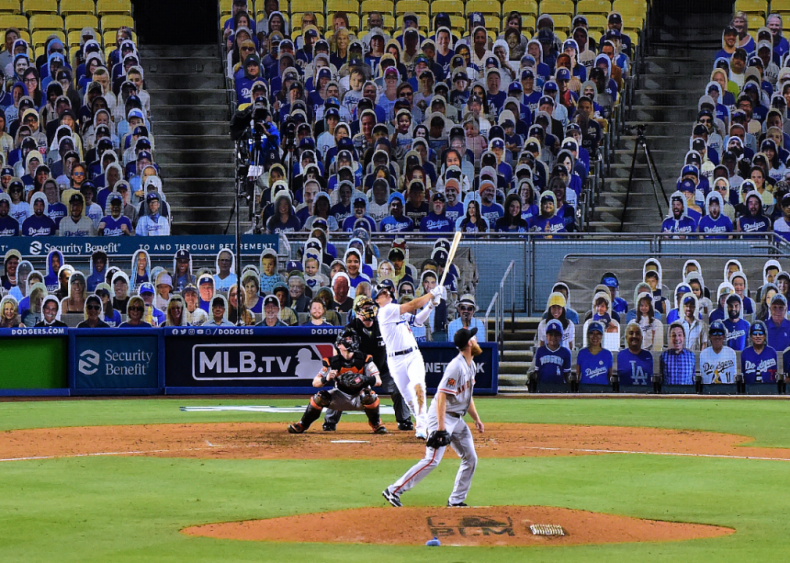 July 23: Major League Baseball opening day
Los Angeles Dodger Enrique Hernandez, #14, hits a two-run homer off San Francisco Giant Conner Menez, #51, to take an 8-1 lead during the eighth inning on MLB Opening Day at Dodger Stadium in Los Angeles. The 2020 season had been postponed since March due to COVID-19.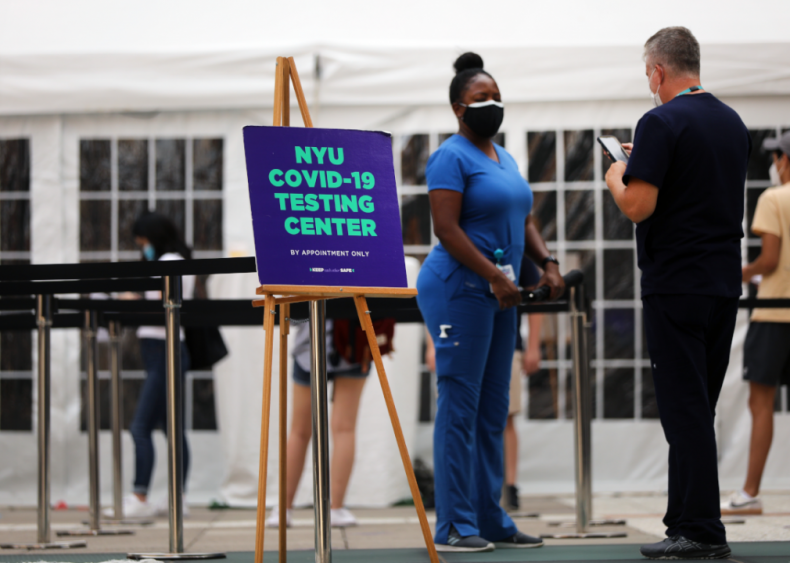 Aug. 25: College students return to campus
Students at New York University take a COVID-19 test outside of its business school in New York City. All students arriving back to the campus were required to get tested for the virus upon arrival, and again seven to 10 days later.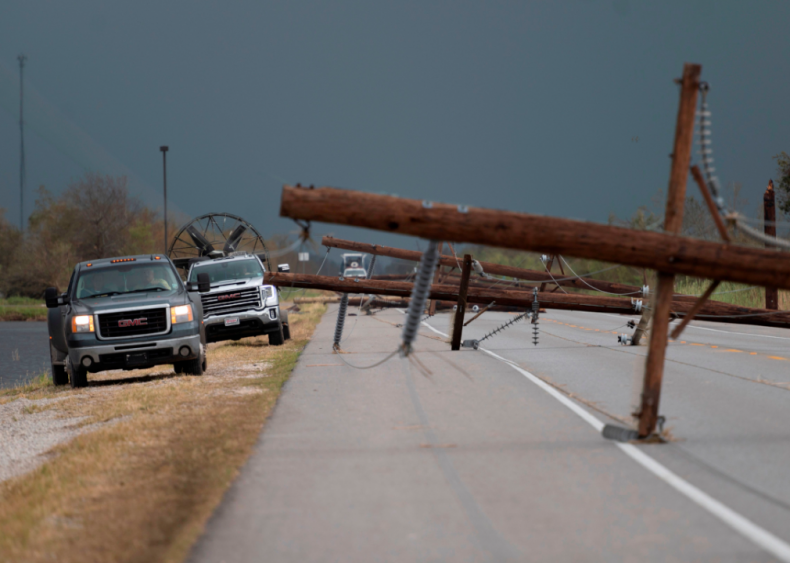 Aug. 27: Hurricane Laura makes landfall in Louisiana
People try to reach their homes in Cameron Parish on Aug. 28 by driving around downed power lines after the passing of Hurricane Laura south of Lake Charles, Louisiana. Gov. John Bel Edwards said the most powerful storm to make landfall in the U.S. state in living memory did not cause the "catastrophic" damage that had been feared.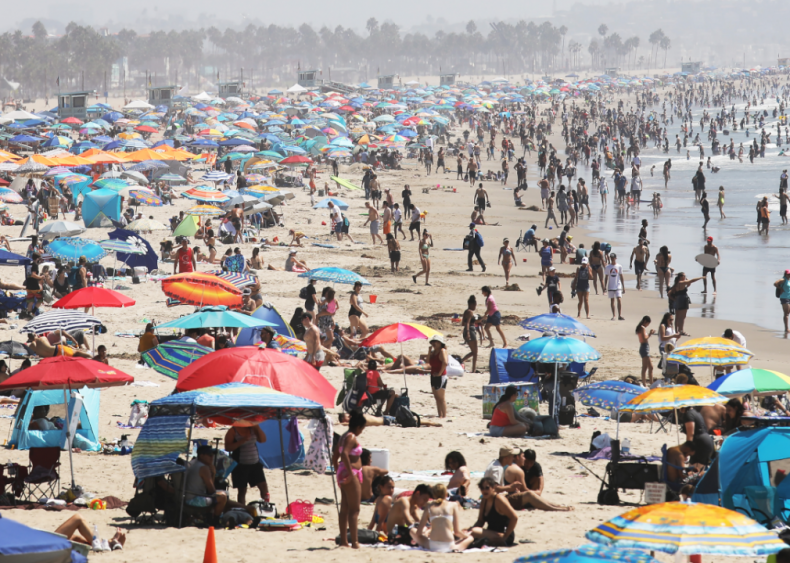 Sept. 5: Late summer heat wave
People gather at the Pacific Ocean on the first day of the Labor Day weekend amid a heatwave in Santa Monica, California. Temperatures soared across California, sparking concerns that crowded beaches could allow for a wider spread of COVID-19.
You may also like: Space discoveries that will blow your mind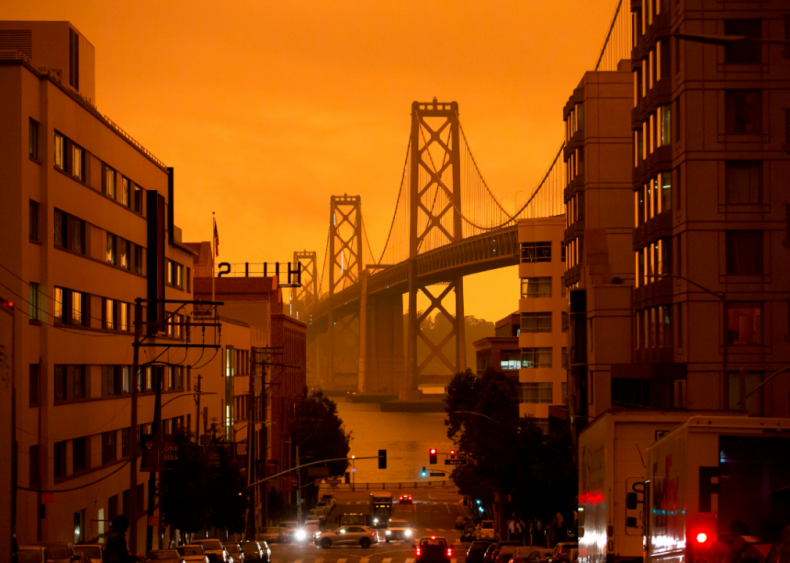 Sept. 9: Orange skies during California wildfires
The San Francisco Bay Bridge is seen along Harrison Street under an orange, smoke-filled sky in San Francisco. More than 300,000 acres were burning at the time across the northwestern state, including 35 major wildfires, and at least five towns were "substantially destroyed."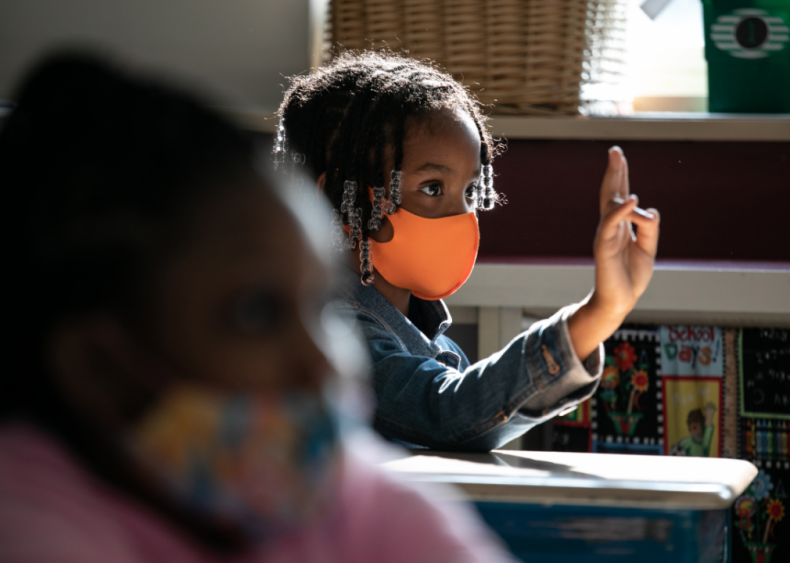 Sept. 16: Grade schools begin reopening
A masked first-grader attends class at Stark Elementary School in Stamford, Connecticut. Most students at Stamford Public Schools are taking part in a hybrid education model, where they attend in-school classes every other day and distance learn the rest. About 20% of students in the school district, however, enrolled in the distance learning option due to coronavirus concerns.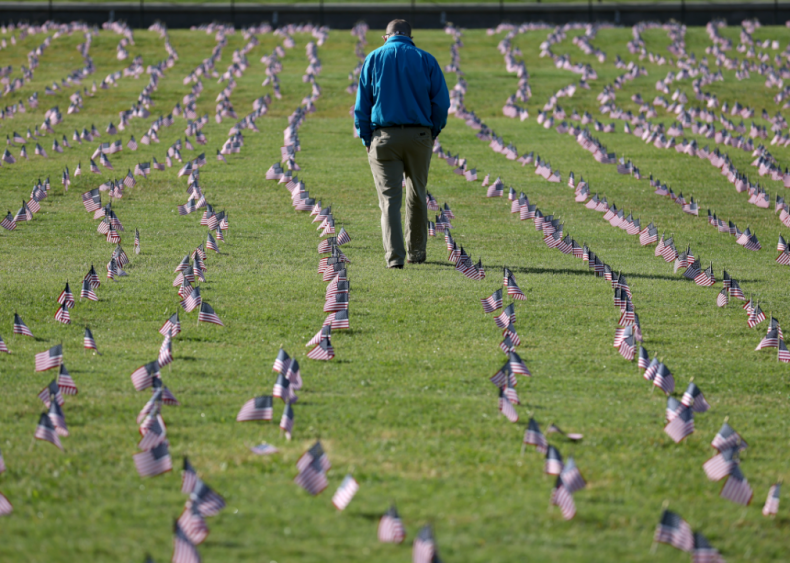 Sept. 22: 200,000 American flags installed on National Mall to memorialize 200,000 COVID-19 deaths
Chris Duncan, whose 75-year-old mother Constance died from COVID-19 on her birthday, walks through a COVID Memorial Project installation of 20,000 American flags on the National Mall in Washington D.C. as the United States crosses the 200,000 lives lost in the COVID-19 pandemic. The flags were displayed on the grounds of the Washington Monument facing the White House.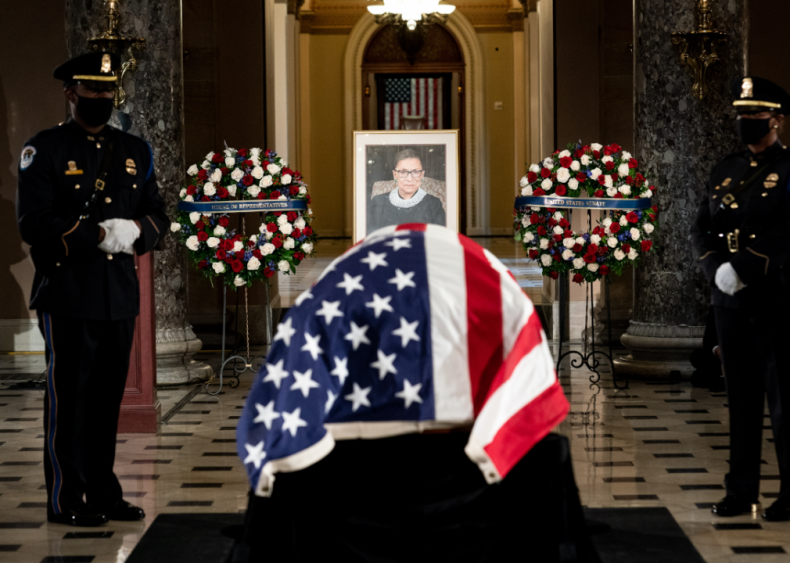 Sept. 25: Justice Ruth Bader Ginsburg memorial service
The flag-draped casket of the late Associate Justice Ruth Bader Ginsburg lies in state in Statuary Hall of the U.S. Capitol during a memorial service in her honor in Washington D.C. Ginsburg, who was appointed by former President Bill Clinton, served on the high court from 1993 until her death on Sept. 18, 2020. She was the first woman to lie in state at the Capitol.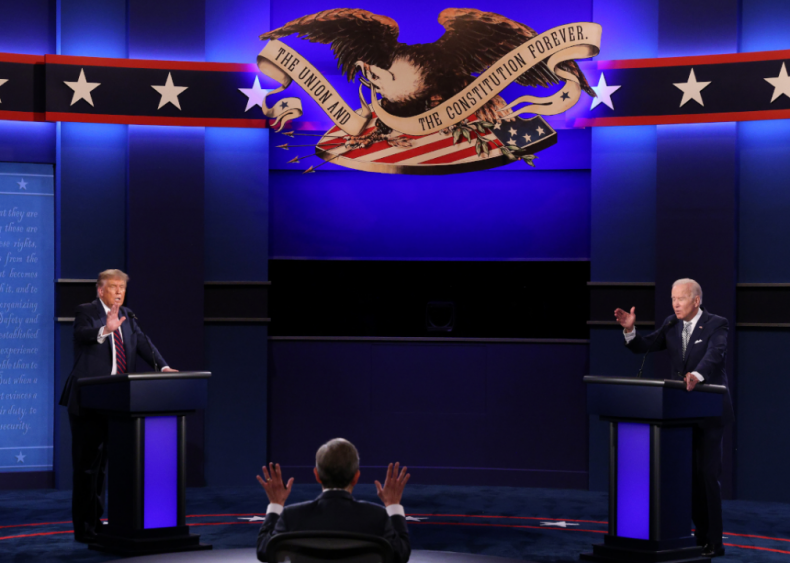 Sept. 29: First presidential debate
U.S. President Donald Trump and Democratic presidential nominee Joe Biden participate in the first presidential debate moderated by Fox News anchor Chris Wallace at the Health Education Campus of Case Western Reserve University in Cleveland, Ohio.
You may also like: Fastest-warming cities in the U.S.