76% of Young People, Compared to 53% of Seniors, Back a $15 Minimum Wage
President Joe Biden's economic stimulus plan includes a gradual increase of the national minimum wage from $7.25 to $15 by 2025. But while Republicans are likely to oppose the increase, a majority of younger and older Americans both support the wage hike.
Registered voters ages 18 to 34 support the minimum wage hike by 76 percent and senior citizens over the age of 65 support it by 53 percent, according to a new poll conducted by the Washington, D.C. newspaper The Hill and the market research company HarrisX. Groups of voters ages 35 to 49 and ages 50 to 64 also supported the wage hike, 68 percent and 58 percent, respectively.
The pollsters asked 945 individuals online between January 28 and 29, and the poll's margin of error is plus or minus 3.19 percentage points.
While 64 percent of respondents said they supported the hike, only 55 percent of white respondents agreed. Comparatively, 86 percent of Hispanics and 83 percent of Black voters agreed. Also, while only 36 percent of Republicans supported the wage increase, 67 percent of Independents and 89 percent of Democrats supported it.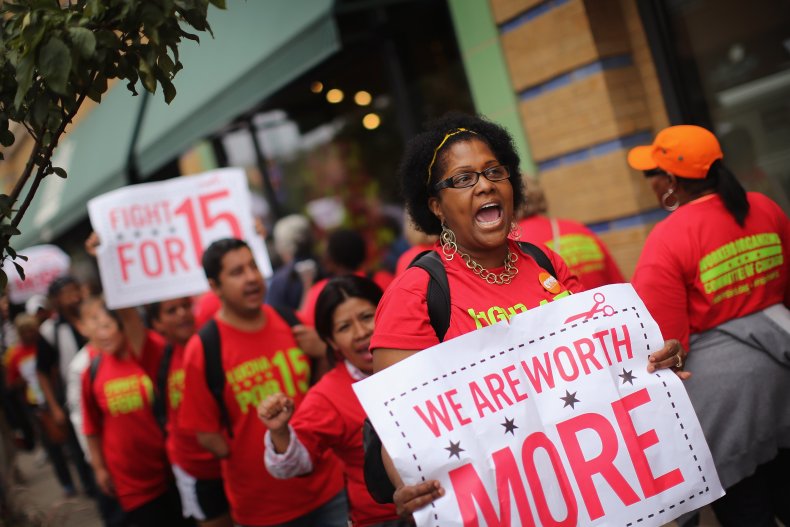 If the increase is successful, it would mark the first increase in the federal minimum wage in 12 years. Biden and top Democratic lawmakers have promoted the increase as a way to pull 28 million full-time workers out of poverty by 2024.
Republicans have largely opposed raising the minimum wage, arguing it will harm small businesses who have already been economically harmed during the ongoing COVID-19 pandemic. On February 1, Congressional Republicans introduced their own $618 billion economic stimulus bill that completely removed any mention of a minimum wage hike.
Both incoming Senate Budget Committee chairman Bernie Sanders and Democratic Illinois Senator Dick Durbin have pledged support for passing the increase through a procedure called budget reconciliation, which would bypass the need for Republican support.
However, even this procedure would require a majority of House Democrats and all Senate Democrats to approve the measure, and Democratic West Virginia Senator Joe Manchin has said he wouldn't assist in passing the measure without Republican support. Manchin has said he does support raising the wage, calling the current $7.25 an hour "poverty wages."
Some progressive Democrats may also be opposed, believing that a minimum wage increase should be more than $15 an hour. As proof, they have cited studies that show only a handful of states have one-bedroom apartments affordable to those working 40 hours on $15 an hour wage.
Numerous states and municipalities have already raised their local minimum wages, with some, including Seattle and San Francisco, already raising theirs above $15 per hour.
Newsweek contacted Manchin's office for comment.