The majority of U.S. doctors are concerned that reopening schools will increase their communities' risk from coronavirus, particularly in areas where a sharp rise in cases has been reported, a recent survey shows.
The Committee to Protect Medicare and Data for Progress conducted a survey with 2,537 physicians from July 12 to 13. The survey found that 85 percent of doctors who said they've seen a "sharp increase" in the number of reported coronavirus cases within their communities over the last 10 days also answered they were at least somewhat concerned that reopening K-12 public schools this fall would heighten their communities' risk to coronavirus.
Florida, a worldwide epicenter for the virus, is moving forward with plans to reopen its schools despite seeing a rise in hospitalizations among infected children. COVID-19 hospitalizations of those under the age of 18 increased by more than 23 percent within an eight-day period, according to the Florida Department of Health.
Florida's largest teachers' union filed a lawsuit July 20 against Governor Ron DeSantis and other state officials to overturn an emergency order requiring that schools provide students with the option of receiving in-person instruction five days a week.
On Wednesday, the Florida Chapter of the American Academy of Pediatrics sent an 11-page paper to DeSantis warning him that "coronavirus prevalence will not decrease enough in the next 4-6 weeks to make the benefits of school attendance outweigh the risks."
"Therefore, the FCAAP (the Florida Chapter of the American Academy of Pediatrics) recommends that school districts in locales with higher positive test rates (≥ 5 percent) that do not meet the 14-day criteria delay the start date for school until positive testing rates are lower," the paper said.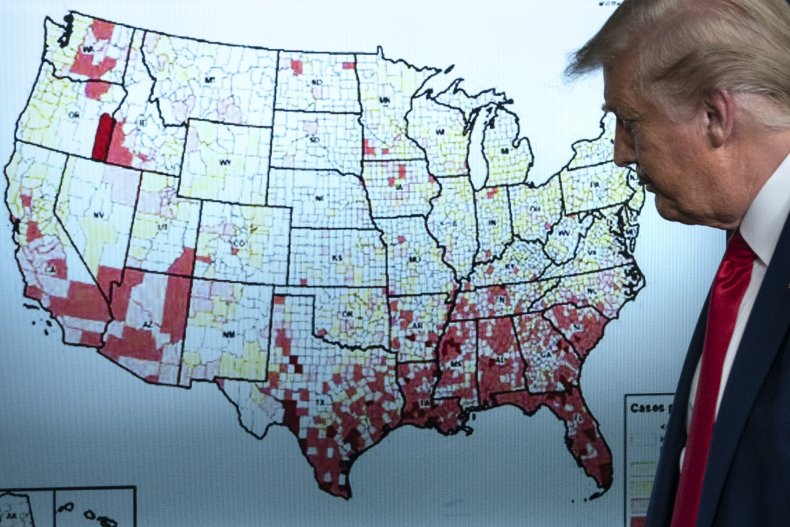 The survey comes amid much discussion among American lawmakers and families about whether to allow children back into classrooms this fall.
As of July 29, 11 of the country's 15 largest school districts have opted to begin the fall semester with remote learning as its sole reopening model, according to an Education Week tracker.
President Donald Trump's administration has spent much of July touting plans to reopen schools for in-person instruction, downplaying many Americans' concerns that doing so would increase the spread of coronavirus.
According to a poll conducted July 16 through 20 by The Associated Press-NORC Center for Public Affairs, 46 percent of respondents said they thought major adjustments were needed if schools were to reopen.
Adjustments including daily disinfections, mask requirements, temperature checks, social distancing in classrooms and a hybrid instruction model employing both in-person and virtual learning to reduce classroom capacity were considered "essential" measures by the majority of survey respondents.
The U.S. Centers for Disease Control updated its guidelines July 23 advising school administrators on how to safely reopen schools after initially receiving criticism from Trump, saying it's "critically important" to reopen schools.
"I disagree with the @CDCgov on their very tough & expensive guidelines for opening schools. While they want them open, they are asking schools to do very impractical things. I will be meeting with them!!!" the president tweeted July 8.
According to the updated CDC guidelines, the most important actions administrators can take is to "engage and encourage everyone in the school and the community to practice preventive behaviors." Social distancing, cloth face coverings and hand hygiene should also be implemented, the guidelines state.