Aaron Eckhart on 'Sully' and Tom Hanks Running for President: Interview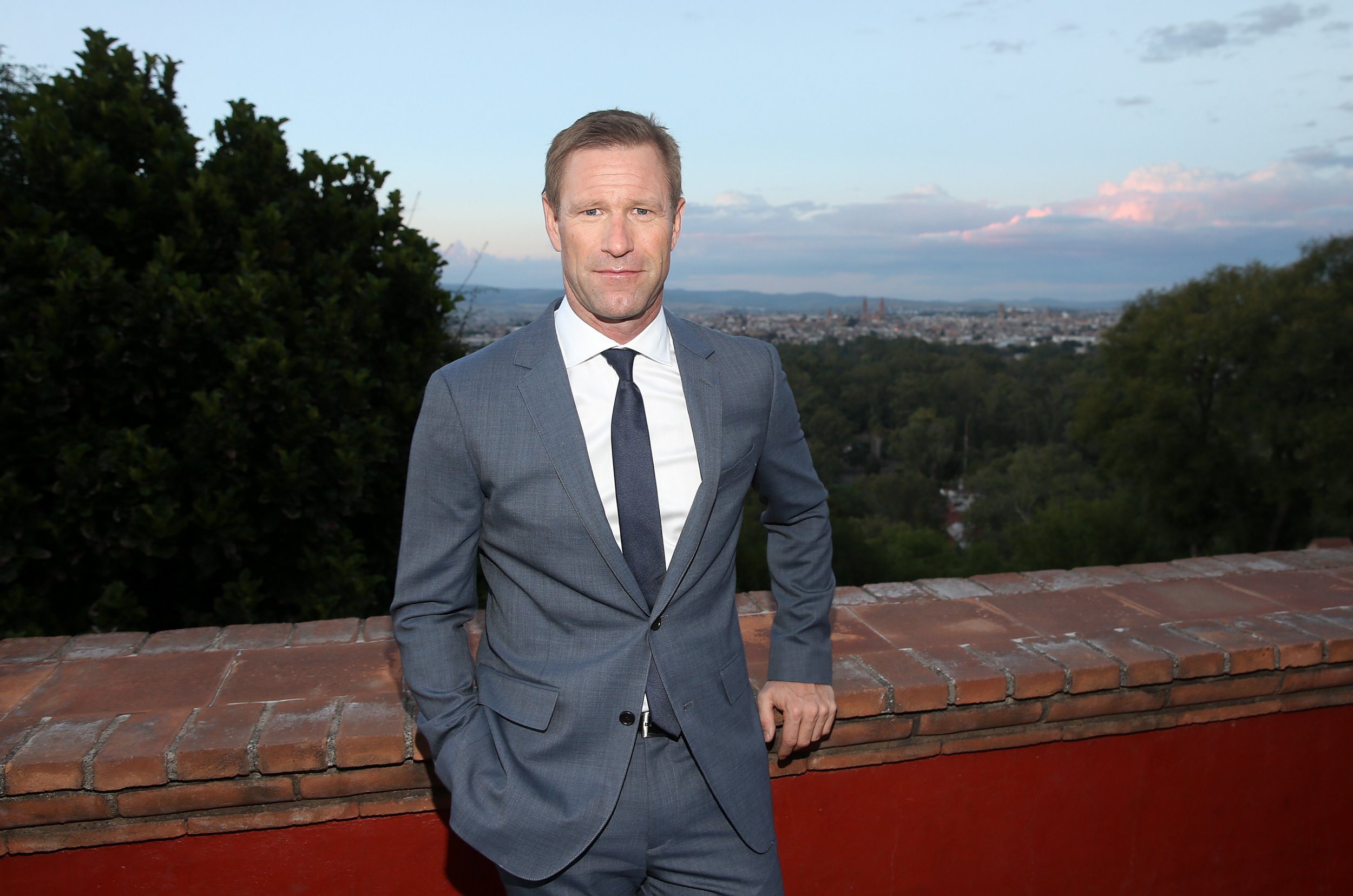 Aaron Eckhart is instantly recognizable. His blonde-haired, blue-eyed, square-jawed good looks are that of the prototypical Hollywood star. He is the kind of actor who, when you see him on screen, has a strong, dependable presence and the ability to bring gravitas to a movie, whether it's an action blockbuster as overblown as Olympus Has Fallen or, like his latest work, Sully, a subtle drama based on real events. But even with those all-American features and a commendable array of credits, Eckhart has never quite broken through as a leading man. He is perhaps Hollywood's most valuable supporting player.
I present this theory to Eckhart when we meet in London's famous Claridge's hotel. He isn't in the least offended. Rather the opposite, in fact. He wears it as a badge of honor. "I'm happy to take that title," he says. "I've always been a solid guy for [leading women]...for Julia [Roberts in Erin Brockovich], Catherine Zeta Jones [2007's No Reservations]. I'm proud of that. I'm proud that I can contribute in my own way."
Eckhart, 48, might be the leading man of this interview, but we're discussing two more films in which he comes second to the protagonist. In the Clint Eastwood-directed Sully, about the 2009 emergency landing of U.S. Airways Flight 1549 on the Hudson River, he plays first officer Jeff Skiles opposite Tom Hanks' Captain Chesley Sullenberger. In Bleed for This, the biopic charting U.S. boxing champion Vinny Pazienza's comeback from a life-threatening car accident, he portrays Pazienza's trainer Kevin Rooney (Miles Teller plays the Pazmanian Devil).
Both movies have had significant awards chatter leading into next February's Academy Awards. Having Eastwood and Hanks, both perennial Oscar favorites, on the marquee alone makes Sully a contender, but its chances are boosted further by Eckhart's conviction as Sullenberger's first officer, a beautifully understated script from Todd Komarnicki, and positive reviews across the world. The power of Bleed for This, meanwhile, lies in the one-two punch of Teller and Eckhart's performances and their ability to bounce off each other. In an eerie coincidence, or fate, depending on how you look at it, the two films are released on the same day, Friday, in the U.K.
Related: Miles Teller talks Bleed for This with Newsweek
"The biggest challenge [on Sully ] for me—and the most excitement—was playing off of Tom," says Eckhart. "A supporting character is very important because you're defining the protagonist. Not everybody knows how to do that. If you're trying to be the star of the movie, you're taking some of the shine off your hero…that's not the job of the supporting character."
Rarely do two movies come along that earn a single actor awards distinction at the same time; the last actor to pull off that feat was Cate Blanchett when she received a Best Actress nomination for Elizabeth: The Golden Age and a Best Supporting Actress nod for I'm Not There in 2007. Both of Eckhart's roles meet the supporting actor criteria, however. "I'm not rooting for a particular film. I love the films in my own way. I'm not making it a competition," he says. "I do believe both films, in their own way, merit to be in the conversation."
The most profitable film Eckhart has made is—unsurprisingly—his turn as supporting player Harvey Dent in the the $1 billion-grossing Batman blockbuster The Dark Knight, released in 2008. But it's not as though the actor is unequipped to be a leading man of the caliber and esteem of Hanks. The 2006 offbeat dramedy Thank You for Smoking, in which he played Nick Naylor, a spokesperson for big tobacco, proved that—he was nominated for Best Actor at the Golden Globes.
Is it the breadth of his movie choices that are hindering him? Eckhart concedes: "I wouldn't trust me to make the right choice." Two decades into his career, the actor is hopeful that films like Sully and Bleed for This could mark a second act. Male actors, more so than female ones, are prone to career rejuvenation in their fifties and sixties—Michael Keaton in Birdman, for example.
"I feel like I'm still going to make a lot of mistakes because I like to try different things and be diverse and challenge myself in different ways," Eckhart says. "[But] at 48, I feel like I have twenty years of solid experience under my belt, I'm able to manage myself better, control my emotions and I think that will help me."
Working with Hanks and Eastwood in Sully is a good start. "I can die now," he says with a grin."I checked off two of my bucket list in one…I'm a huge fan of Clint's and Tom's."
In 2009, Captain Sullenberger became a national hero when he landed a malfunctioning Airbus A320-214 traveling from New York's LaGuardia airport to Charlotte, North Carolina, on the Hudson. The plane was hit by multiple bird strikes and both engines failed. Sullenberger's quick-thinking saved all 155 passengers aboard. But his story was scrutinized in an investigation by the National Transportation Safety Board (NTSB).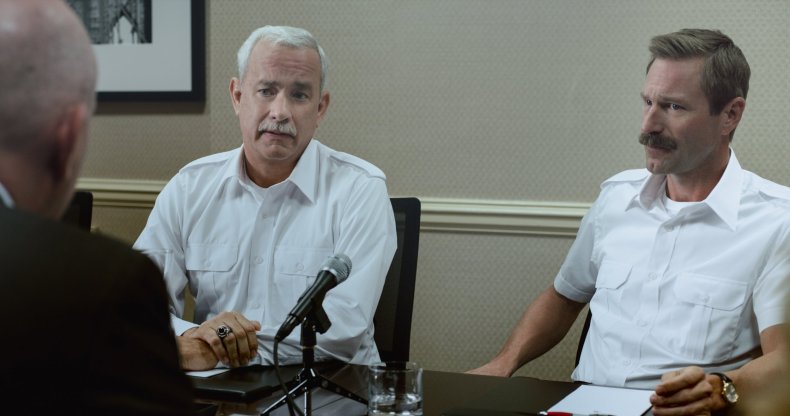 In a world increasingly reliant on technology, Eckhart's experience on Sully—and the knowledge he gained from the real-life Sullenberger and Skiles—has made him "more confident in air travel than I ever have been."
"I've had pilots come up to me and say: 'Tell them we're not bus drivers, we're actually involved in flying the planes,'" says the actor. "There's so much automation and computers in flying…people think that pilots don't even fly planes, they're not necessary. But this movie is a representation that you do need pilots up there. Once the computers fail, or whatever happens, you need a human element in the cockpit to manage the situation."
Eckhart sits sprawled on a white couch, one leg up, tucked under the other, and his right arm resting along the backrest. The lines across his forehead, the creases around his eyes, only enhance his rugged appeal. There's a well-worn, elder statesman sensibility about him. "I'm older now so I'm a little more balanced and levelheaded," he says about his recent career uptick. That zen, philosophical approach to life has also manifested in other areas of his life.
The actor tells me he has managed to avoid becoming too heavily invested in the recent U.S. presidential election race that has impassioned and enraged much of Hollywood. "The older I get the less I understand," he says. "And I've come to grips with the fact I don't understand, that I don't know the answers…that's sort of comforting to me."
"I'm past putting my faith in politicians," Eckhart says. "I have to make my life my own."
The actor continues: "The thing that I dislike about it the most is that polarization, the division…in order to get elected you have to beat the other person up, and in so doing, you're beating the country up, you're dividing the country. It becomes scary…whatever you read on the news is a scare tactic from one side or the other.
"My whole question is: 'Who's trying to control me? Why are you telling me this?' I try to take a step back and say, 'What does this person want me to think or do by their message?'
"I've learned to take a step back and look what's around me immediately. That way I've been able to temper myself and everything else going on…Brexit, the U.S. election, what's going on in Europe."
A week before we meet, Donald Trump was elected President of the United States. That a businessman with little prior political experience could win the highest office in the country encouraged some segments of social media to put their weight behind other non-political figures—Eckhart's co-star Hanks included. The documentarian Michael Moore popularized the idea in an appearance on CNN.
If Hanks were to run in 2020, he has the full support of his trusted first officer. "I just heard Tom give a speech two nights ago at the Museum of Modern Art in New York City. It was one of the best speeches [I've ever heard]...the most affecting, emotional, rational speeches done with absolute mastery and clarity. Everybody after that speech was stunned. I would vote for Tom in a second. If our politicians could speak as well as Tom could…he should be a shoe-in.
"I think people would actually want Tom to run for president of the United States. They have confidence that he could do the job—and they have confidence that he could get elected."
"Tom's no joke either. He's tough in his own way. He's no wilting lily…he could take the heat," Eckhart adds of the myriad of scrutinies that come with public office. "But why would he want to do that? It's such a beatdown. Your family's going to take a beatdown too. I think that's why a lot of qualified people don't get in the race."
Sully is released in the U.K. on Friday and is in theaters now in the U.S.