Abortion News Updates: Facebook Removes Posts About Mailing Abortion Pills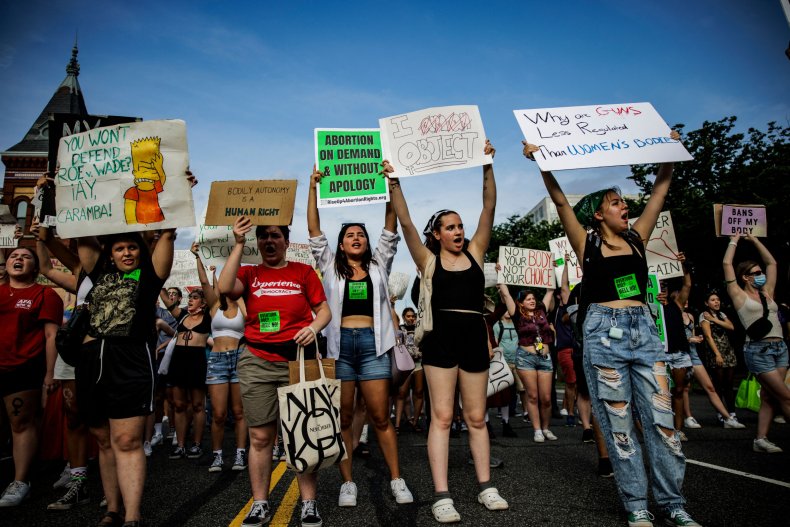 The live updates for this blog have ended.
Facebook Removes Posts About Mailing Abortion Pills
Facebook users may be banned if they post about mailing abortion pills to women in need, according to reports.
The social media giant has removed posts from users, and in some cases banned those users, who share status updates about mailing abortion pills, according to a report from VICE.
A user told VICE that Facebook removed a post the day Roe v. Wade was overturned.
The message read: "I will mail abortion pills to any one of you. Just message me."
Within minutes, the post was removed, according to VICE. The user was not notified until they tried to post later that they were banned.
A VICE reporter also attempted to post the phrase "abortion pills can be mailed" on Facebook and the post was flagged within seconds as it violates the site's community standards.
The phrase "painkiller pills can be mailed" was not flagged by Facebook.
According to Meta's Facebook community standards, content that attempts to buy, sell, trade, gift, request or donate pharmaceuticals is not allowed. Content that discusses the affordability and accessibility of prescription medication, however, is allowed.
"We've discovered some instances of incorrect enforcement and are correcting these," Meta spokesperson Andy Stone said in a tweet responding to the VICE article.
Governor Says Ruling May Attract Employers to MA
Massachusetts Governor Charlie Baker said on Monday that, after speaking with business leaders about the Supreme Court's recent decision overturning Roe v. Wade, there could be a "big opportunity" to bring new business into Massachusetts.
Baker, a Republican, recently signed an executive order that protects access to reproductive health care services in Massachusetts. Baker said he spent the weeks following the early May leak of the court's draft decision preparing his executive order, which he signed within hours of the June 24 ruling.
While some states have enacted trigger laws restricting abortion access in the wake of last week's ruling, states like Massachusetts have taken steps to bolster protections for abortion services.
Massachusetts' stance on reproductive health care could be seen as a benefit to many companies, Baker said during a Monday news conference. Several major companies have said they will cover travel-related expenses for employees who now need to leave their home state in order to get an abortion.
"I do believe that, having listened to and heard from a lot of companies over the course of the past several days about what this decision means with respect to their workforces and their benefit plans, that there may in fact be a big opportunity for Massachusetts to encourage some employers to either come here or expand their footprint here," Baker said.
"Because we are a state that takes this issue seriously, and will be there for their employees when they need those kinds of reproductive services and support," he added.
Planned Parenthood Sues to Block Utah, Kentucky Abortion Bans
Planned Parenthood and the American Civil Liberties Union (ACLU) filed lawsuits to block abortion trigger laws in Utah and Kentucky.
The lawsuit in Utah claims the law banning abortions violated the Utah Constitution, which "serves as an independent source of rights for Utahns."
"If left in place, the Criminal Abortion Ban will be catastrophic for Utahns," the lawsuit reads. "The Act will force some Utahns seeking abortion to instead carry pregnancies to term against their will, with all of the physical, emotional, and financial costs that entails."
Planned Parenthood said this new law will not allow women who waited up to 10 days to get an abortion, in accordance to Utah's law before Roe v. Wade was overturned.
Utah outlawed abortion with the exceptions of rape, incest and in cases of severe fetal "brain abnormality" or to save the life of the mother. The law passed in 2020 and is set to go into effect Friday. Abortion providers could face up to 15 years in prison and heavy fines.
Hundreds of people gathered outside of the Utah State Capitol Building in support of Planned Parenthood's lawsuit.
The ACLU and Planned Parenthood also announced they filed a lawsuit in Kentucky to challenge two abortion bans, claiming the state Constitution protects the right to privacy and bodily autonomy.
The lawsuit was filed on behalf of Kentucky abortion clinics and health care providers to block a 2019 law the Kentucky Attorney General threatened to enforce following the Supreme court decision to overturn Roe.
The law, banning abortions after six weeks, was previously blocked by a federal court.
"Since Friday, Kentuckians have been turned away from appointments and denied the ability to control their own bodies and futures," Brigitte Amiri, deputy director of the ACLU Reproductive Freedom Project, said in a statement. "The impacts will be long-lasting, with countless people enduring serious health risks from forced pregnancy and childbirth, making it harder to escape poverty, and derailing education, career, and life plans. We'll keep fighting for people's ability to control if and when to have a child, regardless of where they call home."
Coalition of 22 AGs Reaffirms Abortion Support
Twenty-two attorneys general released a joint statement on Monday reminding Americans that "safe and legal" access to abortion care is still "robustly protected" in several states even after the Supreme Court's decision last week to overturn Roe v. Wade.
The coalition's joint statement reiterated that the attorneys general in 21 states and in Washington, D.C. are committed to "supporting and expanding access to abortion care."
"Abortion care is healthcare. Period," the statement said. "We stand together, as our states' chief law officers, to proudly say that we will not back down in the fight to protect the rights of pregnant people in our states and across the country."
The statement went on to note that last week's ruling "reverses nearly half a century of legal precedent and undermines the rights of people across the United States" but said the coalition is "joining together to reaffirm our commitment to supporting and expanding access to abortion care nationwide."
The coalition includes state attorneys general in California, Colorado, Connecticut, Delaware, the District of Columbia, Hawaii, Illinois, Maine, Maryland, Massachusetts, Michigan, Minnesota, Nevada, New Jersey, New Mexico, New York, North Carolina, Oregon, Pennsylvania, Rhode Island, Vermont, and Washington.
On Monday, some of the participants posted messages on social media about the coalition's continuing commitment to abortion care.
"I won't back down in the fight to protect access to safe abortion services, and nor will a coalition of 21 other AGs from across the country," New York Attorney General Letitia James tweeted. "It's your body, your choice, and we will protect your basic rights."
"Let me be clear: As long as I'm Nevada's Attorney General, I will not back down in the fight to protect the fundamental freedoms of pregnant people and women in the Silver State and across the country. Period," Nevada Attorney General Aaron Ford tweeted. "Proud to join a national coalition affirming this commitment," he added.
"Abortion is healthcare. And it is, and will remain, legal in Massachusetts," Massachusetts Attorney General Maura Healey tweeted. "Today, I joined 21 of my colleagues to reaffirm our commitment to protecting and expanding abortion access. If you're seeking access to care, we'll do everything in our power to support you."
Jane Roe's Daughter 'Devastated' by SCOTUS Decision
The daughter of "Jane Roe," the women at the center of the Roe v. Wade case, was "devastated" by the Supreme Court's decision to overturn the landmark abortion case.
"I was in disbelief. I was devastated," Melissa Mills, the eldest daughter of Norma McCorvey, said Monday on CNN's New Day program. "I knew it was coming, but it was just it was too real, that it really happened and that they've taken us back 50 years from all the hard work and everything that women went through to get to where we are now."
Mills, a mother of two daughters, said it is difficult to believe that her grandchildren "are not gonna have the same rights as we've had for 50 years."
She added that she now has the same concerns her mother had decades ago.
"The same thing my mother worried about—you know, someone telling you what to do with your reproductive rights and someone having their hand on you telling you when and where and how you need to live your life," she said. "As a woman, we have to take care of ourselves...and that should be our decision, nobody else's. Nobody, especially not a man."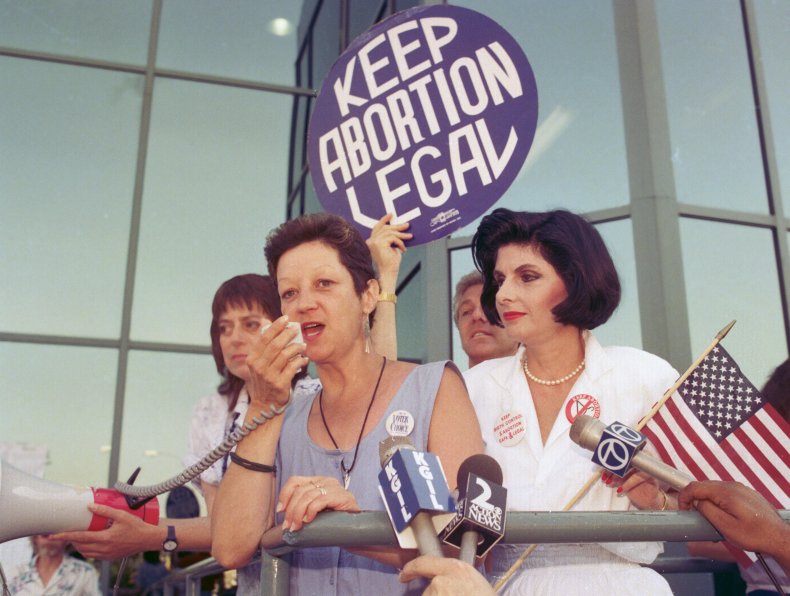 Judge Temporarily Blocks Louisiana Trigger Law
A judge blocked the enforcement of a Louisiana trigger law banning abortions that was set to go into effect after Roe v. Wade was overturned.
The New Orleans judge temporarily blocked the law after an abortions right activist argued the text was unclear, the Associated Press reported. Judge Robin M. Giarrusso granted the remaining abortion clinics in the state a temporary restraining order after the Center for Reproductive Rights filed a petition seeking emergency relief.
"We will be fighting to restore access in Louisiana and other states for as long as we can," Center for Reproductive Rights President and CEO Nancy Northup said in a statement. "Every day that a clinic is open and providing abortion services can make a difference in a person's life."
This decision could allow the abortion clinics, Hope Medical Group For Women and Medical Students for Choice, to continue to provide services for now.
"Seeking reproductive care is already difficult in the U.S., and especially in Louisiana," Hope Medical Group for Women Administrator Kathaleen Pittman said in a statement. "Now, as state governments are trying to ban abortion throughout the country, including in Louisiana, my heart is with our patients whose entire lives and future may change based on the next few days."
"We are committed to this monumental legal challenge – not to perpetuate an endless political battle, but to ensure our patients' wellbeing and so that they may draw strength from our dedication to this fight," she added.
Abortion clinics argued that the state's trigger laws violate the state's constitution and "are void for vagueness" because it is unclear when it would go into effect and did not provide specifics about banned actions.
Louisiana was one of the 13 states with trigger laws ready to go into effect ahead of the Supreme Court decision to overturn Roe.
A hearing has been set for July 8, Judge Giarrusso said.
White House to Fight Anti-Abortion Legislation
The White House intends to push back against legislation banning abortions after 15 weeks in the wake of the Supreme Court's decision to overturn Roe v. Wade, according to Jen Klein, the White House's Gender Policy Council Director.
The proposed legislation is backed by some Congressional Republicans who are seeking to implement a nationwide ban on abortion following the court's ruling last week.
Klein pointed to the support House Minority Leader Kevin McCarthy has voiced for a nationwide ban in a statement shared with CNN on Monday.
"The ultra-MAGA agenda on choice has never been about 'states rights,'" Klein told CNN. "This has always been about taking away women's rights, in every single state."
Klein's statement went on to say Congress will be faced with a choice of either protecting women's rights to an abortion throughout the U.S. or taking those rights away entirely.
"Congress will either protect women everywhere, or strip away their rights everywhere," Klein said.
Klein later shared an article that featured her statement on Twitter with an accompanying message that read, "this has always been about taking away women's rights, in every single state."
GOP Offices in North Carolina Vandalized
The North Carolina Republican Party said its offices in Raleigh were vandalized and threatened over the weekend amid nationwide protests about the Supreme Court's recent decision to overturn Roe v. Wade.
The North Carolina GOP released a statement condemning the vandalism on Sunday.
Accompanying the statement was a photo of the graffiti. The photo showed the brick wall of the building with a message scrawled across it in red that said, "if abortion isn't safe, neither R you."
The North Carolina GOP said the building was vandalized on June 24, after which the state party said it received "numerous threats over the weekend."
"It is unfortunate and unacceptable that left-wing activists resort to vandalism, destruction of property, and threats of violence in response to any political views they disagree with," the statement said.
The North Carolina GOP went on to call upon leaders in the Democratic Party "to denounce these and all threats of violence or illegal activity in response to the Supreme Court ruling to overturn Roe v. Wade."
The graffiti was being washed from the building Monday morning, according to a video shared by local reporter Deana Harley with WNCN.
Kendrick Lamar Chants 'Godspeed for Women's Rights'
Kendrick Lamar voiced his support for the protections of women's rights as he closed the Glastonbury Festival in London.
The rapper ended his new song "Savior" by chanting "they judge you, they judge Christ. Godspeed for women's rights" while fake blood dripped down his face from a crown of thorns he wore. He then dropped the microphone and walked off the stage.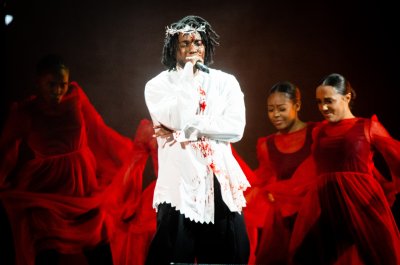 Ruling Top of Mind Ahead of Tuesday Primaries
Voters in seven states will be going to the polls on Tuesday, just four days after the Supreme Court ruled to overturn Roe v. Wade.
The June 24 ruling inspired a wave of protests across the country. Abortion is expected to be a major topic of interest to voters heading into the midterm elections this fall.
The primary election season continues Tuesday in seven states: Colorado, Illinois, Mississippi, Nebraska, New York, Oklahoma and Utah.
Three of those states—Mississippi, Oklahoma and Utah—have abortion trigger bans.
In a Sunday tweet, the Democratic Party noted the "stakes" heading into the midterm election season.
"Make no mistake: The Republican Party will not stop at overturning Roe," the tweet said. "The stakes of November's elections could not be higher—voters will make their voices heard by electing Democrats up and down the ballot."
ACLU Challenges Abortion Ban in Florida Court
Reproductive health providers in Florida are taking a new fight to protect abortions to a state court.
The American Civil Liberties Union (ACLU) and Planned Parenthood are among those asking the court to block a new law limiting abortion from going into effect Friday. Abortion rights activists argue that the Florida state constitution guarantees a broad right to privacy, including abortion.
The law is "blatantly unconstitutional under the state constitution," the ACLU of Florida said in a statement. The ACLU is representing the plaintiffs in this case.
The new Florida law is similar to the law in Mississippi the Supreme Court used to overturn Roe v. Wade. It would prohibit abortions after 15 weeks, except in situations to protect the life of the woman or in cases of a fetal abnormality. Florida currently allows abortions up to 24 weeks.
Women who violate this law could face up to five years in prison and physicians could lose their licenses and face heavy fines.
A synagogue in Florida is also bringing a case in court, arguing that laws banning abortions violate the privacy rights and religious freedoms of Jewish women.
The state is asking the judge to reject the request to block the law. The state argues that, as third parties acting on behalf of their patients, abortion providers cannot claim personal rights to privacy. They also failed to show they will suffer "irreparable harm" if the injunction isn't granted, the state said.
"Doctors are not irreparably harmed simply because they cannot perform a procedure prohibited by state law," attorneys for the state of Florida said, according to the Associated Press.
The hearing is set for 9 a.m. Monday in Tallahassee.
Olivia Rodrigo Sings 'F**k You' to SCOTUS
Olivia Rodrigo denounced the Supreme Court's recent decision overturning Roe v. Wade during a Saturday performance at Glastonbury Festival in Glastonbury, England.
The singer/songwriter told the Glastonbury crowd that she is "devastated and terrified" by the ruling.
"So many women and so many girls are going to die because of this," Rodrigo said.
Rodrigo then dedicated a performance of Lily Allen's "F**k You" to the five Supreme Court Justices whom Rodrigo said "have shown us that at the end of the day, they truly don't give a s**t about freedom." Allen appeared onstage to perform the song with Rodrigo.
Rodrigo listed the five Justices before she and Allen launched into the song.
"The song is for the Justices: Samuel Alito, Clarence Thomas, Neil Gorsuch, Amy Coney Barrett, Brett Kavanaugh. We hate you! We hate you," Rodrigo said.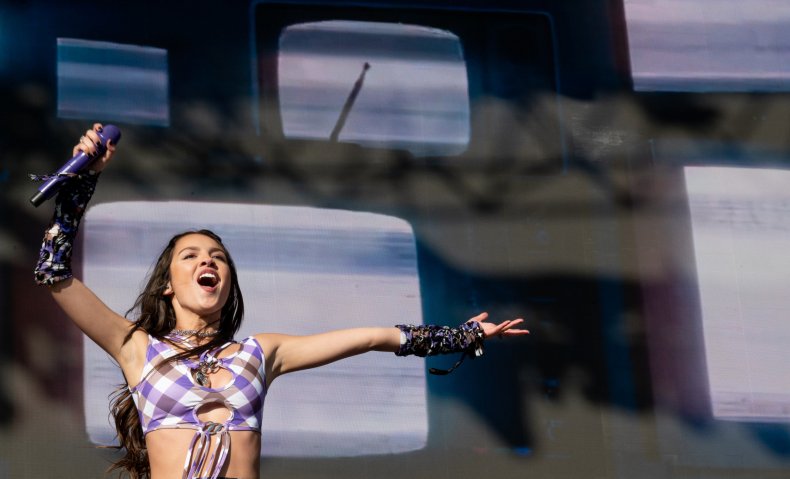 Most Americans Disapprove of Overturning Roe
A new poll shows a majority of Americans disapprove of the Supreme Court's decision to overturn Roe v. Wade.
According to a NPR/PSB NewsHour/Marist poll, 56 percent of Americans overall oppose the decision, including 45 percent who strongly oppose it.
Among political parties, 88 percent of Democrats and 53 percent of Independents oppose the decision.
More than three-quarters of Republicans support the court's decision, while only 20 percent oppose it.
There is also a big difference between those who are college-educated and those who are not. Nearly 70 percent of college graduates oppose the decision while only 47 percent of non-college graduates oppose.
There is less of a divide along gender lines, as 54 percent of men and 59 percent of women oppose the decision.
Meanwhile, a CBS News poll found that 67 percent of women and 51 percent of men disapprove of the Court's decision to overturn Roe.
Abortions to be Illegal in Mississippi in 10 Days
Mississippi has enacted a trigger law that will make abortions illegal in the state.
"Mississippi's laws to promote life are solid and thanks to the Court's clear and strong opinion in Dobbs v. Jackson Women's Health Organization, they can now go into effect," Attorney General Lynn Fitch said Monday. "The people of Mississippi and of all the states will be able to fully engage in the work of both empowering women and promoting life."
The law will go into effect in 10 days. The near-total abortion ban will have exceptions to protect the life of the mother and in cases of rape when there is a formal charge, according to WLBT-TV.