Since a draft Supreme Court ruling leaked in May showing that justices appear poised to overturn Roe v. Wade, some companies have pledged to help cover costs for employees who need to travel out of state to get an abortion.
While a final decision is yet to be issued in the case that could undo almost 50 years of precedent, the stage appears set for abortion rights to be rolled back across vast swathes of the country.
Researchers say that about half of U.S. states are certain or likely to ban abortion if the Supreme Court strikes down Roe, the landmark 1973 ruling that established the right to terminate a pregnancy before fetal viability.
With Roe hanging in the balance, some are turning to corporate America to step up and expand access to abortion for employees as a growing number of states race to enact draconian restrictions.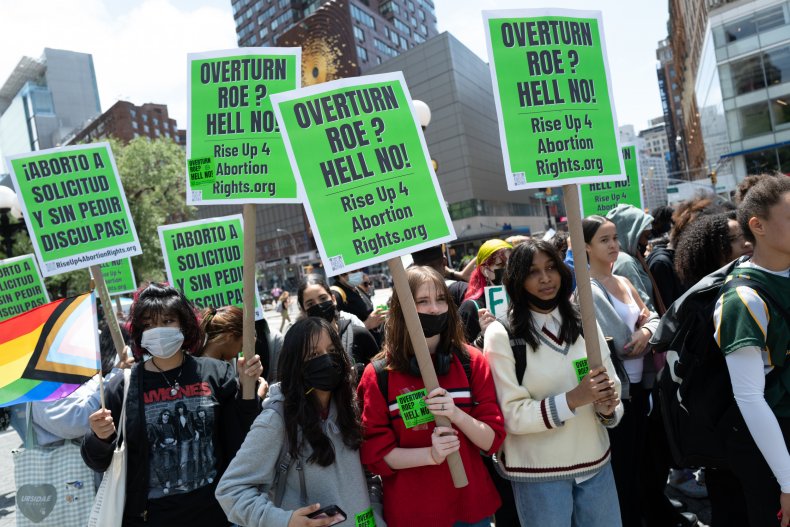 Some companies—including Amazon, Citigroup and Yelp— have vowed to cover out-of-state care in anticipation of increased barriers to abortion.
"We'll see more of that in the coming weeks," said Jen Stark, the co-director of the Center for Business and Social Justice.
The hope is that employers will adapt their benefits packages to "mitigate the harm of extreme public policy" on access to abortion and other aspects of care being targeted that have a ripple effect in the workplace, Stark told Newsweek.
"I do think this will be the new floor, the new sort of minimum for companies... access to abortion is a workplace issue. It's an economic issue."
Leng Leng Chancey, the executive director of 9to5, a national association of working women, welcomes such efforts from employers, but said they need to ensure they reach the employees who will be most harmed by barriers to abortion, such as part-time and hourly workers.
"If corporations are really making a commitment to change, then they need to look within their own policy to make sure their employees that need it the most have access to all of this," she told Newsweek.
Recent reporting suggests some large corporations were advised to stay silent on the leaked draft opinion, but Stark said many companies are likely waiting until a final decision is issued. Many companies are likely already preparing how best to respond to a ruling that affects half the workforce, she said, and the leaked opinion will have served as a catalyst.
She believes companies will be less concerned about the political backlash from conservatives for taking a stance on the hot-button issue, and says they are well aware that many will expect substantive action to help those harmed by abortion restrictions. "I think we're well past the moment of performative action by companies," she said.
Fortune has reported how abortion restrictions and other contentious laws passed in business-friendly red states already has many companies rethinking operations, as they weigh the impact it could have on attracting and retaining talent.
Stark pointed to a recent survey in which the majority of top talent said it is important to them that their employer take a stance on social issues—with 7 in 10 saying that access to reproductive health care, including abortion, should be among the issues companies address.
Companies could be faced with fewer workers wanting to relocate to states that ban or severely restrict abortion, Stark said. They may also avoid hosting conferences or setting up new operations in those states, she said, adding that abortion policy is often a bellwether of state policy across a number of issues.
"It's not merely about companies taking a stance or altruistically finding courage in this moment, it is truly a workplace issue, and one that affects businesses, stakeholders, their consumers, their workers," she said. "They do it because of the impact on their ability to draw talent to an area and also the health and wellbeing of that community."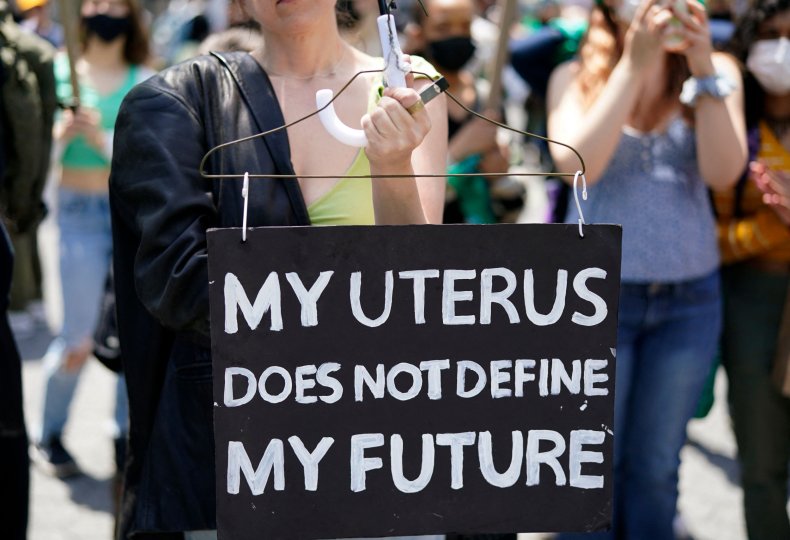 While experts believe it's too early to tell whether sweeping abortion bans could lead to any noticeable migration of the workforce, research by BSR found employed adults prefer to live in a state where abortion is legal and accessible by a margin of 2 to 1.
One area where the experts agree is that reducing access to abortion will undoubtedly impact women's participation in the workforce.
"The workforce is definitely going to suffer," Chancey said. "Because now you're expecting women to choose. What are their options if they don't have access to abortion? Now they're even going to have fewer options."
"We also know that the ability to get an abortion can impact someone's ability to maintain full-time employment," Dr. Raegan McDonald-Mosley, the CEO of Power to Decide, told Newsweek, citing the findings of The Turnaway Study, which examined the effect of unwanted pregnancy on women's lives.
The high cost of childcare, the lack of paid leave and the rising cost of living are also among the factors that challenge a woman's ability to show up for work.
"I think the irony shouldn't be lost on businesses in America that we lack a national paid family leave policy," Stark said. "That state by state and employer by employer, women are depending on kind of the goodwill of their employer."
McDonald-Mosley noted how women were forced to bear the brunt of the COVID-19 pandemic when it came to parenting and homeschooling responsibilities during lockdowns, and many were forced to leave work or go part-time.
"We know that abortion restrictions hurt people and we know that the people that are hurt the most from these restrictions are people who are navigating the world with lower incomes, people of color, young people and people who live in rural areas," she said.
"It's fundamentally wrong for access to abortion care to depend on what state you live in, how much money you make, or what company you have to work for."
She added that it could "hardly be more urgent" that employers across the country have workplace policies that support reproductive health and rights, including abortion, especially in the states where they're most at risk.
But companies need to do more than just help employees with the cost of abortion care, Stark said, noting that some of the companies who have vowed to help employees access abortions have also made political contributions to anti-abortion Republicans.
"Companies can provide all the bus, plane and train tickets that their workers need, but what is actually the solution to this problem is companies minding the collateral damage of their political giving that has kind of enabled this landscape in the U.S," she said.
Correction 6/13/22, 11:01 a.m. ET: This article has been updated to correct the spelling of Dr. Raegan McDonald-Mosley.