'Absolutely Dreadful': Internet Reacts to New Queen Elizabeth Mural in London
A mural of Queen Elizabeth II recently appeared near Hounslow East's Tube station in London, and many online are calling for its removal.
Artists Jignesh and Yash Patel reportedly painted the mural in honor of the former monarch, who died on September 8 at her Scottish home of Balmoral Castle.
"We love the Queen, [and] when she died, we thought we had to pay tribute," Jignesh Patel told the BBC of the mural. "It is a unique way to do a tribute. In Hounslow, there is a lack of creativity."
Tributes to the Queen
Many people from across the globe have paid tribute to the queen in various ways. Actress Olivia Coleman, who portrayed Queen Elizabeth II in seasons 3 and 4 of The Crown, reflected on the queen's death in an interview with Variety, saying: "She made a promise as a young woman and she absolutely kept it with such dignity. We're all incredibly impressed by what she did."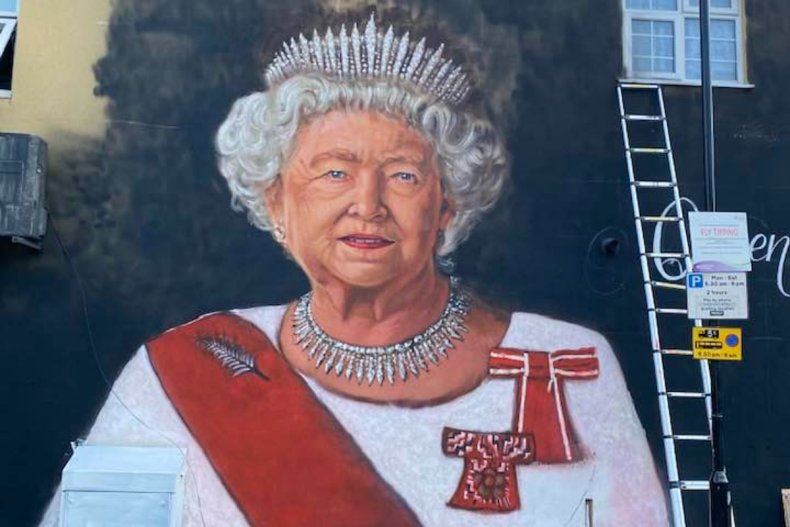 In the hours following the announcement of the Queen's death, thousands placed flowers outside London's Buckingham Palace, and many world leaders, including former President Barack Obama, took to social media to pay their respects to England's longest reigning monarch.
"Like so many of you, Michelle and I are grateful to have witnessed Her Majesty's dedicated leadership, and we are awed by her legacy of tireless, dignified public service. Our thoughts are with her family and the people of the United Kingdom at this difficult time," Obama tweeted.
The Patels painted their mural on the side of a two-story building on Kingsley Road, said the BBC. It will be the first thing people see when exiting the west London Tube station, and as such, the Patels hope the artwork will become "an important part of the community in the years to come."
"If we can inspire kids and get them to enjoy the mural, it can leave an impression in the community," Jignesh Patel said.
'Absolutely Dreadful'
There's been no word on how the Hounslow community feels about the mural. However, many online commenters believe the "absolutely dreadful" piece of art, which they say bears no resemblance to the former Queen of England, should be removed at once.
"Doesn't look very much like her! It's a bit disrespectful I feel! [The] best thing they could do now is paint over it," Margaret Ellingworth said in a Facebook comment for Leicestershire Live.
"Absolutely dreadful. I hope they paint over it," Linda Chown agreed.
"This is such an insult to the memory of the Queen...[There are] so many more talented artists out there that would have done a MUCH better job than this," Stacy Swan commented.
Roger Lomas wrote: "Terrible!!! Looks like she's just crawled out of a bar after drinking six pints of Guinness. An insult to our Queen."
Nick Lieder added: "That's shockingly dreadful! Paint over it for god's sake!"
Newsweek has reached out to Jignesh Patel for comment.
Updated 09/19/2022, 5:16 p.m. ET: This story has been updated with a verified photo.