A Look Back at Celebs Getting Political at the Oscars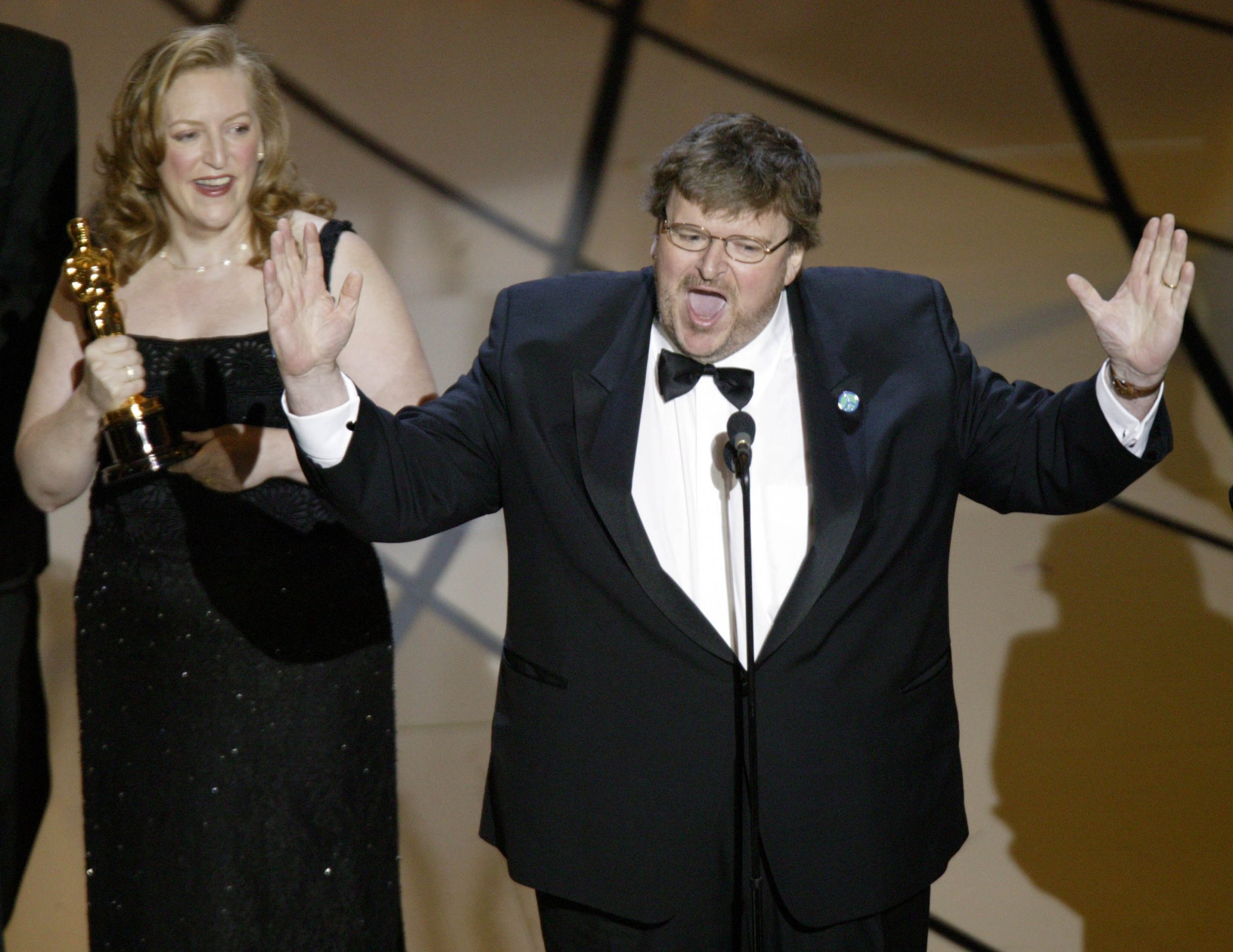 Whenever something big happens in the world—a war, or national tragedy, gridlock on the 101—award shows seem like the ideal place for celebrities to express how they feel about it, whether we like it or not. We saw this on full display during the Golden Globes when Meryl Streep delivered a verbal takedown of Donald Trump—without even mentioning his name. After this year's Screen Actor's Guild Awards became more of an expensive protest rally than an award show, you can expect the Academy Awards to deliver much of the same on Sunday, February 26. There's even a call to cancel this year's ceremony in protest over Trump's travel ban.
Related: Trump's travel ban will stop Syria's White Helmets attending Oscars
This won't be the first time the Oscars have been used as a venue for political protest. Sean Penn spoke up for LGBT rights after winning best actor for Milk; a subject in the Oscar-winning documentary The Cove held up a sign reading "Text dolphin to 4414;" Vanessa Redgrave was able to pack in Nixon, McCarthyism, and even "Zionist hoodlums" into her best supporting actress win for Julia; but the most famous protest speech came from Sacheen Littlefeather, who in 1973 spoke for Marlon Brando after he won the best actor for The Godfather. "[Marlon Brando] regretfully cannot accept this generous award, and the reasons for this being are the treatment of American Indians today, by the film industry.…" she said. This was followed by a mix of boos and some applause.
But these are all individual instances of protest. Rarely has there been a year where a single global issue has impacted almost every category of the ceremony. To find an example of this, and perhaps to give us a sense of what's in store for this year's ceremony, we have to look to the 2003 ceremony, just after the United States invaded Iraq, and less than two years after 9/11. The ceremony ultimately became the platform for celebs to voice their political beliefs.
Michael Moore started things off during his acceptance speech for best documentary for Bowling for Columbine, verbally taking down President George W. Bush, calling him a "fictitious president… we are against this war… shame on you Mr. Bush…" Boos, applause, and total confusion for poor Diane Lane, the presenter, followed Moore's speech. Poor Diane.
As a juxtaposition to Moore's speech, Bill Guttentag and Robert David Port, who took home the Oscar for best documentary short for "Twin Towers," honored those who died on 9/11.
Chris Cooper, who won best supporting actor for Adaptation, was more subtle and wished for peace.
Nicole Kidman, dressed in black—a theme of the evening to recognize the perilous times of war—accepted the best actress Oscar for The Hours. She too was a bit more subtle, but elaborated more, saying "...there are a lot of problems in the world, and since 9/11 there's been a lot of pain, in terms of families losing people, and now with the war, families losing people, God bless them."
But it was Adrien Brody, who won best actor for his role as a Holocaust survivor in The Pianist, that humanized the theme of the night. He said, "I'm also filled with a lot of sadness tonight because I'm accepting an award at such a strange time. You know, my experiences of making this film made me very aware of the sadness, and the dehumanization of people at times of war, and the repercussions of war. Whomever you believe in, whether it's God or Allah, let's pray for a swift resolution.
Considering the record numbers that turned out for the Women's March, in addition to the thousands of people taking to the streets to protest Trump's travel ban on mostly Muslim refugees, it's a safe bet to expect this year's Oscar ceremony will be more political than any other before it—even without Michael Moore's participation.
Read more from Newsweek.com:
- Iranian actor to boycott Oscars over 'racist' Donald Trump U.S. visa ban
- 2017 Oscar nominations revealed: La La Land, Moonlight and Arrival lead the pack
- BAFTA Chief Executive Amanda Berry hopes diversity initiative will influence the Oscars