Academy Releases Update on Will Smith Slap Investigation
The Academy of Motion Picture Arts and Sciences has released an update on the slap that rocked the Oscars in an open letter in which members expressed their upset and outrage as Will Smith faces a formal review for his actions.
The Academy issued the letter late Tuesday about the incident at the Oscars on Sunday in which Smith slapped comedian Chris Rock and said that the situation was still being processed and it will be a few weeks before it reaches a conclusion.
The body confirmed that their Board of Governors will decide on appropriate action for the King Richard star, who stormed the stage and slapped Rock after the latter made a joke about his wife Jada Pinkett Smith's shaved head. The actress has been open about her experience with the medical condition alopecia, which causes baldness.
"The Academy condemns the actions of Mr. Smith at last night's show," the Academy previously told Newsweek. "We have officially started a formal review around the incident and will explore further action and consequences in accordance with our Bylaws, Standards of Conduct and California law."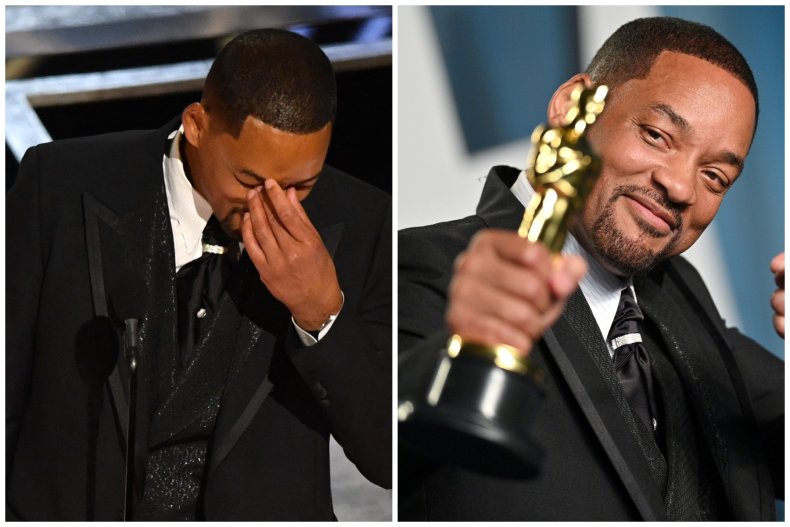 Questions now remain about whether Smith will be stripped of his Best Actor Oscar.
Smith has since apologized to Rock for the altercation, writing on social media: "Jokes at my expense are a part of the job, but a joke about Jada's medical condition was too much for me to bear and I reacted emotionally."
The Los Angeles Police Department said on Sunday that Rock "declined to file a police report."
"If the involved party desires a police report at a later date, LAPD will be available to complete an investigative report," the LAPD said following the incident.
Pinkett Smith broke her silence on the situation on Tuesday morning in an Instagram post about healing.
"This is a season for healing, and I am here for it," she said in a post.
Meanwhile, Rock, who has yet to publicly address what happened, is due to begin a U.S. tour with demand for tickets to his shows surging immediately following Sunday night's events.
Here Is the Full Letter From the Academy:
Dear Members,
Sunday's telecast of the 94th Oscars was meant to be a celebration of the many individuals in our community who did incredible work this past year. We are upset and outraged that those moments were overshadowed by the unacceptable and harmful behavior on stage by a nominee. To be clear, we condemn Mr. Smith's actions that transpired Sunday night.
As outlined in our bylaws, the Academy's Board of Governors will now make a determination on appropriate action for Mr. Smith. As governed by California law regarding members of nonprofit organizations like the Academy, and set forth in our Standards of Conduct, this must follow an official process that will take a few weeks.
We will continue to update you on any developments, but we also ask that you respect your Board, Academy staff and the process as this unfolds so it can work in the considered way it was intended and mandated. Please trust that the Board of Governors will conduct this process in a manner that is both expedient and respectful of all involved while maintaining the standards of the Academy.
Thank you,
Academy of Motion Picture Arts and Sciences
David Rubin, President
Academy of Motion Picture Arts and Sciences
Dawn Hudson
CEO
(via Deadline)