As Will Smith faces a formal review for slapping Chris Rock onstage at the Oscars, calls have been made for other stars to be stripped of their statuettes should the actor end up losing his.
In a move that overshadowed the 94th Academy Awards on Sunday, Smith bounded onto the stage at Hollywood's Dolby Theatre and struck Rock in the face after the comedian made a joke about his wife, Jada Pinkett Smith's close-cropped haircut. Pinkett Smith has publicly discussed suffering hair loss due to alopecia.
While Smith issued an apology several minutes later when he returned to the stage to accept his Best Actor Oscar for King Richard, the Academy of Motion Picture Arts and Sciences has revealed that the star could face action.
"The Academy condemns the actions of Mr. Smith at last night's show," the Academy told Newsweek. "We have officially started a formal review around the incident and will explore further action and consequences in accordance with our Bylaws, Standards of Conduct and California law."
And while there are questions over whether Smith will be stripped of his Oscar as a result of his actions during the live telecast, calls have arisen for such stars as Mel Gibson and Roman Polanski to lose theirs, should Smith face such consequences.
Gibson won a Best Director Academy Award for the 1995 movie Braveheart, while Polanski scooped the same trophy in 2003 for The Pianist.
Several years after Gibson's win, he was mired in controversy amid accusations of anti-Semitism and racism. Meanwhile, Polanski fled the U.S. in 1978, the night before his court date to return to prison after sexually assaulting a minor the year prior.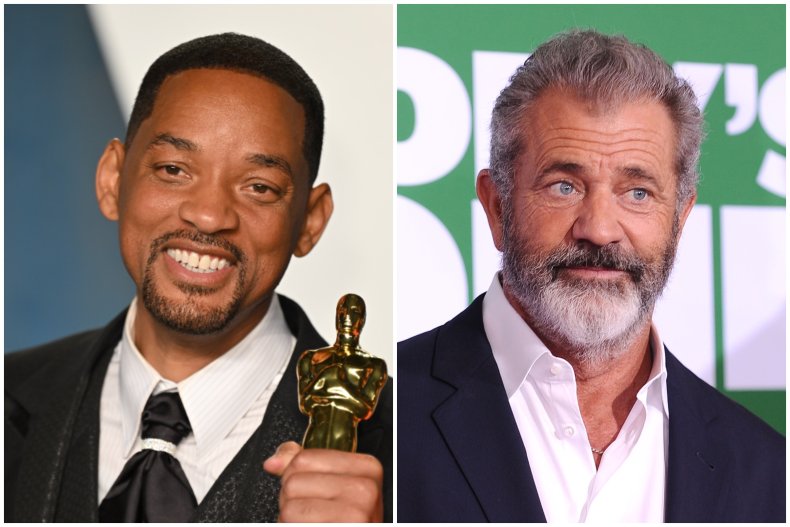 Amid discussion over the possible repercussions Smith faces, Eugene Scott, a political reporter at The Washington Post, took to Twitter to point out that these men, along with others, have kept their Oscars following scandals.
"Harvey Weinstein, who has been convicted of rape, still has his Oscar. Roman Polanski, who pleaded guilty to statutory rape, & Mel Gibson, who has an ugly history of racist and anti-Semitic remarks, still have theirs too," Scott wrote.
Weinstein, whose productions have won 81 Academy Awards, has countless sexual assault allegations against him. In 2017, The New York Times broke the news of the allegations which caused Weinstein to lose his membership from the Academy. In 2020, it was announced that Weinstein will spend 23 years in prison.
Writer, director and producer Marshall Herskovitz, who stated that he is a member of the Academy, wrote on Twitter shortly after Sunday's incident that Smith should face disciplinary action, stating: "He disgraced our entire community tonight."
Responding to Herskovitz's post, gender violence awareness activist Sil Lai Abrams wrote: "I can assure you that your community has many more disgraceful actions that have impacted many more people than Will Smith. See Roman Polanski, Mel Gibson, Harvey Weinstein, Alfred Hitchcock, etc."
Back in 2016, actress Tippi Hedren alleged that filmmaker Hitchcock sexually assaulted her when they worked together on the movies Marnie and The Birds.
CNN Opinion columnist Jeff Yang also pointed out how Gibson has continued to work in the entertainment industry in the years since his own scandal.
"Not defending what Will Smith did as it was beyond the pale but folks saying 'his career is over,' I'll just point you over to where Mel Gibson is sitting and counting his awards and money and ask you what it means about Hollywood if that's actually true," Yang commented.
Nicola Palios, vice chairman of British soccer club Tranmere Rovers, also waded into the conversation, suggesting that hypocrisy was at play on the part of certain Academy members.
Palios tweeted: "Not condoning what Will Smith did yesterday but it is unbelievable that Academy members calling for his Oscar to be rescinded when they are happy for child rapist Roman Polanski, and serial sex abuser Harvey Weinstein to keep theirs! Where was the moral outrage then?"
Addressing the Academy directly, one Twitter user suggested that it would show undertones of racism should Smith lose his Oscar while others who have weathered unsavory scandals get to keep theirs.
They wrote: "Hey @TheAcademy if you're going to investigate Will Smith for defending his wife, why don't you take away all the Oscars you've given to sexual predators like Harvey Weinstein, Roman Polanski and Woody Allen.
"Just feels a little racially motivated to investigate Will Smith for reacting appropriately to an ableist joke about his wife and keep awarding white sexual predators."
Director Allen has long denied accusations that he sexually molested his adopted daughter, Dylan Farrow, as a child. The claims were first made by Farrow after Woody Allen split from Mia Farrow in 1992. He has never been charged or prosecuted.
Also mentioned in the flood of tweets were other Academy Award winners accused of sexual assault and harassment, including Casey Affleck and Kevin Spacey.
On Monday, Smith apologized to Rock on Instagram, writing: "Violence in all of its forms is poisonous and destructive. My behavior at last night's Academy Awards was unacceptable and inexcusable. Jokes at my expense are a part of the job, but a joke about Jada's medical condition was too much for me to bear and I reacted emotionally.
"I would like to publicly apologize to you, Chris. I was out of line and I was wrong. I am embarrassed and my actions were not indicative of the man I want to be. There is no place for violence in a world of love and kindness.
"I would also like to apologize to the Academy, the producers of the show, all the attendees and everyone watching around the world. I would like to apologize to the Williams Family and my King Richard Family. I deeply regret that my behavior has stained what has been an otherwise gorgeous journey for all of us. I am a work in progress."