ACLU Still Backing Amber Heard Despite Confusion Over $3.5m Donation
The ACLU is still backing Amber Heard despite confusion over her donation to the civil rights organization.
The Aquaman star had previously pledged to donate the entirety of her $7 million divorce settlement from Johnny Depp to charity but previous court testimony has proved she has yet to fulfill this promise.
Depp and Heard are embroiled in a multi-million-dollar defamation lawsuit after Heard wrote a 2018 op-ed for The Washington Post about being a survivor of domestic violence. She never mentioned her ex-husband Depp by name but his attorneys argue the insinuation has caused a severe loss of potential earnings and loss of acting roles as well as reputational damage.
In 2016, Heard was praised after she made a commitment to donate a large sum to both the ACLU and the Children's Hospital of Los Angeles—$3.5 million each.
However, in court this week Johnny Depp's lawyer Camille Vasquez grilled the actress over her vow.
"You still haven't donated the $7 million divorce settlement to charity. Isn't that right?" Vasquez put to Heard whose cross-examination has now concluded.
"Incorrect," replied Heard, "I pledged the entirety⁠—"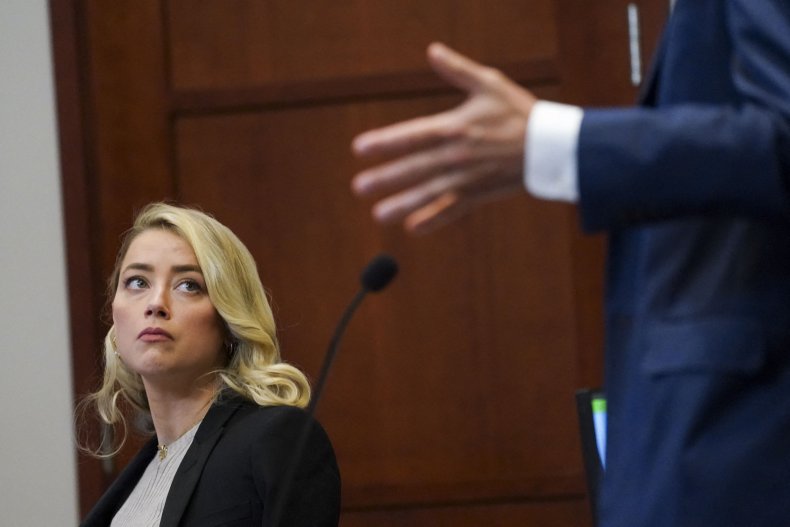 "No, Ms. Heard. That's not my question," Vasquez cut Heard off. She went on to clarify that she meant donate, not pledge.
"I use pledge and donation synonymous with one another. They mean the same thing," Heard said. From that point, the back-and-forth heated up but both women remained restrained in their firm stance.
"That's how donations are paid," Heard told Vasquez and the jury.
The chief operating officer of the ACLU testified at the trial last month that Heard had only paid $1.3 million of the $3.5 million she had pledged to the organization.
During the testimony, Terence Dougherty said that the ACLU had received donations of $350,000, $500,000 and $350,000 that were all "associated" with Heard. The organization's chief operating officer added that the ACLU now deems a $100,000 payment from Depp to be part of Heard's gifts.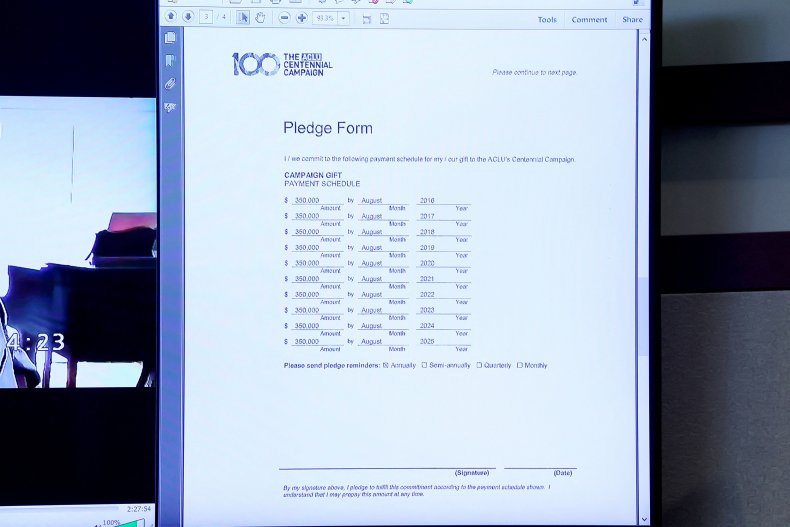 Dougherty added that Heard hasn't donated anything to the civil rights organization since 2019 and testified that he believed Tesla CEO Elon Musk, who had a previous relationship with Heard, reportedly played a role in the donations sent to the ACLU.
Despite this confusion, the ACLU has released a statement defending the importance of the work Heard did with the organization.
"In 2016, Ms. Heard pledged to donate $3.5 million over 10 years to the ACLU," the statement, published on the charity's website this week, reads.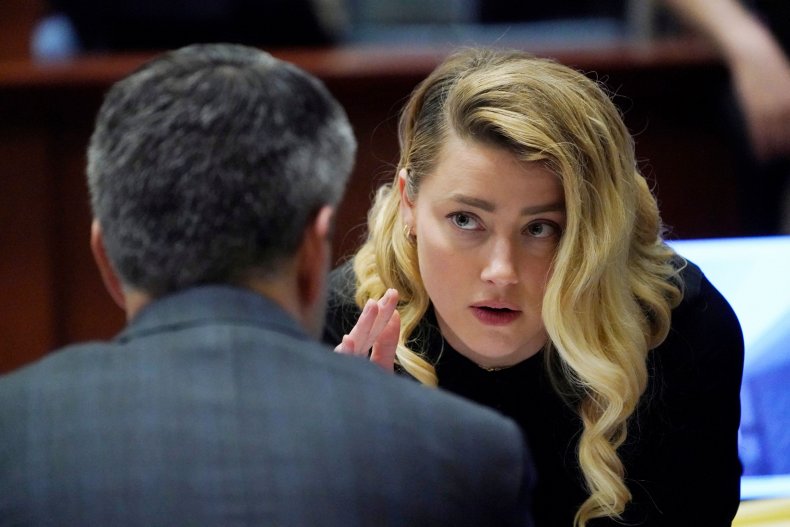 "Two years later, in 2018, the ACLU invited Ms. Heard to become an ambassador and to work with us on an op-ed to bring attention to the issue of sexual assault and domestic violence issues; she agreed. Through her ambassadorship, Ms. Heard supported our advocacy for gender justice issues, a cause that has long been central to our mission at least since Ruth Bader Ginsburg headed the ACLU's Women's Rights Project."
The charity also said that it would never request donations in exchange for ambassadorships or op-eds, such as Heard's one in The Washington Post.
The ACLU has faced criticism in recent months for its involvement in the Depp/Heard situation with The Atlantic writing that it was once a "bastion of free speech and high-minded ideals" that has become a "caricature of its former self."
The Depp v. Heard trial continues on Thursday and Newsweek will be covering all the breaking stories from the Fairfax County courtroom on our live blog.