Piers Morgan Brands Amber Heard a Liar After Charity Donation Admission
Piers Morgan has weighed in on the Johnny Depp and Amber Heard trial, branding the actress a "liar" for her comments about donating $7 million to charity.
Depp and Heard are currently embroiled in a $50 million defamation lawsuit after Heard wrote a 2018 op-ed stating she was a survivor of domestic violence. She never mentioned her ex-husband Depp by name but his legal team argue the insinuation has caused a massive loss of potential earnings.
On Monday in court, Heard faced cross-examination from Depp's team who questioned her claim that she donated her $7 million divorce settlement to multiple charities. Attorney Camille Vasquez and Heard debated the use of the word "donated" as Heard suggested it was synonymous with the term "pledged."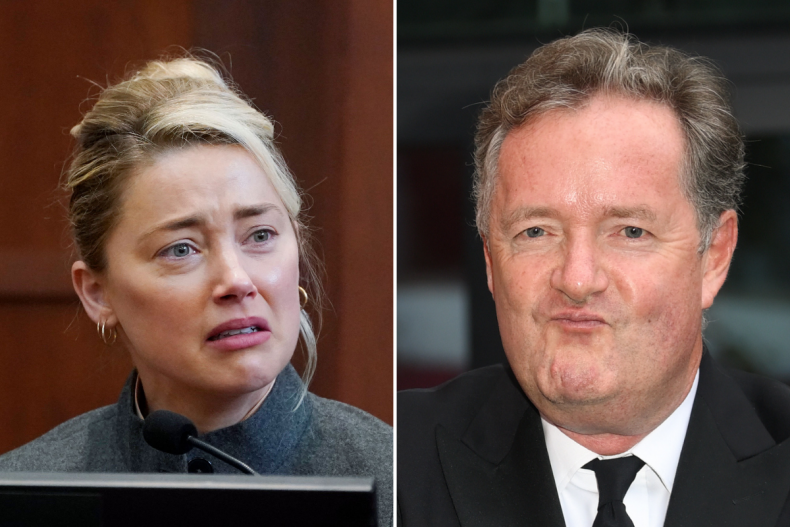 Sharing the exchange on Twitter to his 7.9 million followers, British TV host Morgan gave a damning assessment of Heard's testimony.
"So Amber Heard's a liar," Morgan wrote, "and if she's lying about paying money to charity, why should we believe anything else she says?"
Attached to his tweet is a clip from Law&Crime Network, which shared two minutes of footage from the trial. It shows the exchange between Heard and Vasquez as they get to the bottom of whether or not Heard had actually "donated" $7 million to ACLU and the Children's Hospital of Los Angeles as she had claimed to have done in October 2018.
Morgan's assessment of the clip was applauded by other Twitter users. "Speaking sense for once," one user wrote about the often controversial TV personality while another said, "I'm back agreeing with Piers Morgan again... feels weird man."
It's not the first time the CNN host, talent show judge and journalist has discussed the ongoing trial between Depp and Heard. As an active Twitter user, he's given his take on several notable moments from the trial.
On Monday he commented on Heard's testimony that Depp's dog Boo had eaten Depp's marijuana as a puppy. "Everytime I think these two can't possibly sink any lower, down they plunge," Morgan wrote. Heard was testifying that it was Boo who had defecated in the bed, not her as she had been accused during Depp's testimony.
Morgan has become the face of the new British television channel Talk TV which launched with a noteworthy interview with President Donald Trump. Since then he's also made headline for his coverage, opinions and his guests' opinions of Meghan Markle.
Earlier in May, Spice Girls member Mel B appeared on Morgan's show and shared her fears that the current Depp and Heard trial could prevent future victims of domestic violence from speaking out. She told Morgan that "to look at this case as entertainment is damaging."
The Depp v. Heard trial continues on Tuesday and Newsweek will be covering all the breaking stories from the Fairfax County courtroom on our live blog.