Actor Chris Evans Calls Senator Lindsey Graham 'Smithers,' Wonders What Donald Trump Has on Him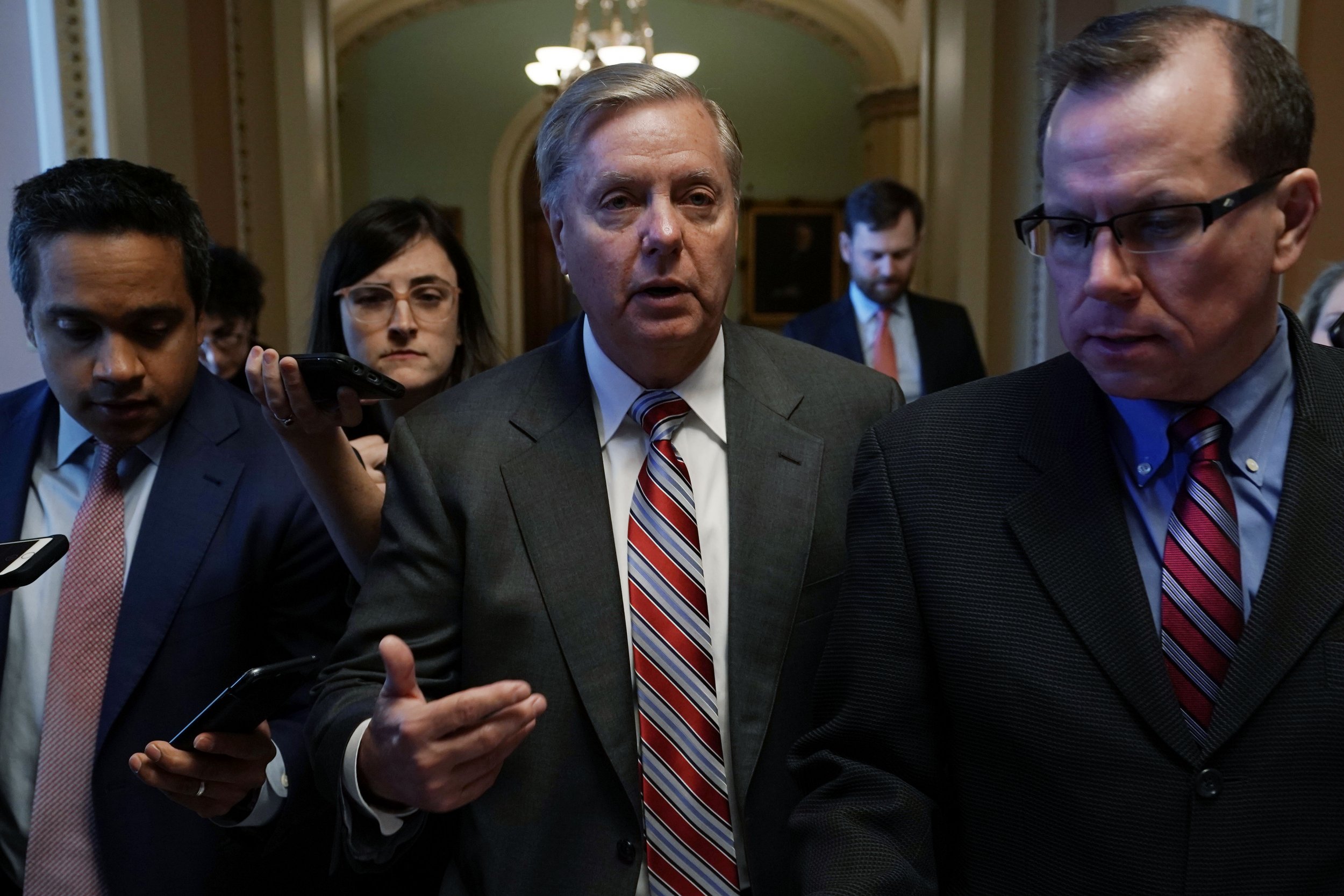 Actor Chris Evans has attacked South Carolina Senator Lindsey Graham for his continued support of President Donald Trump, suggesting the president may possess compromising material on Graham used to keep him in line.
Evans—best known for his depiction of the Marvel Comics superhero Captain America in both the eponymous movie series and the Avengers films—is a regular critic of the 45th president, though has also branched out to hit some of his most high-profile allies.
Read More: Lindsey Graham tells Fox News he's "hell-bent" on replacing Ruth Bader Ginsburg with conservative, then removes microphone
During his bid for the White House and at the start of his presidency, Graham was one of Trump's most vocal Republican critics. In December 2015, the senator told CNN, "You know how you make America great again? Tell Donald Trump to go to hell."
He has also criticized Trump's conduct towards the late-Senator John McCain, his response to alleged crimes committed by Saudi Crown Prince Mohammed bin Salman and—most recently—his sudden decision to withdraw American troops from Syria.
Nonetheless, Graham became a close confidant to Trump as the inexperienced president struggled to navigate domestic politics and foreign policy. In December, he told CNN, "I've had more access to this president than every president combined."
But for Evans, their close relationship demonstrates Graham's duplicity—or even that Trump possesses potent blackmail material on the three-term senator.
Referencing Simpsons character Waylon Smithers—the famously sycophantic personal assistant of cruel billionaire Mr. Burns—Evans wrote on Twitter, "Hey Smithers, remember when you said this: 'You know how you make America great again, tell Donald Trump to go to hell.'"
"What do they have on you? I can't tell if this shameful 180 is born of fear or thirst," he continued. "Either way, we will always remember you as nothing more than remora"—referring to a type of fish that attaches itself to a shark, piggybacking on the larger fish and eating its leftover food.
Graham's office did not immediately respond to request for comment.
Though Graham admitted in December that he and the president "don't always agree," the senator said it has been "absolutely" worth it to forge a closer relationship with Trump.
Trump is currently locked in a bitter dispute with Democratic opponents over funding for his proposed wall along the southern border. Though Graham may have attacked the president's foreign policy, he has staunchly supported Trump's border security ambitions.
Last month, he claimed—without providing any evidence or justification—that the border wall would form part of America's protection against "radical Islam," describing it as the country's "last line of defense" against global Islamic terrorism.
A week later, he suggested that a failure to build the wall could mark the end of Trump's presidential influence. "Donald Trump has made a promise to the American people. He's going to secure our border," Graham told Sean Hannity on Fox News. However, if he failed to deliver on the promise, Graham warned, "That's probably the end of his presidency."