Representative Adam Kinzinger, an Illinois Republican, took aim at GOP Senator Ted Cruz of Texas, accusing the fellow member of Congress of promoting an "absolute lie" that Ray Epps is connected to the FBI.
Allegations that Epps, a Trump supporter at the January 6, 2021 U.S. Capitol riot, was working for federal law enforcement have circulated widely within right-wing circles. No evidence has emerged corroborating the claim, and the House select committee investigating the January 6 attack has said Epps confirmed that he was not working for the FBI.
"This is an absolute lie," wrote Kinzinger, a staunch Trump critic, on Saturday, tagging Cruz in a Saturday Twitter post. The Illinois representative shared a screenshot from a campaign email for Cruz that suggested the senator was leading the charge to discover the truth about Epps.
"@tedcruz could care less who he manipulates and what BS he spews. I will never let you forget Teddy," Kinzinger added.
The email from Cruz's campaign said he "led the search for answers on whether there was any federal involvement in January 6" over the past week. It said that Cruz had "grilled" a senior FBI official and asked the questions: "Who is Ray Epps? Was Ray Epps a federal agent or informant?"
During a Senate hearing earlier this month, Cruz said many are "understandably very concerned about Mr. Epps." The GOP senator said: "Mr. Epps has not been charged with anything. No one's explained why a person videoed urging people to go to the Capitol, a person whose conduct was so suspect the crowd believed he was a fed, would magically disappear from the list of the people the FBI was looking at."
In videos posted to social media, Epps encouraged fellow Trump supporters to enter the U.S. Capitol the day before the riot as well as during the events of January 6. In one of those videos, a crowd accuses Epps of being a "fed," chanting the word repeatedly over and over.
Speculation surrounding Epps grew after it was noticed that the FBI took down his image as someone that needed to be identified. But this was normal procedure, as Epps had already been interviewed by the FBI and was reportedly cooperating with investigators, according to his attorney. Furthermore, the January 6 committee confirmed that Epps has denied any connection to federal law enforcement.
Nonetheless, many Republicans continue to suggest that Epps was potentially an FBI informant. Pro-Trump conservatives have pushed a conspiracy theory that the events of January 6 were a "false flag" operation conducted by the so-called "deep state" in an effort to tarnish the then president's image.
There is no evidence to support this claim, although it has been widely promoted in conservative media and by a number of GOP lawmakers. Fox News host Tucker Carlson drew substantial backlash after he released a documentary in November that promoted the idea.
"The Select Committee is aware of unsupported claims that Ray Epps was an F.B.I. informant based on the fact that he was on the F.B.I. wanted list and then was removed from that list without being charged," said Tim Mulvey, a House committee spokesperson, in a statement earlier this month.
"The Select Committee has interviewed Mr. Epps. Mr. Epps informed us that he was not employed by, working with or acting at the direction of any law enforcement agency on Jan. 5 or 6 or at any other time, and that he has never been an informant for the F.B.I. or any other law enforcement agency," Mulvey added.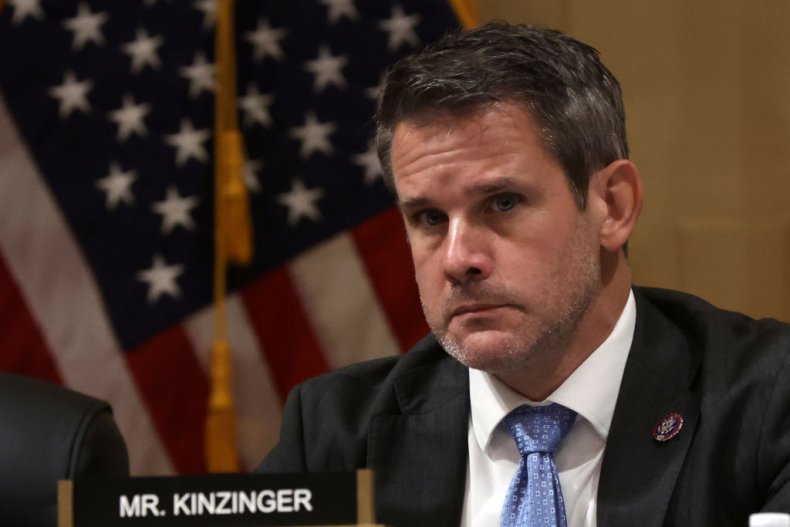 Kinzinger serves as one of two Republican House members on the select committee, the other being GOP Representative Liz Cheney of Wyoming. Both Cheney and Kinzinger voted along with eight other Republican representatives to impeach Trump following the Capitol attack last year. They have received substantial backlash from Trump and fellow Republicans as a result.
Cheney faces a Trump-endorsed primary challenger ahead of the midterm elections later this year. Kinzinger decided not to seek another term. Meanwhile, pro-Trump GOP lawmakers have demanded that Kinzinger and Cheney be ousted from the House Republican Conference, calling them "spies for the Democrats."
Newsweek reached out to Cruz's press secretary for comment but did not immediately receive a response.