Representative Adam Kinzinger, an Illinois Republican, warned that some Christian churches have become a "house of worship" to former President Donald Trump.
On Friday morning, Kinzinger shared a clip on Twitter of himself discussing his concerns about the "huge role" he believes some Christian leaders and churches have played in promoting Trump and the political divisions within the country.
Kinzinger identifies as a protestant Christian but has previously discussed being condemned by conservative Christian family members over his opposition to the former president.
Kinzinger joined nine other House Republicans and all House Democrats in voting to impeach Trump last year for inciting his supporters to riot at the U.S. Capitol on January 6, 2021. Kinzinger, who decided not to seek reelection, also serves on the House select committee investigating the riot, as well as Trump's efforts to overturn the 2020 election results.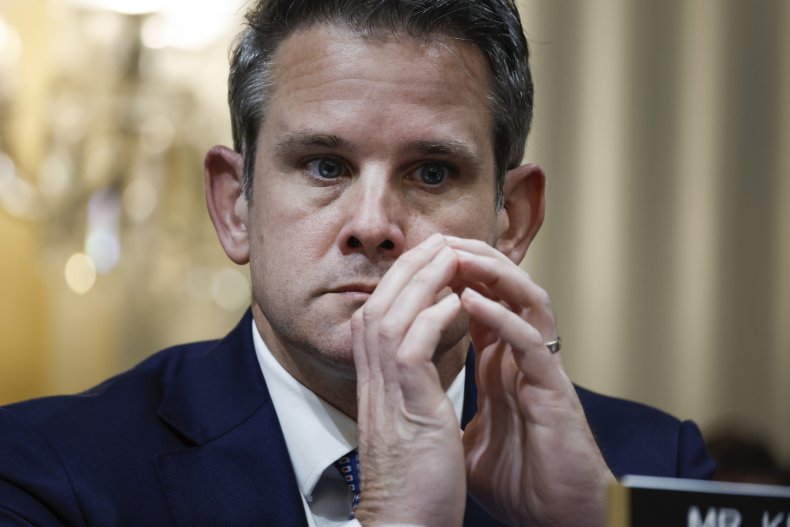 "There are a number of churches that have basically become, you know, from a house of worship of Christ and of God to a house of worship of Donald Trump," Kinzinger said in the video. He contended that this alignment went against the teachings of Jesus in the Bible.
"I think the church played a huge role in how we got to where we are. I say the church generically, and I think the church will have to play a huge leadership roll in getting us out of this moment."
With the video, Kinzinger tweeted: "It's been said that a faith that makes losing a sin will make cheating a sacrament. That leadership crisis has spread from DC into our daily lives and even our churches. When leaders refuse to stand up for truth and reject toxic division, we begin to replace God with idols."
An AP VoteCast survey showed that 81 percent of white Protestant Christians cast ballots for Trump in the 2020 election, compared to 18 percent who voted for President Joe Biden, who is Catholic. Edison's exit polls from the last presidential election similarly show that about 76 percent of white evangelical voters backed Trump and 24 percent supported Biden. Pew Research Center data from 2016 showed roughly the same percentage (eight in 10) of white evangelical Christians voted for Trump then.
In the aftermath of the 2020 election, a number of prominent Christian pastors and self-described prophets repeatedly promoted unproven claims that Trump would be "reinstated" and that Biden's victory would be overturned. Some claimed they had been given this insight from God, but none of their prophesies panned out.
Kinzinger previously received a two-page letter signed by 11 Christian family members rebuking him for his opposition to Trump. The letter was published by The New York Times in February of 2021.
"Oh my, what a disappointment you are to us and to God!" the letter said. It continued, saying the family members were "disgusted" with him. It referred to Democrats as the "Devil's army."
After the Capitol riot, Kinzinger urged Christian leaders to "admit their mistakes and lead their flocks out of darkness to truth."
"I believe there's a huge burden now on pastors and clergy who openly spread the conspiracies of a stolen election," Kinzinger said in a Twitter post at the time.