Adam Levine History With Other Victoria's Secret Models Analyzed Amid Texts
Adam Levine's romances with other Victoria's Secret models have been analyzed in a viral TikTok video after the Maroon 5 frontman denied allegations that he cheated on his wife, Behati Prinsloo, who modeled for the lingerie giant.
On Monday, Instagram model and influencer Sumner Stroh alleged in a TikTok video that she had a year-long affair with the musician, sharing screenshots of messages that she claimed were from Levine.
In one message Stroh claimed she had received from Levine, he asked if he could name his expected child after her.
Former The Voice coach Levine broke his silence on Tuesday, issuing a statement in which he denied having had an affair, though he admitted to having "crossed the line" in his communications.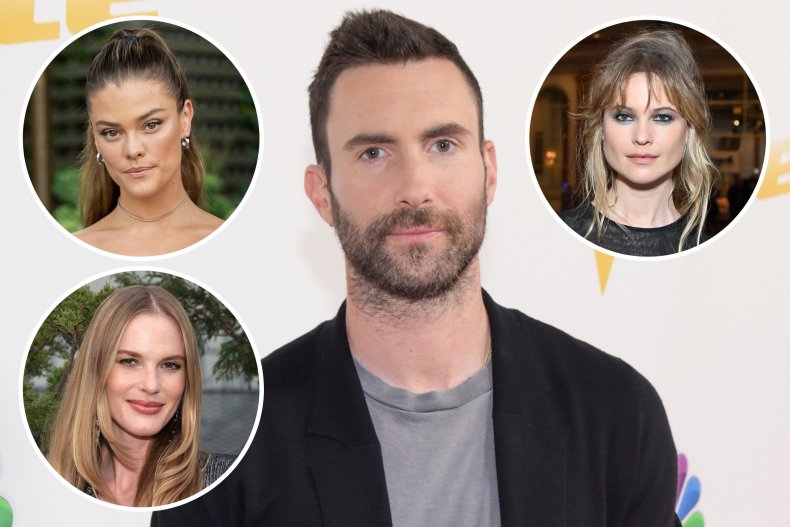 "A lot is being said about me right now and I want to clear the air," the singer wrote. "I used poor judgment in speaking with anyone other than my wife in ANY kind of flirtatious manner.
"I did not have an affair, nevertheless, I crossed the line during a regrettable period in my life. In certain instances it became inappropriate; I have addressed that and taken proactive steps to remedy this with my family."
"My wife and my family is all I care about in this world," he said. "To be this naive and stupid enough to risk the only thing that truly matters to me was the greatest mistake I could ever make. I will never make it again. I take full responsibility. We will get through it. And we will get through it together."
Hours after the statement was issued, excerpts of the podcast Shameless were shared on TikTok, where the hosts discussed the fact that Levine had actually dated two other Victoria's Secret models before his 2014 wedding with Prinsloo.
In early 2010, Levine embarked on a romance with Russian-born model Anne Vyalitsyna, who also worked under the name Anne V.
As pointed out by the podcast, when Levine performed at the Victoria's Secret Fashion Show in November 2011, the musician held Vyalitsyna's hand and walked down the catwalk with her. Levine kissed Vyalitsyna on the cheek as they reached the end of the runway.
However, the romance ended just months later. In April 2012, Vyalitsyna announced in a statement to People that she and her partner of two years had split.
"Adam and I have decided to separate in an amicable and supportive manner. We still love and respect each other as friends. I wish him all the best," Vyalitsyna told the publication.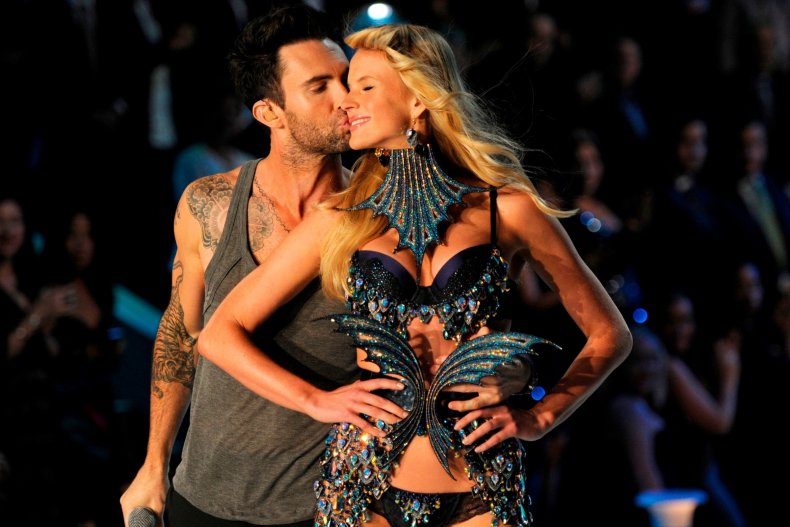 "She Will Be Loved" singer Levine didn't stay single for long, as he began dating Namibian-born model Prinsloo in May 2012.
While the timeline is a little bit fuzzy, Prinsloo revealed around May 2013 that they had split. Later that month, it was reported that Levine was dating Sports Illustrated model Nina Agdal.
Sources reported at the time that their relationship was "fun" and "casual," and Agdal was seen supporting him on the set of The Voice in Los Angeles. The pair also were seen vacationing in Mexico in June.
The romance was short-lived though; a month later, Levine and Prinsloo were back on and engaged. Denmark native Agdal was reported to have found out about the engagement when she got a text message about it from Levine.
Of her decidedly brief relationship with Levine, Agdal shared in a feature with Ocean Drive magazine in late 2013: "No, it didn't [teach me about love]. I am 21 years old, and I don't think anyone who is 21 knows what love is about yet."
She added: "I think love just happens. It happened to them and I'm happy for them."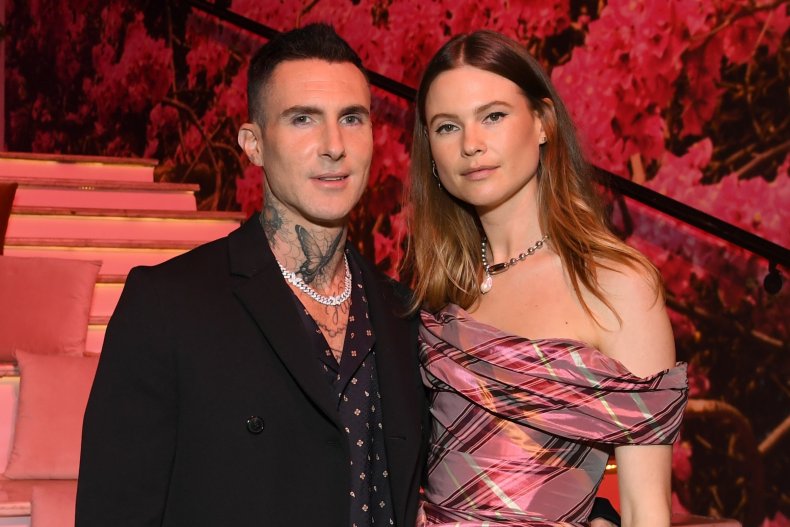 One year after announcing their engagement, Levine and Prinsloo married at a wedding in Cabo San Lucas, Mexico, in the front of 275 guests.
In September 2014, Levine spoke about his new wife on The Ellen DeGeneres Show, saying: "I never really thought I would adore it. It's so trippy. I'm a child. How did this happen?
"I use that word [wife] right now a lot. I say it for no reason. I say it a lot—'Wife, wife, wife,' I love it. I even changed her number in my phone to 'Wife.'"
In 2016, their daughter, Dusty Rose, was born and in 2018 the couple welcomed their second child, Gio Grace. They are currently expecting their third child.