Aerial Footage Shows Ukrainian Strike Obliterate Russian Tanks, Howitzers
New video shows a Ukrainian airborne assault on five Russian tanks and one howitzer, including a strike on infantry positions.
The video was posted Wednesday by the Security Service of Ukraine (SBU) on multiple social media channels. Rob Lee, senior fellow at the Foreign Policy Research Institute, tweeted that Unmanned Aerial Vehicles (UAVs) dropped munitions on five T-72 tanks and a 2S3 Akatsiya howitzer.
It remains unclear when and where the strikes took place.
"We continue to work until complete victory," the SBU tweeted.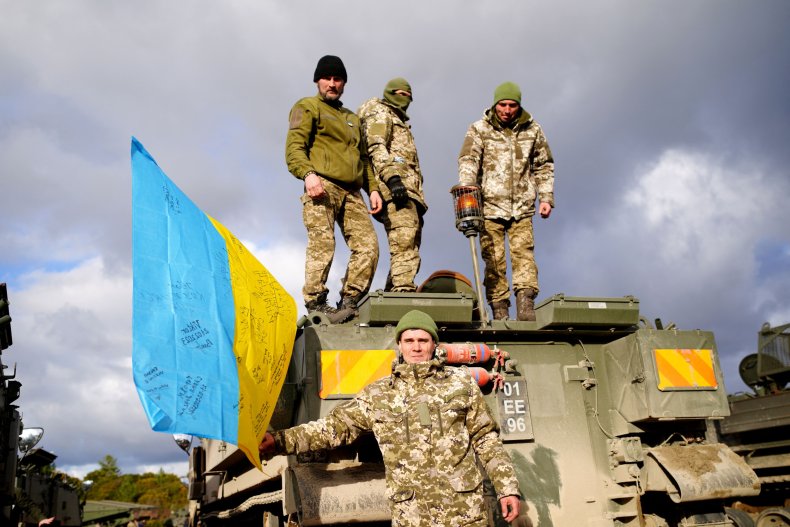 Prototypes of that version of howitzer were produced and completed in 1968, according to Military Today, and first saw action in 1971 with the Soviet Army. The four-man crew can fire a maximum three to four rounds per minute—equivalent to about 30 rounds in 10 minutes, or 75 rounds per hour.
Anton Gerashchenko, an adviser to Ukraine's minister of internal affairs, told Newsweek on Friday that airborne attacks on Russian artillery by way of drones and UAVs equate to having a "super weapon."
"We will win faster and with fewer losses if we have tens of thousands, hundreds of thousands of reconnaissance and combat drones," he said.
On February 13, Ukraine's General Staff of the Armed Forces shared video clips in a Facebook post of UAVs striking Russian tanks. It reportedly was part of 13 tanks lost within 24 hours, including three additional lost tanks in the 24-hour period prior to that.
Kyiv claimed at the time that Russia had lost 3,283 tanks since the war began on February 24, 2022.
The Dutch open-source intelligence outlet Oryx reported a loss of 1,727 Russian tanks lost as of February 13, accounting only for attacks verified with photographic or videographic evidence.
Russians have reportedly bolstered their air defenses over regions like Crimea, according to Mikhail Razvozhayev, the Russian-appointed governor of Sevastopol.
Earlier this month, he wrote on his Telegram channel that Ukrainian UAVs were "shot down over the sea" and that "our defense forces continue to repel the attack."
He made similar claims in January when he wrote that air defenses had downed 10 drones over Sevastopol in what he described as a "failed Ukrainian attack."
Samuel Bendett, Russia analyst for the Center for Naval Analyses, told Newsweek this is not a new tactic for the Ukrainians.
"Ukraine is constantly probing Russian defenses in Crimea, trying to tax Russian air defense efforts," Bendett said. "The Ukrainians are also using different UAV types, from short-range to modified long-range drones."
George Mason University Schar School of Policy and Government professor Mark N. Katz previously told Newsweek "that there is a big difference between Ukraine launching UAV attacks on Russian positions in Crimea" and a full-on invasion with the goal of taking Crimea back from Russia.
On Monday, timed with U.S. President Joe Biden's clandestine trip to Ukraine and Eastern Europe, the U.S. Department of Defense announced a presidential drawdown valued at up to $460 million.
It includes more ammunition for U.S.-provided HIMARS as well as more Javelins, anti-armor systems and air surveillance radars. The package also contains 160 155-millimeter howitzers with more than 1 million 155-millimeter artillery rounds, and 72 105-millimeter howitzers with 370,000 105-millimeter artillery rounds.
Newsweek reached out to the Russian Ministry of Defense for comment.