'Affair Partner' Slammed for Complaining to Husband's Ex: 'The Nerve'
A woman is being dragged online for complaining to her husband's ex-wife despite being the woman he cheated with.
The viral Reddit post, titled, "AITA for laughing when my ex's wife complained to me," has been upvoted 15,900 times since it was shared on June 4 to the subreddit "Am I the A**hole. Redditor @Left-Degree-2975 revealed her ex cheated on her with his wife, and that was five years ago.
The Institute for Family Studies reports that according to a General Social Survey, 20 percent of men admitted to having intercourse with a person other than their spouse. In addition, 13 percent of women admitted to the same thing. Men were more likely to cheat than women, which trends the same way since the 1990s. In addition, the percentage varies by age group, and the "gender cheating gap" is larger when looking at older adults.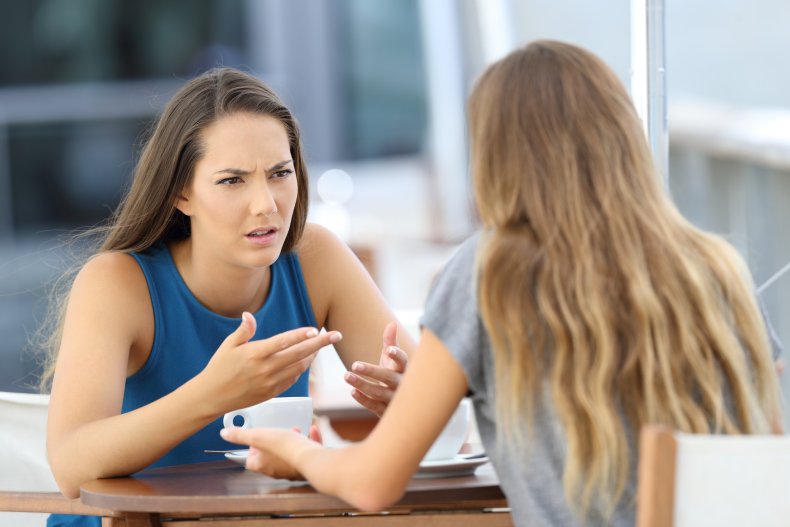 The original poster's (OP) ex-husband shares custody with her of their three sons, who are 11, 10, and 8. Her ex's wife has a daughter as well as a son with her own ex whom she cheated on with her current husband.
"The two of them have said it all," the OP said. "From it was meant to be to how great it is because the kids all have a bigger and happier family, blah blah blah."
The OP revealed that she's "over it in some ways." However, "there is very much a sting that the affair partner in my marriage gets to call herself my kids' stepmom."
But she isn't sorry that her ex is now "gone," adding he "slept" with the woman behind her back for 18 months before the OP and the woman's ex discovered what was going on. The OP said she's "civil" when the children are around, and she ignores them when the kids aren't there.
The OP's ex's parents were reportedly "disgusted with him for cheating." His mother told him that he "destroyed his kids' foundation," and that "leaving a spouse is never easy and divorce is hard for kids anyway, but when you add conflict in the way of cheating, you take something from a child that they can rarely ever get back, and that's parents who can still care about each other and want the best for each other despite not being together."
The OP's in-laws stayed quite close with her, and they "haven't welcomed" their son's new wife. They also haven't been "involved" with their son's life since then or with his stepkids either.
In a comment, the Redditor revealed her in-laws "haven't forgiven their son," and they only have contact with their grandchildren through her. "They had something to do with him early on, but not anymore," she said.
The Redditor's youngest child won an award at his school a few weeks ago, and the OP was there as well as her ex and his wife. The ex's wife came up to the OP to "complain" to her because both the OP's parents and her in-laws came for a brief period, spoke to the boy and to the OP, and then left.
The OP continued: "She was saying how unfair it is, how her kids don't understand why [the] ex's family [has] nothing to do with them and why they never see them, but they know my kids have a relationship. She said [the] ex's family [loves] me. It hurts her feelings to feel not good enough."
The OP said she rolled her eyes first, and then she laughed because the woman seemed to "expect sympathy or help" from her. She revealed that the laughter "pissed her off," and since then, the Redditor has heard from both her ex and his wife that she was "rude," and how she "should care about the kids," and that she isn't "thinking" of them when she keeps "bad blood between us" and laughs at her "suffering."
Redditor Reactions: 'Actions have consequences'
Over 1,200 comments poured in over the viral situation, and people are completely backing the OP and slamming her ex-husband's new wife.
One added that she "wants you to help her out. The nerve, and she's lucky you just laughed. Proud of you for not saying what you really wanted to say after all this time. NTA [not the a**hole]."
The OP replied back: "It can be hard to keep it in. They rarely get to me, but sometimes they try to act like we're all amicable and friendly, and oh boy is it difficult to bite my tongue."
A lot of Redditors share the mentality that actions have consequences.
"Actions have consequences, and one of theirs is not everyone has to accept their relationship. He may have divorced you, but his parents didn't. They clearly still consider you very much a part of their family. And one thing I know for certain is no one can dictate who we consider our chosen family."
Another user put it simply when they said, "Play stupid games, win stupid prizes," insisting the woman "broke your marriage up, she's caused the rift with the ex-in-laws. Maybe their son should have a word with them, but expecting you to have sympathy is ridiculous. She should be happy you don't cause issues with her and your kids."
A user thinks the man's wife is "clueless," and that "laughing at her" was "appropriate" in the circumstance. "So would have been calling her out as a cheating homewrecker," they added. "Ask her if she cared so much about the kids, why did she and the ex have an affair? Telling her to f**k off and stay the f**k away from you unless absolutely necessary would be fine too."
"Both your ex and his new wife cheated on their previous spouses and in a way, on the kids too. No s**t some people aren't going to like him and her."
Another user admitted to being "confused" over the situation, and they wondered what the OP has to do with the other woman's relationship with other people. "She's adult enough to have an affair, then she's adult enough to expect consequences," they said. "She can't confront them directly because she's used to doing things behind people's back."
Newsweek reached out to Redditor @Left-Degree-2975.
This isn't the only viral moment involving family drama. A man found support by revealing to his family that his "sister" was really his mother. A father was backed for treating his son like an "outsider" after his divorce. In addition, a woman was "put on blast" after urging her sister to name her child after her.