After Arizona Audit, Oregon County Clerks Receive Increase in Recount Requests, Threats
As the Arizona election audit concluded, Oregon election officials began receiving death threats and increased requests for an audit of their state's election results.
Calls and emails requesting an Oregon audit began in June, but they have increased in the last few weeks, Marion County Clerk Bill Burgess told The Statesman Journal. Former President Donald Trump won Marion county in 2016 but lost it by 1,870 votes in 2020.
"People, they'll come and they'll start asking the question and then they won't wait for an answer," Burgess said. "They'll start railing away and sometimes with a lot of obscenity and all, too."
Some of the messages have contained death threats. Burgess reported some of them to the FBI. He said other election workers fear having their pictures taken and becoming targets for violence.
"[The threats] seems to go in waves," he told the publication. "Sometimes you can't tell if these are direct threats or not."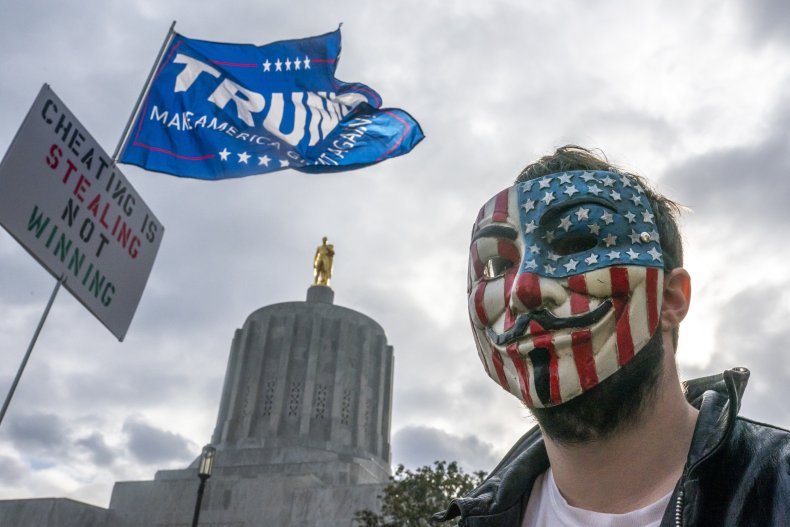 A draft report of the Arizona election audit, released on September 24, found that Democratic presidential nominee Joe Biden won more votes than previously expected over Republican President Donald Trump. The audit didn't prove fraud.
Republican Arizona state Senator Sonny Borrelli said the audit proved "evidence of a conspiracy." He said the state's election results should be "nullified" as a result.
A group of prominent election analysts called the state's audit's methodology "laughable." Several of them alleged that the auditors simply "made up the numbers."
Generally speaking, the push for election audits has been predominantly led by Trump supporters and Trump-supporting Republican officials. Trump has long repeated baseless claims that he lost the 2020 election due to an unprecedented national conspiracy of widespread voter fraud.
Members of Trump's reelection campaign have alleged that hackers infiltrated voting machines to flip votes from Trump to Biden.
However, in Oregon, all voting occurs via mail or through machines that are located in rooms not connected to outside computer lines, the Statesman noted. The machines produce hard and electronic copies that are later uploaded directly to the state.
Oregon law requires all of its 36 counties to conduct risk-limiting audits and random sampling hand counts for all primary, general and special elections, including the 2020 election. These audits have not found any proof of fraud.
Trump's former attorney general and head of U.S. cybersecurity infrastructure have both said there's no evidence that the 2020 election was stolen. No statewide audit has yet uncovered any proof of fraud.
Newsweek contacted Oregon's Secretary of State's office for comment.