Sidney Powell, a former attorney for the Donald Trump re-election campaign, has asked a federal court to reduce the legal fees sought by the city of Detroit for contesting her bogus election fraud court cases.
The city of Detroit is seeking $182,193.75 in attorneys' fees from Powell and her team for litigating a case alleging voter fraud during Michigan's 2020 presidential elections. The fraud case was dismissed and Powell's appeal and subsequent petition to the U.S. Supreme Court were both denied.
Now Powell's legal representative has asked a federal district court to reduce the city's demand to $21,964.75. The amount matches the amount sought by Michigan's Democratic Governor Gretchen Whitmer and Democratic Secretary of State Jocelyn Benson in legal fees associated with the same fraud cases filed by Powell and her team.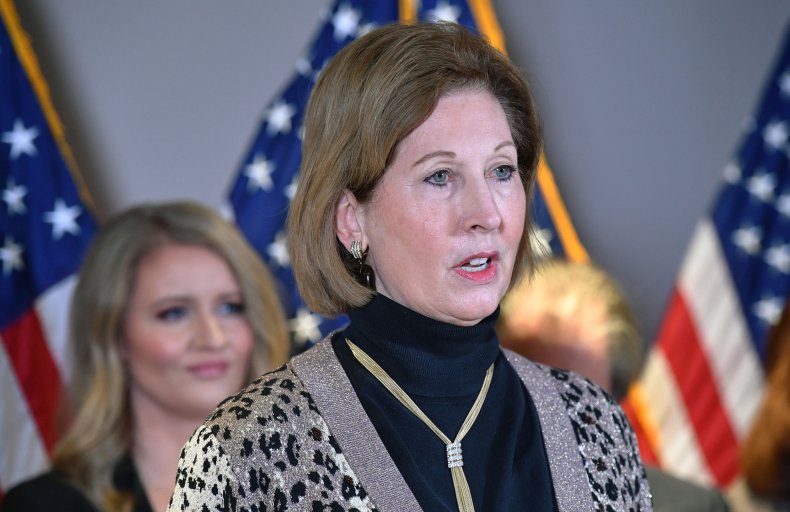 In a court filing submitted on Wednesday, Powell's legal representative said the city had no right to seek attorneys' fees associated with her appeal. With those fees deducted, the remaining attorneys' fees total $156,116.25.
"That amount is far more than necessary to compensate the City and to deter misconduct," Powell's legal representative wrote in his filing. "Sanctions under the Court's inherent authority should be compensatory rather than punitive."
Powell's attorney further stated that the city's lawyers' billing was vague, involved repeated charges for tasks duplicated by multiple lawyers and included "communications with media" and other tasks that weren't necessary to litigate Powell's fraud case.
Powell and her team filed their initial fraud case in late November. The case claimed that election workers in Detroit had blocked Republican poll observers, forged and altered ballots and counted defective ballots. As a remedy, the suit asked the court to either de-certify Michigan's results or certify them for Trump.
After the court dismissed the case, Powell and her team filed an appeal. Her team then petitioned the U.S. Supreme Court to stay the Electoral College's vote declaring now-President Joe Biden as the election's winner until the appeal was settled. The Supreme Court denied the request. The appeal was ultimately unsuccessful.
In her decision on the initial fraud case, Judge Linda Parker called the case "a historic and profound abuse of the judicial process" intent on "deceiving a federal court and the American people" with "unsupported factual assertions … conjecture and speculation."
"By filing this lawsuit, one thing is perfectly clear," Parker wrote. "Plaintiffs' attorneys have scorned their oath, flouted the rules and attempted to undermine the integrity of the judiciary along the way."
As punishment for the baseless claims, Parker referred Powell and her fellow lawyers to the disciplinary authorities where they practice law.
Powell is currently being sued for $1.3 billion in a defamation case filed by Dominion Voting Systems. She claimed that corrupt election officials used the company's voting machines to switch Trump votes to Biden votes.
On November 21, Powell appeared on the right-wing conservative network Newsmax, claiming she had evidence that 7 million votes were fraudulently cast for Biden's benefit. She also accused Georgia's top Republican election officials of accepting bribes to participate in the alleged vote-switching scheme.
By November 22, Trump's re-election campaign said Powell no longer had a formal role as a campaign attorney.
In a Newsmax interview on Tuesday, Powell claimed that Democrats in Georgia had murdered people to cover up the state's election fraud.