After Rep. Jim Banks (R-Ind.) mocked Democratic Representative Ilhan Omar of Minnesota for saying that the Iran crisis caused her to be "stricken with PTSD," a veterans' group came to her defense.
During a press conference Wednesday, Omar said the escalating tensions with Iran made her feel "ill a little bit because of everything that is taking place."
"And I think every time I hear about—I hear of conversations around war, I find myself being stricken with PTSD. And I find peace knowing that I serve with great advocates for peace and people who have shown courage against war," she said.
Shortly after the press conference, Banks wrote a tweet that said her claiming PTSD was "offensive."
"Rep. Ilhan Omar complained she's 'stricken with PTSD' because of recent events in the Middle East," Banks wrote. "This is a disgrace and offensive to our nation's veterans who really do have PTSD after putting their life on the line to keep America safe."
The anti-President Donald Trump veterans group Common Defense replied with harsh words for the congressman, pointing out Omar's refugee status.
"Dear @RepJimBanks, This is a tremendously ignorant thing to say. Veterans like us know that people wearing uniforms aren't the only ones impacted by war. @Ilhan is a refugee. We stand with her against hawkish elites like you. #VetsForIlhan #EndForeverWar," the group posted.
Omar was born in Mogadishu, Somalia in 1981, and fled the country at 10 years old with her family near the start the Somali Civil War in 1991. She spent four years in Kenya at a refugee camp before coming to the United States in 1995. In 2018, she and Rep. Rashida Tlaib (D-Mich.) became the first Muslim women elected to Congress.
Along with Tlaib, Rep. Ayanna Pressley of Massachusetts and Rep. Alexandria Ocasio-Cortez of New York, Omar is part of "The Squad," a group of progressive Democratic representatives who all were elected to their first terms in 2018. The Squad is a frequent target of Trump and his supporters.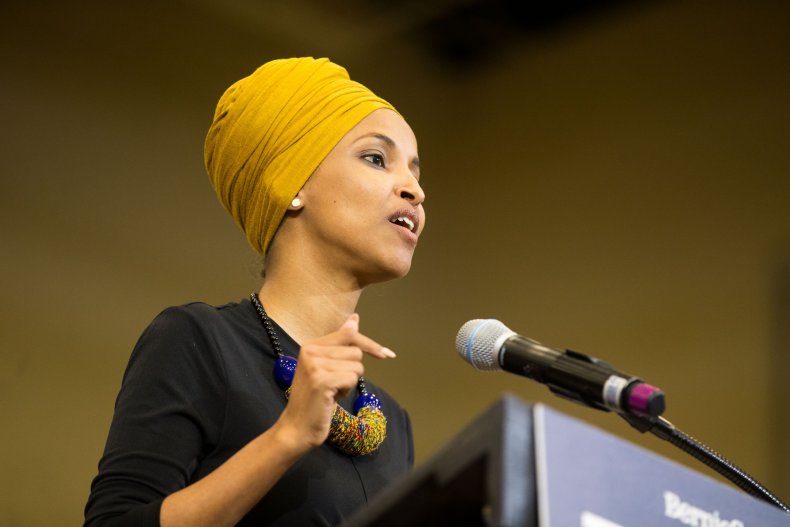 Common Defense describes itself as "a national grassroots movement of diverse veterans & military families mobilizing against Trump and his dangerous agenda," according to the group's Twitter profile.
Members of the group have confronted politicians in the past over their support for the Trump administration. Last September, Newsweek reported on the encounter between Rep. Dan Crenshaw (R-Texas), himself a veteran, and Common Defense members and U.S. Army veterans Jason Hurd, 40, and Alan Pitts, 36, a Purple Heart recipient.
During the incident, Pitts and Hurd asked Crenshaw about his support for Trump, while Crenshaw told them to "stay calm," and walked into a private elevator.
Pitts and another Common Defense member, Army veteran Naveed Shah, also held up a sign reading "Veterans for Impeachment" at the Game 5 of the World Series in October. Trump was in the audience for Game 5.
"I swore an oath when joining the Army. To defend and support the constitution against enemies both 'foreign and domestic,'" Pitts told Newsweek at the time. "Congress and the president swore similar oaths. I believe many members of Congress and especially the president are ignoring their oaths."