After a Woman's Dog Died, Pet Company Chewy Sent Her Flowers and a Card
When a woman reached out to the pet company, Chewy, to return a bag of dog food after her dog passed away, they gave her a refund along with sending her a few gifts.
In a viral tweet, a woman named Anna Brose (username @alcesanna) shared her story on social media that has racked up over 681,000 likes, 40,000 retweets and over 9,000 replies. Brose's tweet got many others talking about their positive interactions with the pet company.
When her dog, Gus, passed away, she wanted to return an unopened bag of dog food since she wouldn't be needing it. She explained that not only did she get a full refund, they asked her to donate the food to a local shelter and had a floral delivery signed by the customer service employee that helped her.
In a later tweet, she sent a response to all the positive messages she has received and that her dog, Gus, would have been "blown away!"
The official Chewy Twitter account replied to Brose's popular tweet, "It's the least we could do, Anna. We hope these flowers will help to keep your spirits up."
"Showing up for our customers during important milestones in their pet parenting journey is core to our DNA," Andrew Stein, Senior Director of Customer Service, said in a comment to Newsweek, "Since Chewy's very early days, empowering our incredible Chewtopians to personalize their interactions with customers, take an interest in their lives and go above and beyond with gestures like these has been essential to our culture.
"Each and every time we see a customer post, we all get excited and start forwarding it around Chewy; it never gets old. For many customers, their pet is a primary companion in life, and when they lose their fur baby, they may feel alone and in need of someone to lean on. In those moments, they understand that Chewy is also part of their family, and they are so grateful," he continued.
In response to her wholesome tweet, many other Twitter users shared their positive experiences with Chewy as well as pet photos.
"Chewy is the best. We lost our first dog on Valentine's Day 2021. They sent Nikki a birthday card later on and I informed them she had passed. Two days later we got the flowers. Two months later our second dog passed. I didn't have the heart to tell @Chewy," Bennie Fergusen wrote.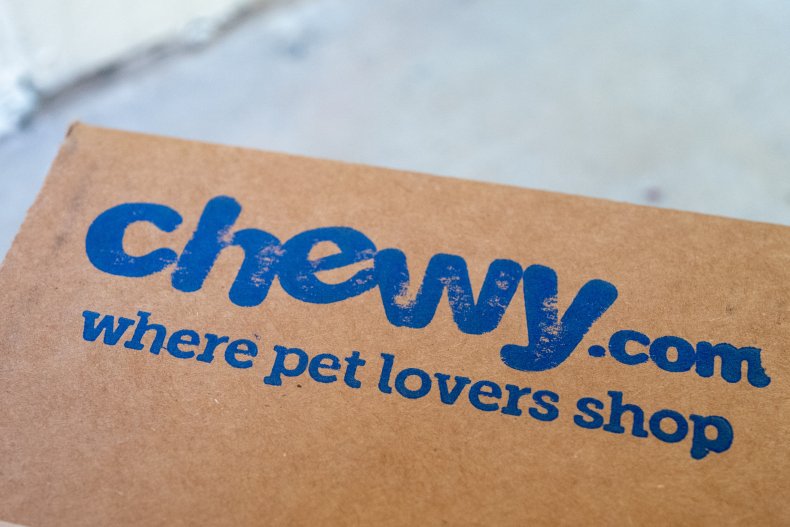 "I work at an animal shelter. This is legit. We often have people reaching out to donate because Chewy told them to reach out to a local shelter. I can't express what this means to shelter's like mine. Truly a gift," @jgmonte922 said, receiving over 34,000 likes for their comment.
Are you looking to donate to a local animal shelter? They take a variety of things including unopened pet food, paper towels and tissue, cleaning supplies, shredded newspapers, pet toys and accessories, per HGTV.
@curves_n_chaos exclaimed, "This thread has convinced me to stop making the trip to a store for my dogs' food and to instead start ordering from Chewy. What a genuinely amazing setup they have going on."
"This happened to us too! We wrote to cancel our late Springer Molly's flea and tick medication and not only got a full refund (without returning the last shipment) but flowers. Customers for life," Jennifer Epstein admitted.
@Ille_Animus wrote, "Chewy has some real ones. Never had a bad experience with them, always got stuff like Capstar or tapeworm medicine super quick when I had an emergency."
@cadesmomheryle exclaimed, "They have the best customer service I've ever seen anywhere! The stories I've heard are heart warming!"
@bruins77girl said, "My hubby used to work for @Chewy and he always raved about their customer service. They sent us a small painting of my Simba when he passed."
"@Chewy is the best! After we lost our girl, Lucille, to cancer at 8.5 earlier this year, they sent beautiful flowers and a thoughtful note," @Leahbug1119 wrote.
Chewy is a company that sells a variety of pet products including toys, medications, food and clothing. The brand launched in 2011 and offer over 100,000 products on its website. In 2021, the brand had over 20 million active customers.
"We view pets (and pet parents) as family and are obsessed with meeting their needs and exceeding customer expectations through every interaction," they said.
Newsweek reached out to Brose for comment.
Update 6/17/2022, 3:56 p.m.: This article has been updated to include a comment from Chewy.