Ahead of Ga. Senate Runoff, Republican Loeffler Calls Dem Warnock 'Most Radical Candidate in America'
Republican Senator Kelly Loeffler called Democratic Raphael Warnock the "most radical candidate in America" on Monday as the two continued to battle it out ahead of Georgia's Senate runoff.
"He wants the government in charge of your healthcare. He supports the Green New Deal. And he's been anti-law enforcement for years," tweeted Loeffler, referring to Warnock.
Loeffler's tweet linked to a website titled "Raphael Warnock: The Most Radical and Dangerous Candidate in America" and targeted the Democrat for his "left-wing" agenda.
"Raphael Warnock is a left-wing radical with a dangerous agenda for our state and nation," the website noted. "He unapologetically attacks law enforcement, supports trillion-dollar tax hikes and job-killing regulations, and embraces anti-American values that undermine the U.S. Constitution and our way of life."
The Republican senator's tweet came only a few days after she spent over $1 million on two new attack advertisements against Warnock. The ads called Loeffler's Democratic rival an "anti-American Marxist."
Terrence Clark, communications director for Warnock, responded in an email to Newsweek: "While Rev. Warnock continues to make this race about the issues important to Georgians and how he'll work for them in the Senate, Kelly Loeffler launched her runoff campaign racing to the bottom. It took no time for the media to call out these lowest of the low attacks as misleading, and we have no doubt Georgians will reach the same conclusion and reject this divisive form of politics in January."
Warnock also called the attacks "misleading" in a Friday CNN interview and vowed not to "allow himself to be distracted by Kelly Loeffler." The Democrat accused Loeffler of trying to deflect attention from her opposition to the Affordable Care Act and welcome support among "bigots."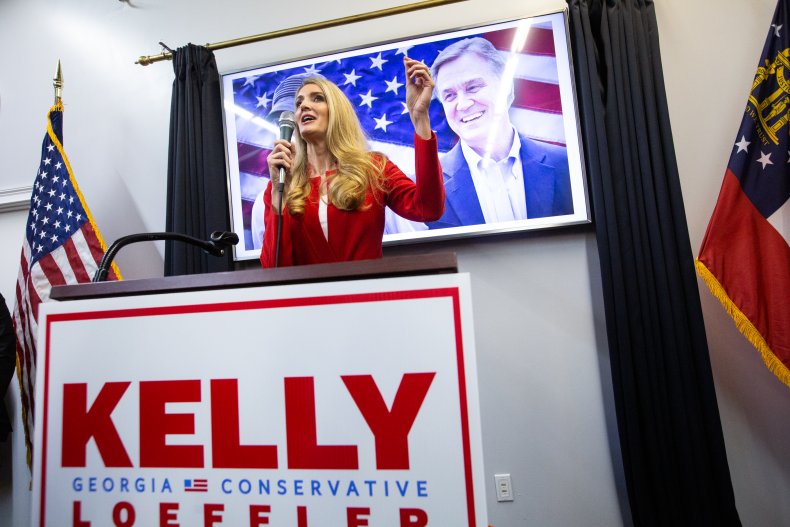 "If you don't really have an agenda for working families, I guess you have to distract working families," Warnock said. "I intend to stay focused on making sure that every Georgian has access to affordable health care, that workers share in some of the profits that they're creating and that they are able to retire with dignity."
Their runoff—one of two in the state—will help to determine Senate control and either secure or diminish Democratic President-elect Joe Biden's ability to get things done under his upcoming administration.
Republicans have 50 seats going into the next Congress and Democrats have 48. In order for Democrats to have a chance at controlling the upper chamber, they must win both seats open in Georgia's January 5 runoff election. Kamala Harris as vice president would break ties.
Loeffler currently leads with 49 percent to Warnock's 48 percent, according to polling data from FiveThirtyEight.
The second Senate race is between Republican incumbent Senator David Perdue and Democratic candidate Jon Ossoff.
Perdue is currently leading the polls by four points. The Republican has 50 percent to Ossoff's 46 percent, according to FiveThirtyEight.