Ahead of Labor Day, 71 Percent of Americans Support Federal Minimum Wage Hike: Poll
Ahead of the Labor Day holiday to celebrate the accomplishments of U.S. workers, a new poll found that 71 percent of Americans support increasing the federal minimum wage.
According to a CBS News/YouGov survey released Sunday, more than 7 in 10 Americans said they believe the current federal minimum wage should be higher than $7.25 per hour.
For those with incomes below $50,000 a year, the support for a higher minimum wage jumped as high as 74 percent. And among those who make $50,000-$100,000 and those who earn over $100,000, the number dropped slightly to 68 and 67 percent, respectively.
However, the survey found that responses varied across party lines.
In general, the vast majority of Democrats – or 85 percent –felt the minimum wage should be increased, while just 52 percent of Republicans said the same. Among those who describe themselves as liberal, 90 percent agreed that wages should be higher, while less than half of self-identified conservatives agreed. Meanwhile, 77 percent of moderates and 72 percent of independents said that federal wages should be higher.
The poll was conducted from August 10-16 using a sample of 1,566 U.S. adults. The margin of sampling error is plus or minus 2.8 percentage points.
The current federal minimum wage of $7.25 was set in 2009 and has not been raised since. According to data compiled by the Labor Department and released earlier this summer, around 250,000 people – or 0.5 percent of the U.S. workforce – earned that wage during 2020.
A separate report published in July by the Economic Policy Institute (EPI) found that those workers are effectively making 21 percent less than their counterparts did 12 years ago, since the current $7.25 wage has lost much of its value due to inflation.
The report found that the value of minimum wage in 2009 would be equivalent to $9.17 per hour today. The federal minimum wage hit its peak in 1986, according to EPI, which would be worth $11.12 in today's dollars.
"That's a really remarkable finding, that more than 50 years ago we paid the lowest wage workers in this economy substantially more than what we pay them today," Ben Zipperer, an economist at EPI, previously told Newsweek.
A study from the National Low Income Housing Coalition concluded that there is currently no state, county or city in the U.S. where a minimum-wage employee working 40 hours per week can afford a two-bedroom rental. The analysis also found that a full-time worker can afford a one-bedroom rental unit in only 7 percent of all counties across the country.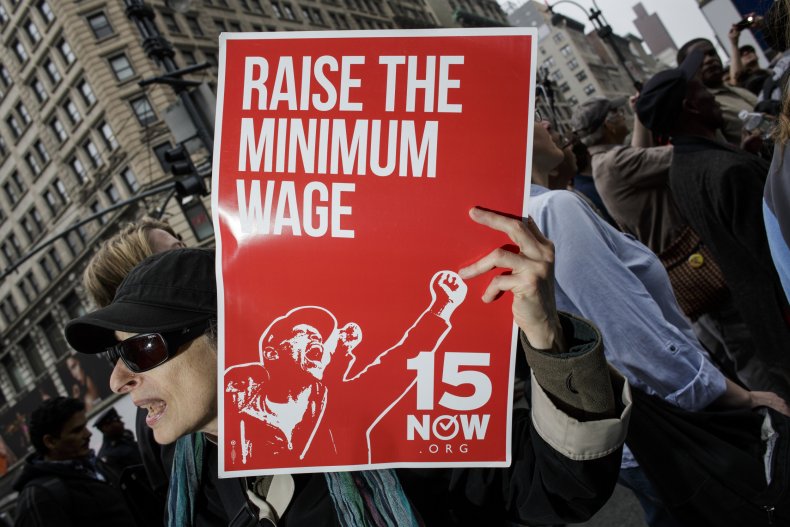 To address issues related to the minimum wage, proposals to increase the amount from $7.25 to $15 per hour, particularly among Democrats, has gained traction in recent years. Dozens of places across the U.S., including 10 states, have passed legislation to implement the measure—while a growing number of companies including Amazon and Costco have raised their wages to at least $15.
President Joe Biden attempted to double the federal wage earlier this year by including it in the $1.9 trillion American Rescue Plan, but the provision was struck down by the Senate Parliamentarian.
"I believe that every worker deserves not only a fair wage and benefits — but freedom from discrimination, a safe and healthy workplace, and the respect that comes with a secure retirement as well," Biden wrote in a Labor Day proclamation ahead of the weekend.
"Despite the tremendous progress we have made to advance labor protections and strengthen the voice of workers in the workplace, there is still much more we need to do," he added.