Members of Congress are demanding that airlines compensate increasingly irate travelers amid a surge of cancellations and delays that could worsen over the July Fourth weekend.
Senators this week fired off letters to major airlines and Transportation Secretary Pete Buttigieg calling on them to protect consumers who've complained of disrupted airlines. The pressure on the aviation industry comes at it continues to struggle with staffing shortages, skyrocketing fuel prices and lingering supply-chain issues.
Online flight tracker Flight Aware reported as of Wednesday afternoon there were over 600 cancellations and more than 4,000 delayed flights within the U.S. or flying into or out of the country. The website also reported high numbers of flight cancellations and delays Monday and Tuesday.
Vermont Senator Bernie Sanders placed the blame for the disrupted travel squarely on the airlines. The self-described democratic socialist said in a tweet Wednesday that Buttigieg should fine airlines $55,000 per passenger for every flight they cancel when they know it can't be fully staffed.
"The American people are sick of airlines ripping them off, canceling flights at the last minute and delaying flights for hours on end," Sanders said on Twitter.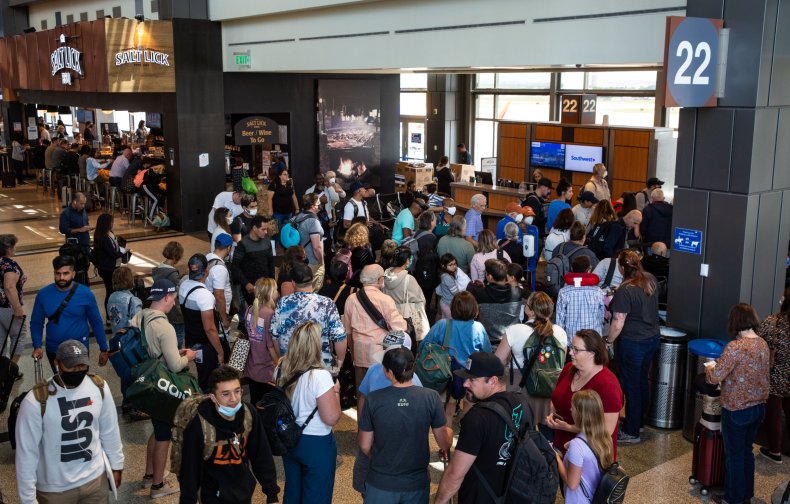 Democratic Senators Edward J. Markey and Senator Richard Blumenthal took a lighter touch in letters they sent Tuesday to the 10 major domestic airlines. They pressed the airlines to resolve any scheduling issues ahead of the July Fourth holiday weekend, citing how air carriers canceled nearly 2,800 flights and delayed another 21,000 over Memorial Day weekend. The letters also requested data from the companies on flight delays.
The letters said that Bureau of Transportation Statistics numbers show airlines have "cancelled roughly 3.5 percent of flights in the first three months of 2022, the highest figure since 2014—excluding mass cancellations in 2020 from the COVID-19 pandemic."
Meanwhile, frustrated travelers have taken to Twitter to complain.
"Flying @AmericanAir is really fun because you can tell your friends and family you're coming home but you also get to tell them 'I have no idea when I'm actually getting there, I've had 4 delays, 1 cancellation, and was on standby for 3 flights praying someone missed their flight," Twitter user jared_burns said last week.
American Airlines responded in a tweet, "This isn't the seamless experience we wanted you to have, and we're sorry."
"Sitting on this plane for an hour waiting on a first officer! @SouthwestAir," Robert Boston said in a tweet Wednesday. "I think we deserve a pretty decent voucher offer! I fly only SW and this one has been a disaster so far."
Earlier this month, Markey and Blumenthal asked Buttigieg in a letter to explain what his department was doing to protect consumers. The letter also mentioned that consumers are entitled to refunds when airlines cancel or significantly delay flights.
Previously, Newsweek reported that Buttigieg urged airlines to hire more staff in a bid to prevent travel chaos over the July Fourth weekend.
"We share the expectation that when Americans buy an airline ticket they will get where they need to go safely, affordably, and reliably," a spokesman for the U.S. Transportation Department told Newsweek in an email. "We will continue to work with airlines to meet that expectation, but also not hesitate in using enforcement actions to hold them accountable."
The email pointed to other actions the department has taken, including the largest fine in department history, against Air Canada for its failure to issue cash refunds. It has also opened more than 20 investigations over airlines failing to provide prompt refunds.
Trade group Airlines for America earlier this month told Buttigieg in a letter that its members have moved aggressively to ensure smooth traveling during the July Fourth holiday weekend.
The group's letter said "not every air traffic variable is within an airline's control." It specifically said air traffic control-related issues were a factor in at least a third of recent cancellations. Additionally, it said federal traffic management initiatives have also slowed flights.
When asked to respond to the recent concerns raised by Markey and Blumenthal, Airlines for America referred Newsweek to a letter that Nicholas Calio, the association's CEO, sent the senators earlier this month. Calio gave a similar explanation to Buttigieg and said the industry was working to address ongoing labor issues and supply-chain problems.
"As a baseline, it should be noted that airlines have no incentive to delay or cancel flights and only do so when circumstances dictate," Calio said in the letter.
Update 6/29/22, 10:20 p.m. ET: This article has been updated with additional comment from Airlines for America.