Alan Dershowitz Says Texas Abortion Law Is Unconstitutional, Will Be Struck Down by SCOTUS
Famed attorney Alan Dershowitz has predicted that the Supreme Court will eventually strike down Texas' newly enacted anti-abortion law.
"I do predict the Supreme Court will strike down the Texas law," Dershowitz said during a Thursday interview with the conservative network Newsmax. "They may not do it right away. They may wait until the next case which is argued in the fall. But the Texas law will not survive."
"I think it's so unconstitutional, I don't even know where to begin," he continued. "Texas is simply trying to overrule Roe v. Wade," he added, invoking the Supreme Court's landmark 1973 ruling. The ruling said that pregnant woman has a right to have an abortion without excessive government restriction up to 24 to 28 weeks into pregnancy.
He said that the Supreme Court's decision to let the law go into effect disregarded stare decisis. Stare decisis is a legal term, referring to the doctrine that court rulings should be guided by legal precedent established by previous judicial decisions.
"We need stare decisis, particularly for conservatives. Conservatives should be supportive of, stand by prior decisions," the lawyer continued. "Don't radically change the law, just because you have a temporary majority in the Supreme Court."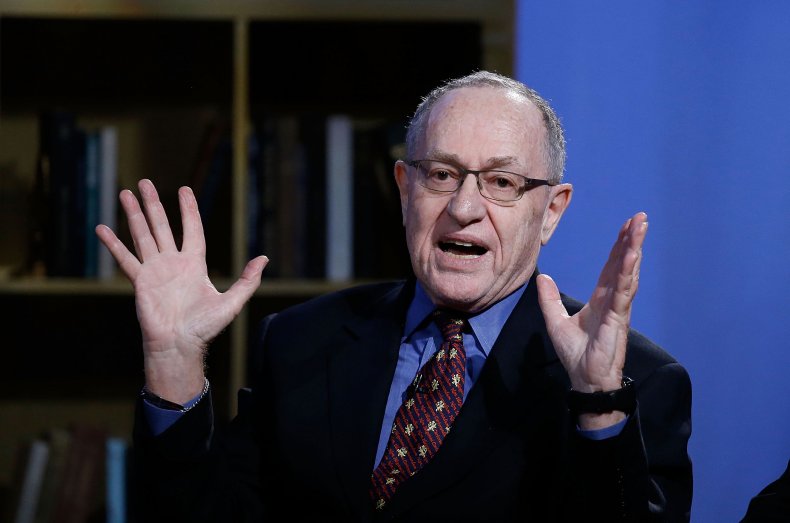 During his comments, Dershowitz said he thought Supreme Court Justices John Roberts and Brett Kavanaugh would take issue with the law's enforcement mechanism.
The law empowers private citizens to sue any person who "aids or abets" an abortion. These aiders and abetters could include any healthcare workers, drivers or funders who'd assist a pregnant person with getting an abortion. Any private citizen who successfully sues such an assistant is then entitled to at least a $10,000 reward from the person being sued.
In her dissent, Supreme Court Justice Sonia Sotomayor said that Texas legislators likely wrote the law, using private citizens as enforcers, to prevent it from being blocked in court. Usually, people can sue state officers in court to block a law from being enforced.
But the Texas law can only be enforced by private individuals who don't work for the Texas government. As such, that makes it difficult to challenge in federal court, Supreme Court reporter Ian Millhiser wrote in a recent Vox article. While the Supreme Court didn't rule on the law's constitutionality, the court still voted 5-4 to allow it to go into effect.
"The Supreme Court's decision... effectively endorses this method of dodging judicial review," Millhiser wrote.
An abortion provider could still challenge the law by breaking it, being sued and then arguing in court that the law is unconstitutional, Millhiser added. However, if numerous private citizens file multiple lawsuits against a single person, that person could go bankrupt legally defending themselves against all, the lawsuits he added.
Newsweek contacted Dershowitz for comment.