Alec Baldwin 'Shushed' Wife, Hilaria, While She Gave Birth to Their Son
Hilaria Baldwin has said that her husband, Alec Baldwin, "shushed" her as she gave birth to their son, Rafael, back in 2015.
The couple, who tied the knot in 2012, share six children—Carmen, 8, Rafael, 6, Leonardo, 5, Romeo, 3, Lucia, 22 months, and Eduardo, 15 months. Alec Baldwin is also dad to daughter Ireland Baldwin, 26, from his marriage to Kim Basinger.
And Hilaria Baldwin revealed in a post on her Instagram Story on Monday that when she was in labor with their second baby together, her actor husband was apparently inconvenienced by the noise that came with the arduous mission of childbirth.
The yoga instructor and lifestyle influencer, 37, kicked off her revelations when she shared a headline from a British newspaper that read: "When my husband told me to shush during labor I knew our marriage was over."
Reacting, she wrote over the headline: "Alec shushed me while I was in labor with Rafa... He was on the phone 'Shush! Can you keep it down?'"
"He realized he sounded like an a** and he cowered," she continued, adding a laughing emoji.
Showing that her reaction was different to that of the woman in the headline, the Massachusetts native added: "Kept the marriage. Went on to have 522 babies after."
However, it would appear that her husband wasn't let off lightly, as she added on the post: "I'll spare you the details of my reaction for now. But it never happened again."
In a follow-up post, the mother of six wrote: "Alec pays for shushing me in labor by cleaning every bottle in the house.... Just Kidding.. That never happens. Perhaps he can start now."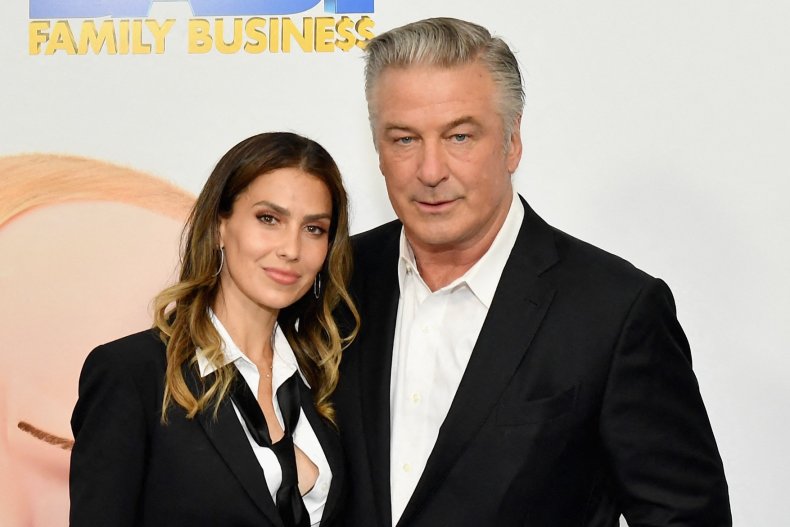 At the start of December, Alec Baldwin thanked his wife for standing by him through "tough times" hours after his interview about the Rust shooting had aired.
During his interview with ABC News' George Stephanopoulos, the screen star spoke about the events surrounding the death of cinematographer Halyna Hutchins on the New Mexico set of his movie on October 21.
He alleged that the gun he was holding—which he did not know contained live rounds—fired without him pulling the trigger, leading to the death of Hutchins and injury of writer-director Joel Souza. The production was immediately shut down.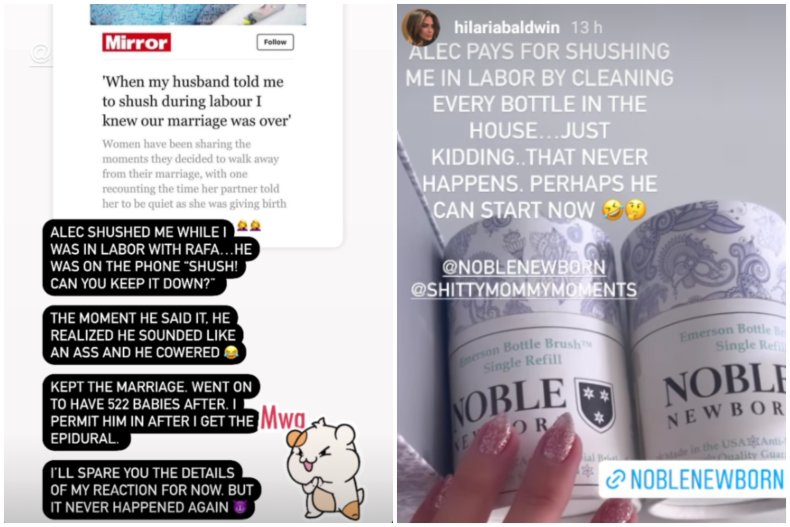 After the news special aired, the actor shared a photo of himself holding one of his children as he wrote: "No matter what happens to me. No matter what I suffer. If I win or lose, anything. Anything. No one can take away from me the joy and love you have given me, @hilariabaldwin.
"These are tough times. The world is choked with fumes of hate. But you have given me a reason to live. Our life with our family is all I care about. Nothing else. I owe that to you."
According to a search warrant affidavit, Alec Baldwin was handed the gun by assistant director David Halls, who shouted "cold gun," indicating that the prop did not contain any live rounds.
Halls' lawyer has said that the assistant director backs Baldwin's statement that he did not pull the trigger on the set.
In the aftermath of the shooting, Rust armorer Hannah Gutierrez-Reed said in a statement through her attorney that she had "no idea" where the live ammunition came from.