Alec Baldwin Slammed After FBI Concludes He Pulled Trigger on 'Rust' Set
Alec Baldwin is receiving the full brunt of social media anger after the FBI concluded that he must have pulled the trigger of the prop gun that killed cinematographer Halyna Hutchins.
On October 21, 2021, a prop gun being handled by Baldwin discharged, killing Hutchins, and injuring director Joel Souza. Baldwin had previously stated that he didn't pull the trigger on the prop gun.
Social media users have been unforgiving in their criticism of Baldwin, with many calling out his "lie" and others drawing parallels to the FBI's recent investigation of Donald Trump. Much of the criticism for Baldwin came from right-leaning political commentators, while there was seemingly a minority who continued to stick up for Baldwin across social media.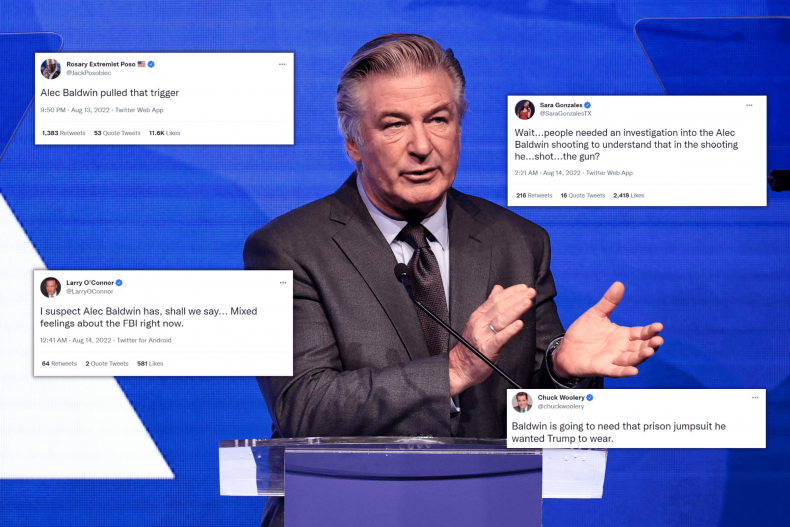 A lot of the people reacting to and criticizing Baldwin after the FBI's findings acted with mock shock. "Soooo what you are telling me is you have to pull the trigger for a gun to go off?!?!" MMA fighter Tim Kennedy wrote on Twitter over the weekend. Providing an even more deadpan delivery, author and retired police chief Loren Culp wrote: "Yep, that's how mine work," when retweeting the news. "Wait... Alec Baldwin's gun didn't shoot and kill a woman all by itself????" said author and comedian Tim Young.
"Wait...people needed an investigation into the Alec Baldwin shooting to understand that in the shooting he...shot...the gun?" Blaze TV host Sara Gonzales wrote. Continuing to mock Baldwin, she said: "Shout-out to my 10-year-old who understands gun safety better than grown ass Alec Baldwin."
"Alec Baldwin pulled that trigger," alt-right political activist and broadcaster Jack Posobiec wrote on Twitter. The senior editor at conservative news outlet Human Events was damning in his further criticism of Baldwin. "[He] didn't even turn over his phone for weeks after he shot and killed a staffer. No FBI raids," Posobiec said.
Posobiec's reference to FBI raids could be a nod to Donald Trump's recent run in with the agency as his Mar-a-Lago home was raided by law enforcement. Baldwin has long been a critic of Trump, famously parodying the president for years on Saturday Night Live. Many non-verified Twitter accounts started to call for the FBI to "raid him" as they had done Trump.
"I suspect Alec Baldwin has, shall we say... Mixed feelings about the FBI right now," Washington D.C. radio host Larry O'Connor surmised.
Self-proclaimed Hollywood conservative Chuck Woolery went as far as suggesting Baldwin could now be set to serve time in jail. "Baldwin is going to need that prison jumpsuit he wanted Trump to wear," Woolery said. Michael Quinn Sullivan went as far as to suggest Baldwin got away with killing Hutchins "because he is a Hollywood leftwinger."
The tide wasn't fully against Baldwin though as some spoke out in his defense.
Getting pulled into a back and forth with the aforementioned Gonzales, YouTuber Geoff Pilkington stated that he'd already had the Baldwin argument multiple times on Twitter, but felt the need to stick up for the actor again. "Actors on movie sets should have zero responsibility for guns. It should be handled by the gun experts on set. Period," Pilkington said.
Comedian Sean Kent deemed the announcement by the FBI that Baldwin pulled the trigger as unsurprising. "It's not really damning," Kent said. "Everyone knows Alec Baldwin pulled the trigger. The issue and the tragedy stems from the fact that he was told it was safe."
Baldwin has yet to address the FBI's findings publicly. Over the weekend he posted a video tribute on social media for his friend and colleague Anne Heche who died as a result of injuries sustained in a car crash. Baldwin was initially criticized online for supporting Heche after she had crashed her car into a family home.
Newsweek has reached out to Baldwin's representatives for further comment.