Alec Baldwin's Trump a Witless 'Manchurian Candidate' on 'Saturday Night Live'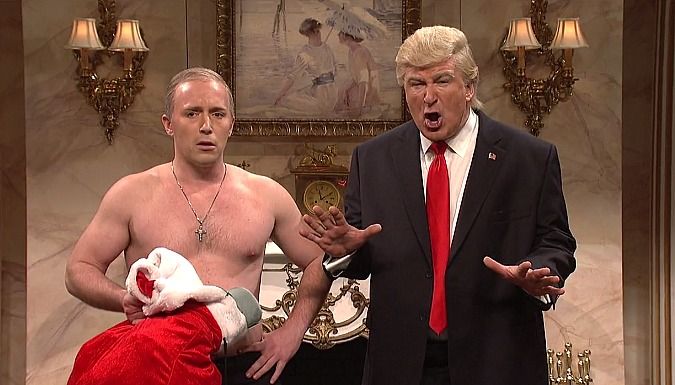 Donald Trump may be the "Manchurian candidate" doing Russia's bidding in the United States, but he's a witless one, on the outside looking in while Vladimir Putin and Secretary of State pick Rex Tillerson plot—at least in "Saturday Night Live's" treatment of current events.
Alec Baldwin reprised his role as the president-elect in the cold open to the NBC show Saturday night, and was joined by Beck Bennett as a shirtless Putin and "SNL" favorite John Goodman as Tillerson, the CEO of ExxonMobil, who plots how to increase profit margins on oil drilling sites in Russia.
RELATED: Trump, Baldwin spar again over 'SNL' treatment
"We in Russia are so happy that you are U.S. president," Bennett's Putin says. "We think you're the best candidate, the smartest candidate, the Manchurian candidate."
"I don't know what that means, but it sounds tremendous," Baldwin's Trump says.
Far from the programmed operative in Richard Condon's classic novel, "SNL's" Trump is simply susceptible to Putin's flattery and nearly clueless about the extent of Russian hacking and their desires to maximize their oil drilling profits. The show satirizes Trump's mystifying choice to mock the national security establishment's conclusion that Russia was responsible for political breaches that was used as a daily cudgel against Hillary Clinton, and he's treated like a child who cannot understand what the adults in the room are talking about in relation to oil drilling.
"Mr. Trump, I am here because your CIA is saying that we Russians tried to make you win election," Putin says.
"I know, all lies made up by some very bitter people who need to move on," Trump says.
"So you trust me more than American CIA?"
"All I know is I won," Trump says. "This guy is blowing my mind," Putin says.
Bennett's Putin hilariously but depressingly appeals to Trump's narcissism to get what he wants. After the president-elect asks him to leave because "it might look bad for us to be seen together," Putin praises Trump's "brilliant observation. You're always so smart, Mr. Trump."
"You can stay as long as you want," Trump says.
Goodman, a frequent "SNL" guest host, adopts a thick Texas drawl for his portrayal of Tillerson, who is in for a rough confirmation process given his opposition to sanctions on Russia, his firm's business relationships there and his personal friendship with Putin.
"Puti? Oh my God," Tillerson exclaims upon seeing Putin at Trump Tower. "My old friend, so much to talk about," Putin says.
The Russian leader shares a map of drilling sites, appealing to Tillerson to help solve problems.
"Oh, that is no problem. As soon as the sanctions are lifted, we'll up our intake by 30 percent," Goodman's Tillerson says.
"What are you guys talking about?," Trump asks.
"Don't worry about it," Putin replies.
Baldwin seemed to be taunting Trump with a series of tweets Saturday that promised a return appearance to the show, which the president-elect has publicly panned as unfunny and unfair to him. As of Sunday morning, Trump had not taken the bait, having last tweeted hours before the start of the show.
Read more at Newsweek.com:
— Baldwin responds to Trump criticism of 'SNL' portrayal
— McKinnon pays tribute to Clinton, Cohen on 'SNL'
— 'SNL' skewers the media's role in the rise of Trump