Alec and Hilaria Baldwin Pose With Kids for Halloween After 'Rust' Shooting
Alec Baldwin posed with his wife, Hilaria Baldwin, and their six children for Halloween on Sunday as he continues to grapple with the tragic death of cinematographer Halyna Hutchins.
On October 21, star and producer Alec Baldwin unknowingly discharged a gun loaded with live rounds on the New Mexico set of his upcoming movie, leading to the death of Hutchins and injury of writer-director Joel Souza.
And as an investigation into the circumstances surrounding the tragic incident continues, the screen star spent time with the six children he shares with Hilaria Baldwin on Sunday, as they dressed up in costume for the annual festivities.
His wife took to her Instagram account to share a series of photos of the family posing together, while admitting that attending to their children's needs after all that had happened was proving to be an "intense experience."
She wrote: "Parenting through this has been an intense experience, to say the least. Today, we rallied to give them a holiday. Last min costumes...a little hodge-podge...but they were so happy and that warmed my mama heart."
Concluding, the yoga instructor and businesswoman added: "Happy Halloween, from the Baldwinitos. They give us [heart emoji]. We send you [heart, pumpkin emojis]."
The couple, who have been married since 2012, share daughters Carmen, 8, and Maria Lucia Victoria, 8 months (born via surrogate), as well as sons Rafael, 6, Leonardo, 5, Romeo, 3, and Eduardo, 14 months. Alec Baldwin also shares daughter Ireland Baldwin, 26, with ex-wife Kim Basinger.
On Saturday, Alec Baldwin spoke on camera for the first time about the fatal shooting, calling Hutchins "my friend" as he spoke with members of the media who had been following him in Manchester, Vermont.
"We were a very, very well-oiled crew, shooting a film together and then this horrible event happened," Baldwin told the group, as his wife filmed the exchange.
"I have been told multiple times, 'Don't make any comments about the ongoing investigation', and I can't," he went on, before asking the group: "What other questions do you have other than that?"
Noting that Hutchins' husband, Matthew Hutchins, is "overwhelmed with grief," Baldwin described the shooting as a "one in a trillion event," as he said: "There are incidental accidents on film sets from time to time, but nothing like this."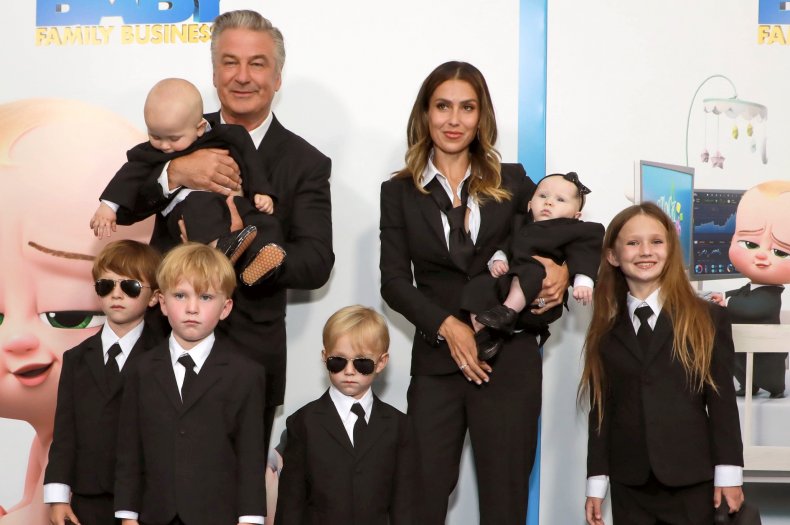 "We are in constant contact with [Matthew Hutchins] because we are very worried about his family and his kid," Baldwin went on. "We are eagerly awaiting for the sheriff's department to tell us what the investigation has yielded."
When asked if he would ever work on another film set in which firearms are used, Baldwin said: "I couldn't answer that question.
"I do know that an ongoing effort to limit the use of firearms on set is something I am extremely interested in," he continued. "How many bullets have gone off on film sets and TV shows in the last 75 years? This is America. Billions?... and nearly all of it without incident.
"We have to realize when it does go wrong... some new measures have to take place. It's urgent that you understand I'm not an expert in this field.
"So whatever other people decide is the best way to go in terms of protecting people's safety on film sets, I'm all in favor of and I will cooperate with that in any way that I can."
Production on Rust was halted in the aftermath of the shooting, and Baldwin said on Saturday that he doubted the project would be completed.
According to a search warrant affidavit, Baldwin was handed the gun on the film set on the day of the incident by assistant director Dave Halls, who shouted "cold gun" to indicate that prop contained no live rounds.
"I think the industry has had a record recently of being safe," Santa Fe County Sheriff Adan Mendoza said during a press conference last week.
"I think there was some complacency on this set," added Mendoza. "And I think there are some safety issues that need to be addressed by the industry and possibly by the state of New Mexico."
District Attorney Mary Carmack-Altwies, who was also present at the press conference last Wednesday, addressed potential criminal charges arising from the investigation, saying: "All options are on the table... No one has been ruled out at this point."