Alex Jones Says White House Insider Told Him Trump Will Pardon Roger Stone After Sentencing
Far-right radio host Alex Jones has claimed that Roger Stone will be pardoned by President Donald Trump after he is sentenced for crimes related to Russian interference in the 2016 election.
Stone was convicted in November on multiple felony charges and is set to be sentenced on February 20. Jones claimed on his radio show Tuesday that Trump will be pardoning Stone regardless of the sentence.
"I talked to somebody that had been inside the White House and they said that Trump is going to pardon Roger Stone but that he's going to do it after he's sentenced and that the president was really upset at the seven-to-nine year number," said Jones.
Federal prosecutors released a memo on Monday suggesting that Stone should serve up to 9 years in prison Monday. The proposed sentence was far shorter than the possible maximum of 50 years, but still considered unreasonable by allies of Stone including Trump.
The president expressed his displeasure with the guidelines after they were released Monday, taking to Twitter to claim that his longtime friend and former campaign adviser was the victim of "unfair" treatment.
"This is a horrible and very unfair situation," Trump tweeted Monday. "The real crimes were on the other side, as nothing happens to them. Cannot allow this miscarriage of justice!"
Not long after the proposed sentence was announced, the Department of Justice announced that they would be taking the unusual step of intervening in the case. A new memo was issued that does not offer specific guidelines but directs the court to impose a sentence "far less" than 87 to 108 months.
"The prior filing submitted by the United States... does not accurately reflect the Department of Justice's position on what would be a reasonable sentence in this matter," wrote U.S. Attorney Timothy J. Shea in Tuesday's filing. "While it remains the position of the United States that a sentence of incarceration is warranted here, the government respectfully submits that the range of 87 to 108 months presented as the applicable advisory Guidelines range would not be appropriate or serve the interests of justice in this case."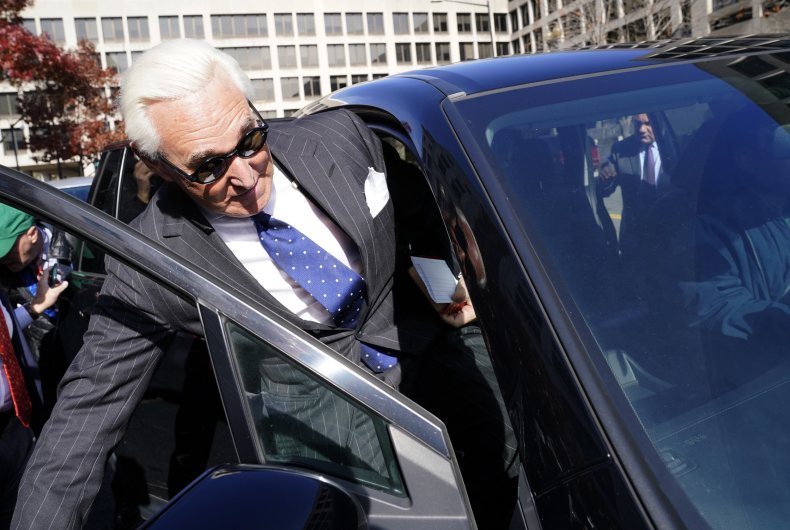 All four original prosecutors in the case withdrew or resigned after the announcement. A number of observers suggested that the change was done in response to pressure from Trump. Senate Minority Leader Chuck Schumer wrote a letter to Inspector General Michael Horowitz calling for the decision to be investigated, insisting it could represent "improper political interference in a criminal prosecution."
Jones, founder of the conspiracy website InfoWars, has a long history of involvement with Stone. During the trial he delivered a message from the Republican operative on his radio show, pleading for a pardon from Trump.
The president would not rule out the prospect of a pardon in December, telling the press it was a "very tough situation" but Stone is a "good person." When reporters at the White House asked him about a pardon on Tuesday, Trump declined to comment.
Newsweek reached out to the White House for comment but did not receive a response in time for publication.