Alex Jones, the founder of the far-right website InfoWars, has called on his followers to "move on" from supporting Donald Trump and threatened to spill "dirt" about the former president.
Jones was previously a strong supporter of Trump, even participating in the January 6 march to the U.S. Capitol that ended in a violent riot. However, the noted conspiracy theorist has turned on the former president after he repeatedly touted life-saving COVID-19 vaccines this month.
"Yeah, we all wish Trump would do the right thing, but listen, I've got the inside baseball on Trump. He doesn't know what's going on, and I'm not even defending Trump, I'm just saying we've got to move on," Jones told listeners to his Wednesday InfoWars show.
Jones went on to suggest that to "get Trump's attention" he may begin to "dish all the dirt" on the former president. "You know what, you know what—I am going to dish it all on Trump..." he said. While Jones contended that Trump is "not a bad guy," he lamented that the former president "doesn't know what he's doing" and is "surrounded by bad advisors."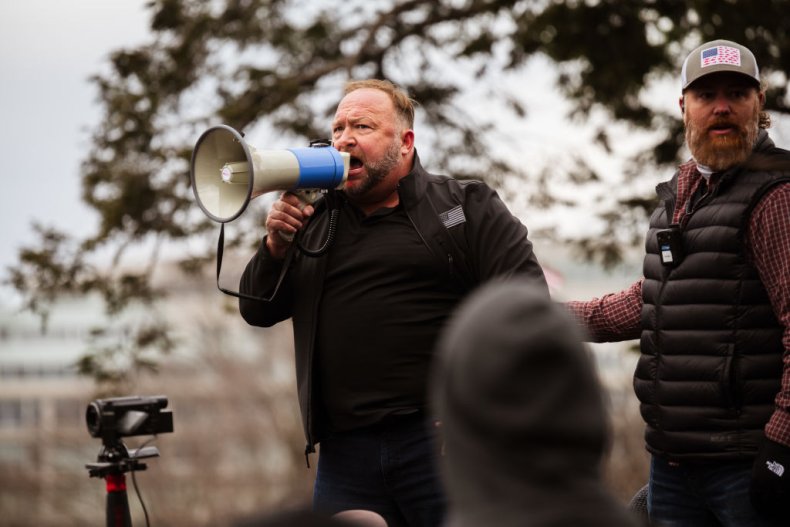 The criticism from the prominent far-right personality started after Trump told a crowd of supporters at a Texas rally on December 19 that he had received his COVID-19 booster shot. The audience booed, to which Trump responded with a string of "don't, don't, don't."
Later that week, Trump did several interviews in which he praised the COVID-19 vaccines. He described them as "one of the greatest achievements of mankind" during an interview with Daily Wire host Candace Owens. After Owens attempted to suggest that the vaccines don't work, Trump pushed back.
The vaccine[s] work, but some people aren't taking them," the former president said. "The ones that get very sick and go to the hospital are the ones who don't take their vaccine. But it's still their choice, and if you take the vaccine, you're protected. Look, the results of the vaccine are very good. And if you do get it, it's a very minor form. People aren't dying when they take the vaccine."
Trump's administration launched Operation Warp Speed in May 2020 to support the rapid development of vaccines against the novel coronavirus. That successful effort has been credited with helping speed up vaccine development, which public health experts believe likely saved many lives around the world.
Despite the success of Operation Warp Speed and COVID-19 vaccines, many conservatives remain skeptical of or staunchly opposed to receiving the life-saving shots. Jones and his InfoWars site have promoted misinformation and conspiracy theories about the vaccines and their rapid development. After Trump repeatedly touted their efficacy, Jones turned on the former president.
Jones suggested that Trump's name will "go down in history as pure evil" in a "Christmas warning" to his followers. Then last Sunday, InfoWars host Owen Shroyer began suggesting alternative candidates that those opposed to the COVID-19 vaccines could support in the 2024 presidential election (Trump has not confirmed whether he will launch another White House bid).
"We're considering what the political future for the 'America First,' 'Great Awakening,' Trump movement is," Shroyer said. "Is it Donald Trump? Or do statements like this overwhelm us and leave a bad taste in our mouth that we don't want to support him anymore?"
Shroyer floated that Florida's Republican Governor Ron DeSantis could be a good alternative for conservatives, although DeSantis has not announced a plan to run for president either. While DeSantis received the one-dose Johnson & Johnson COVID-19 vaccine earlier this year, he has strongly opposed vaccine mandates and suggested he has not received a booster shot earlier in December.
Newsweek reached out to Trump's press office for comment.