Read Alex Murdaugh's Last Second Plea Before Being Handed 2 Life Sentences
Former South Carolina attorney Alex Murdaugh made a last-second plea before he was handed two life-time prison sentences on Friday in the murders of his wife and son.
"I'm innocent, I would never hurt my wife Maggie and I would never hurt my son Paw Paw," Murdaugh said before the sentence was announced by the judge. "I respect this court, but I'm innocent. I would never, under any circumstances hurt my wife Maggie and I would never under any circumstances hurt my son Paw Paw."
On Thursday, a jury found Murdaugh, 54, guilty of two counts of murder in the first-degree for the fatal shootings of his wife, Margaret "Maggie" Murdaugh, 52, and son, Paul Murdaugh, 22. The jury also found Murdaugh guilty of two counts of possessing a weapon during a violent crime.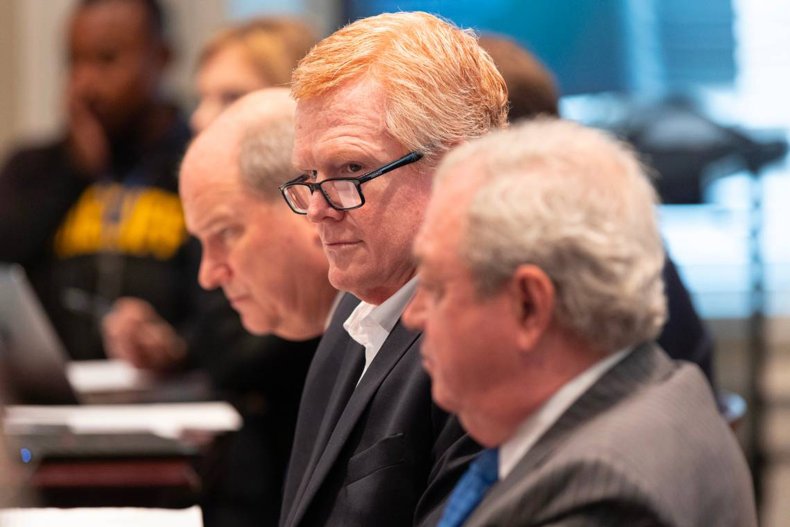 The jury's decision on Thursday came after a trial lasting several weeks where an array of evidence was presented. Murdaugh also decided to take the stand and testify in his own trial. During his own testimony, Murdaugh told the court that he initially lied to police about his whereabouts on the night of the murders, which occurred on June 7, 2021. Murdaugh initially told police that he was not at his home but testified that he was in the vicinity at the time of the murders
"Normally when these paranoid thoughts would hit me, I could take a deep breath real quick, think about it, reason my way through it, just get past it," Murdaugh said during his testimony. "On June 7, I wasn't thinking clearly. I don't think I was capable of reason and I lied about being down there and I'm so sorry that I did."
"I did not kill Maggie, and I did not kill Paul. I would never hurt Maggie, and I would never hurt Paul," Murdaugh added during his testimony.
While speaking with NBC News' Today show on Friday morning, South Carolina Attorney General Alan Wilson said that the "biggest piece of evidence," was Murdaugh.
"When he took the stand, I think that was fatal for him ultimately," Wilson said. "I believe in my mind that he believed that he could talk his way out of this. And at the end of the day, I think that's what sealed it for him."
Following the verdict on Thursday, Murdaugh's lawyers attempted to motion for a mistrial, however Judge Clifton Newman denied the motion.
"The evidence of guilt is overwhelming and I deny the motion," the judge said. "All the evidence pointed to one conclusion, and that is the conclusion you all reached."
During the sentencing on Friday, Judge Newman spoke extensively to Murdaugh and said, "I know you have to see Paul and Maggie during the nighttime when you're attempting to go to sleep."
"I'm sure they come and visit you...and they will continue to do so and reflect on the last time they looked you in the eyes as you looked the jury in the eyes," the judge said.
Update 3/3/23, 11:08 a.m. EST: This article was updated to add more quotes.