'Notorious AOC' Alexandria Ocasio-Cortez Asks: If You're Chasing Checks Not Rocking Boats, Why Be in Politics?
Representative Alexandria Ocasio-Cortez told Showtime's new late-night talk show Desus & Mero that the nonstop criticism and personal attacks lobbed her way is "validation" that she is doing something right.
During the first episode of the show on Showtime (it previously appeared on Viceland), Ocasio-Cortez, who hosts Desus Nice and The Kid Mero introduced as the "Notorious AOC," admitted that the trolling and abuse was "heavy."
"But in a weird way, that stuff is validation that you're doing something real," she said, reported The Daily Beast.
"Because if you're just flying under the radar, just trying to get your check, not rock the boat, then what's the point of being in politics? What is the point of doing things if you're just trying to maintain the status quo that doesn't help people?"
The New York Democrat said she didn't mind the online insults because many of them are "so weak."
Ocasio-Cortez has gained a reputation for her fiery responses to her critics ever since her historic victory over 10-term congressman Joe Crowley in the Democratic primary of New York's 14th District last June. The infographic below, provided by Statista, illustrates the rise in popularity of Ocasio-Cortez.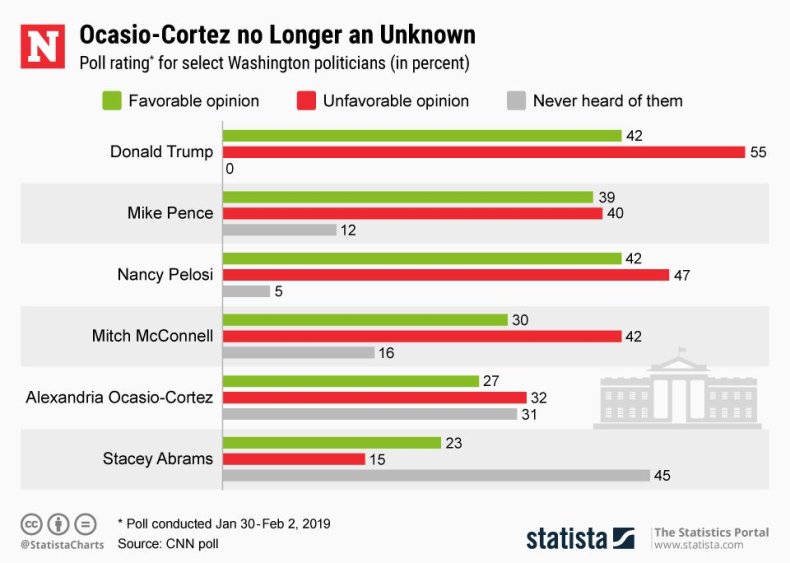 This week, the Job Creators Network placed a billboard in New York's Times Square condemning her "socialist" views after Amazon pulled out of building a second headquarters in Long Island City, Queens, last week.
"25,000 lost NYC jobs, $4 billion in lost wages, $12 billion in lost economic activity for NY," the billboard read. "Thanks for nothing, AOC!"
In response, Ocasio-Cortez, who frequently spoke out against the planned move by Amazon, tweeted: "Few things effectively communicate the power we've built in fighting dark money & anti-worker policies like billionaire-funded groups blowing tons of cash on wack billboards (this one is funded by the Mercers.) (PS fact that it's in Times Sq tells you this isn't for/by NYers)."
The 29-year-old was also recently described as a "Farrakhan loving, bug-eyed b****" in a YouTube rant from Roseanne Barr.
During her appearance on Desus & Mero, Ocasio-Cortez defended her proposal for a 70 percent marginal tax rate while mentioning Amazon CEO Jeff Bezos, who has an estimated net worth of more than $130 billion.
"You make more than 10 million in one year, your 10 millionth and one dollar gets taxed at 70 percent. By the way, we used to have marginal tax rates under Republican presidents of 90 percent," Mediaite reported her saying.
"It really comes down to the question of, isn't 10 million enough? Like, when does it stop? When—at what point is it immoral that we're building Jeff Bezos a helipad when we have the most amount of homeless people in New York City?"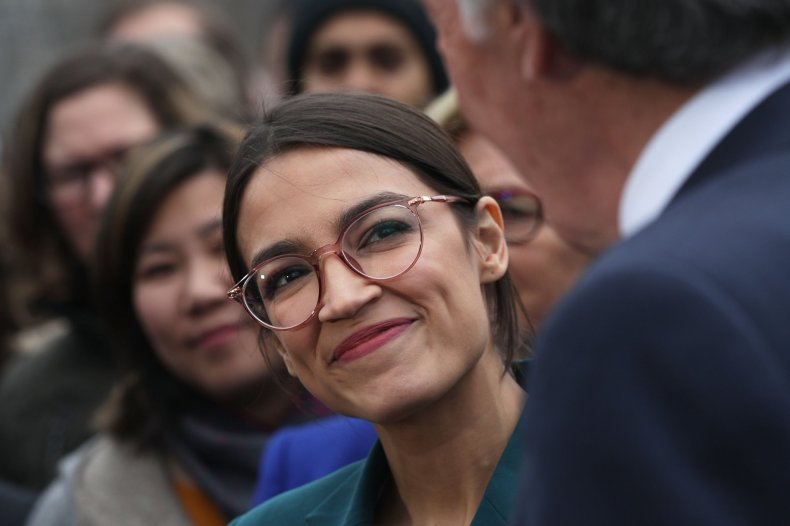 This article was updated to include an infographic.