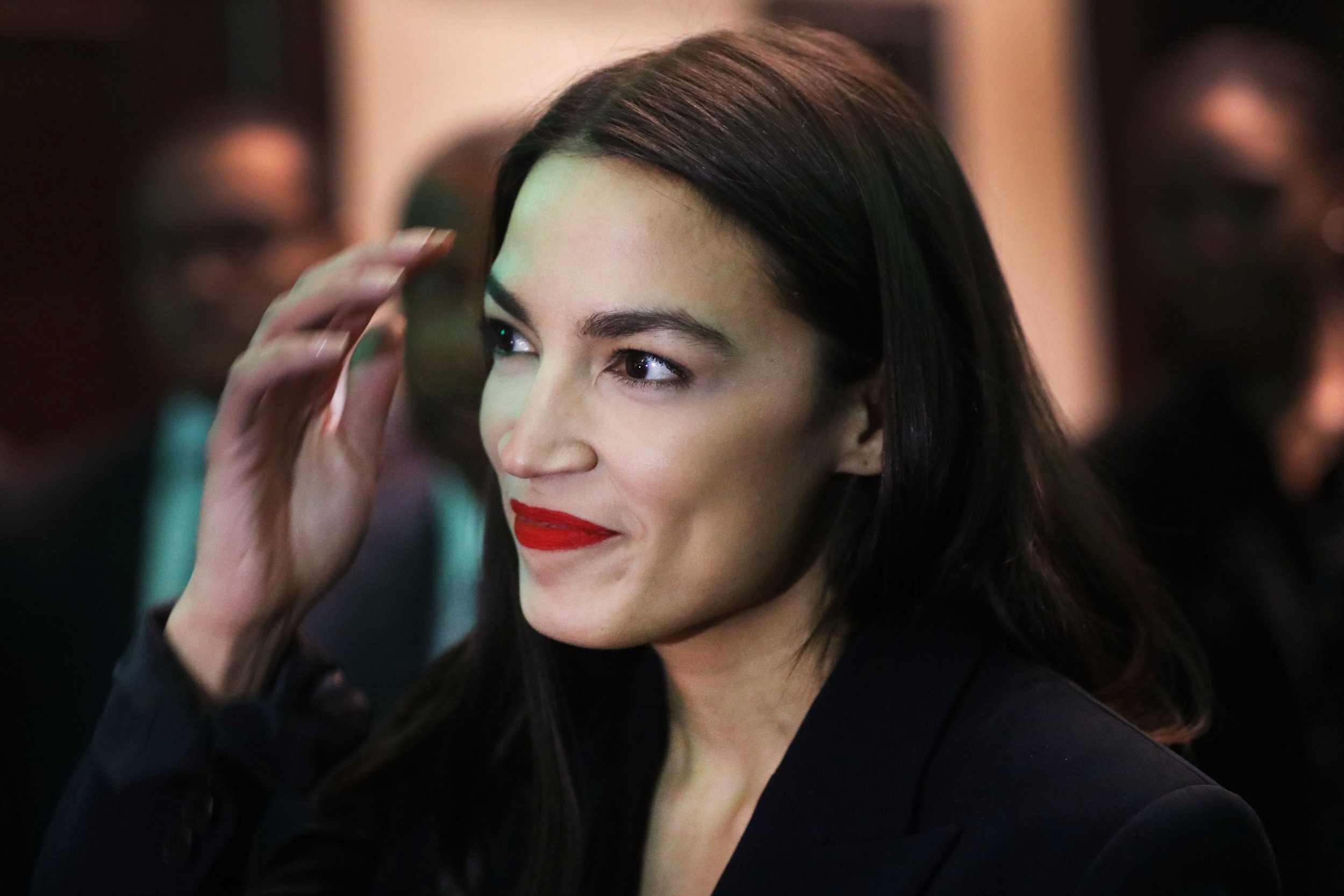 Representative Alexandria Ocasio-Cortez slammed former Department of Homeland Security Secretary Kirstjen Nielsen for her role in President Donald Trump's controversial "zero tolerance" immigration policy.
Nielsen's resignation on Sunday prompted a raft of stories from various news outlets, including The New York Times, The Guardian and New York Magazine, that criticized her tenure, especially how she carried out Trump's "zero tolerance" policy, which resulted in thousands of migrant children being separated from their families at the U.S.-Mexico border.
Responding to a Times opinion piece titled "Cancel Kirstjen Nielsen," which encouraged potential employers to treat the ex-Trump Cabinet member as a "pariah," Ocasio-Cortez tweeted: "In stealing 1000s of children, deporting their parents, & refusing to provide info for reunification, Sec. Nielsen oversaw one of the largest-scale human rights violations in recent history. Awarding her a lucrative deal or prestigious post is to legitimize + celebrate that abuse."
Ocasio-Cortez has been a fierce critic of the DHS's Immigration and Customs Enforcement (ICE) agency, which carried out the "zero tolerance" policy. In June 2018, she joined a protest in Tornillo, Texas, a border town that became known for its temporary "tent city," which housed thousands of child migrants at its peak. Appearing on CNN at the time, she dubbed certain ICE detention centers "black sites," and called for their closure.
Ocasio-Cortez was the only House Democrat to vote against a bill that sought to reopen a partially shuttered government back in January. She refused to back the bill because it contained funding for ICE.
"Most of our votes are pretty straightforward, but today was a tough/nuanced call," she wrote in an Instagram Story, per The Hill. "We didn't vote with the party because one of the spending bills included ICE funding, and our community felt strongly about not funding that."
Trump tweeted Sunday that U.S. Customs and Border Protection Commissioner Kevin McAleenan would step in as acting DHS secretary in Nielsen's place. The move surprised many who expected the temporary role to pass to the department's acting deputy secretary and undersecretary for management, Claire Grady. Representative Bennie Thompson, a Mississippi Democrat, questioned the legality of the move in a letter addressed to the president.
Nielsen announced Grady's resignation herself on Tuesday.
In an earlier surprise move, Trump withdrew his nominee for ICE director—Acting Director Ronald Vitiello—last Friday. "We're going in a little different direction. Ron's a good man, but we're going in a tougher direction," Trump told reporters at the White House, per CNN.
Various news outlets have attributed recent DHS personnel changes to senior presidential adviser Stephen Miller. Citing anonymous administration officials, The Washington Post reported that Trump had given Miller significant power over immigration and border issues in a recent Oval Office meeting.