Republican Congressman Lee Zeldin Accuses Ilhan Omar of Targeting Jewish People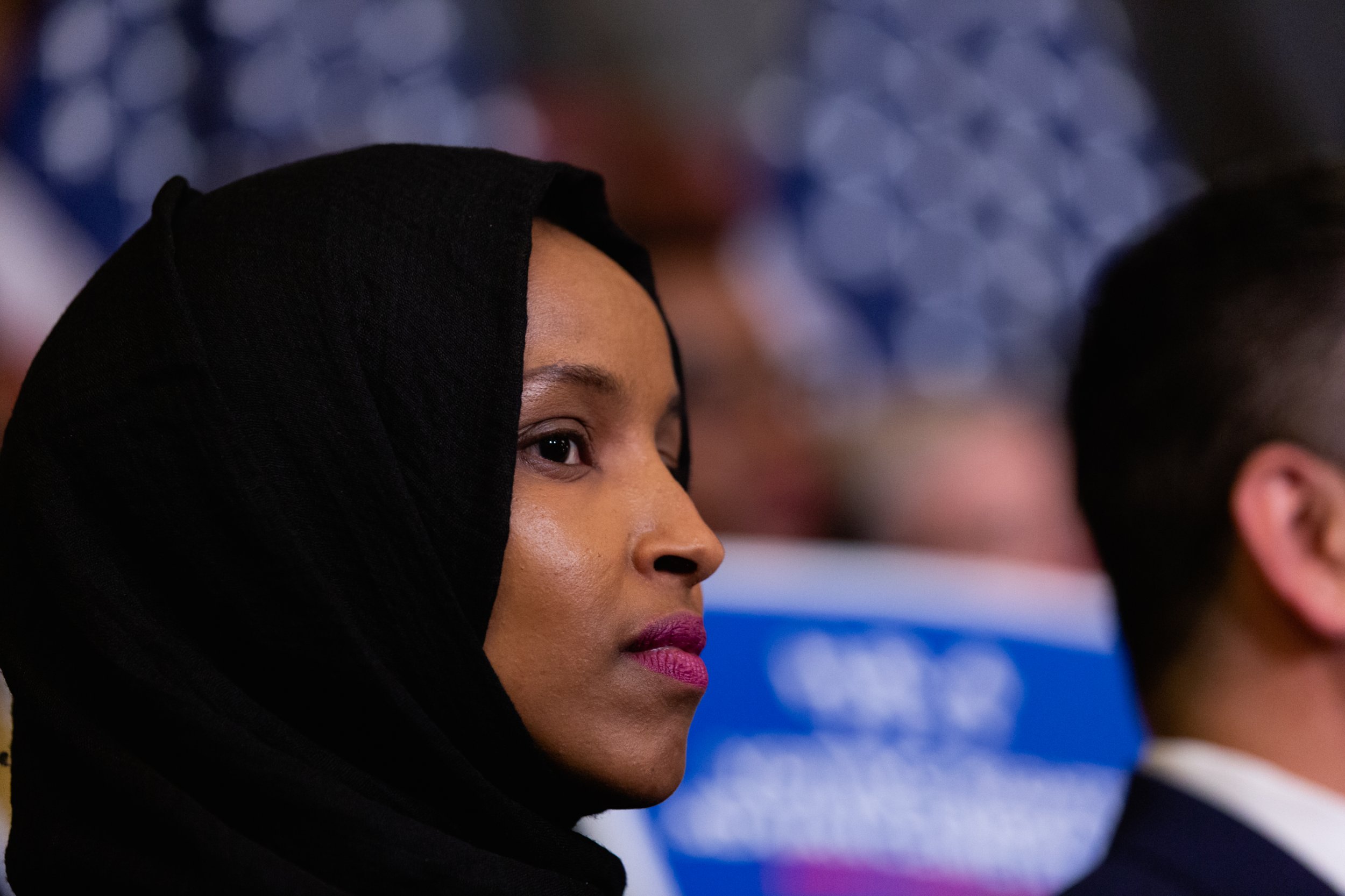 Representative Lee Zeldin, a New York Republican, has accused Ilhan Omar, a Minnesota Democrat, of "targeting Jewish people" as he responded to her criticism of senior presidential adviser Stephen Miller.
Citing unnamed sources, CNN and The Washington Post recently reported that Miller was behind President Donald Trump's decision to change his nominee for director of Immigration and Customs Enforcement (ICE). "We're going in a little different direction. [Acting director Ronald Vitiello is] a good man, but we're going in a tougher direction," Trump told reporters at the White House, per CNN.
Omar responded to the news by tweeting an article on the topic with the comment: "Stephen Miller is a white nationalist. The fact that he still has influence on policy and political appointments is an outrage."
Responding on the social media platform, Zeldin tweeted: "During my time in Congress before [Ilhan Omar] got here, I didn't once witness another Member target Jewish people like this with the name calling & other personal attacks. In 2019 though, for [Ilhan Omar], this is just called Monday."
In December 2016, the news that Miller would be named senior adviser to the president for policy won praise from Richard Spencer, president of the National Policy Institute, whose members the Southern Poverty Law Center characterized as "white supremacists."
"Stephen is a highly competent and tough individual," Spencer, who attended Duke University with Miller, told Mother Jones magazine. Although he said Miller "is not alt-right or a white nationalist or an identitarian," Spencer added: "Could Miller and Trump do good things for white Americans? The answer is yes."
Last June, a Boston Globe editorial described Miller as "the architect of family separation at the border." In September, his childhood rabbi, Neil Comess-Daniels, slammed the senior policy adviser's record on immigration in a sermon. That same month, his uncle, David Glosser, called him an "immigration hypocrite," in an op-ed for Politico.
Omar has received her own share of pushback in recent weeks. She incited a backlash from top Democrats in February when she tweeted the influence of a pro-Israel lobbying group in U.S. politics was "all about the Benjamins."
House Speaker Nancy Pelosi and others issued a statement calling out Omar for using "anti-Semitic tropes." Omar apologized for the now-deleted tweet.
Omar and Zeldin have sparred on social media in the past. In January, Zeldin said of Omar's appointment to the House Foreign Affairs Subcommittee on Oversight and Investigations: "Crazy to watch what House Dems are empowering/elevating."
Omar responded: "He is just waking up to the reality of having Muslim women as colleagues who know how to stand up to bullies!"
Zeldin followed up by accusing Omar of anti-Semitism. "Those poor innocent ISIS fighters & Palestinian terrorists right? Give me a break! That's a problem no matter your religion or gender Ilhan," he wrote. "Your anti-Semitic & anti-Israel hate is strong & wrong & those terrorists have US blood on their hands as well."
On Monday, Democrat Perry Gershon—Zeldin's unsuccessful midterm opponent—called the congressman's tweet a "new low," commenting: "Inappropriate accusations of anti-Semitism masks the ugliness of the real thing. [Ilhan Omar] may have used ugly tropes in the past, but her current criticism of Stephen Miller relates not to religion, but his racist and ugly tendencies."
Zeldin has represented New York's 1st Congressional District, which covers eastern Long Island, since 2015. He narrowly beat Gershon and held on to his seat last November. His Democratic opponent recently told the Suffolk Times that he planned a 2020 rematch.