Alexandria Ocasio-Cortez Slams Fox News, Asks Who They Will Promote First Between Tucker Carlson and Jeanine Pirro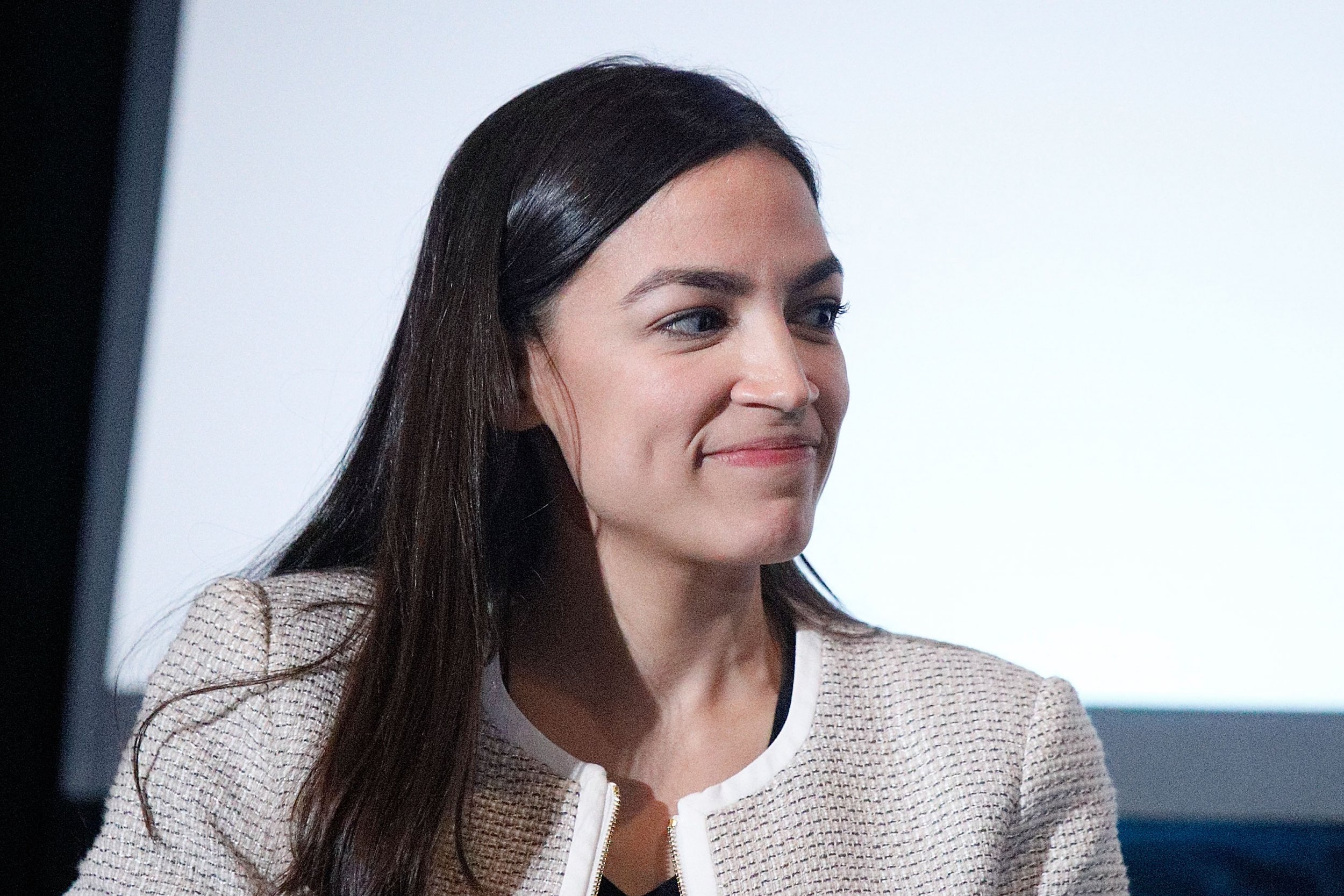 Alexandria Ocasio-Cortez has gone heavy on Fox News, following the outcry surrounding comments made by two of its most high-profile stars.
The New York congresswoman mocked the network by suggesting no major disciplinary action would be taken against Tucker Carlson or Jeanine Pirro, and instead they would be rewarded for their controversial remarks.
"Between Tucker Carlson's defense of sexual assault + calling women 'extremely primitive,' or Jeanine Pirro's bigoted diatribe that hijabi women are 'antithetical' to the Constitution, who do you think Fox News will give a promotion to first?" Ocasio-Cortez tweeted.
Carlson, who has the second-highest rated show on Fox News, has faced calls to resign after comments he made on a radio show several years ago were unearthed by Media Matters.
During several appearances on the shock jock Bubba the Love Sponge Show from 2006 to 2011, Carlson was found to have made numerous remarks, including describing women as "extremely primitive."
He also appeared to defend statutory rape while discussing the crimes of convicted child sex offender Warren Jeffs, the cult leader of the Fundamentalist Church of Jesus Christ of Latter-Day Saints, who was convicted of child sex felonies.
On the show, Carlson said that while he did not condone underage marriage it is not the same as thing "pulling a child from a bus stop and sexually assaulting that child."
"The rapist, in this case, has made a lifelong commitment to live and take care of the person, so it is a little different. I mean, let's be honest about it," Carlson said.
In other radio appearances unearthed by Media Matters, Carlson was found to have described Iraq as a "crappy place filled with a bunch of…semiliterate primitive monkeys."
Carlson responded to the criticism in a statement and a monologue on his show but refused to apologize.
"The great American outrage machine is a wonderful thing," he said during Tucker Carlson Tonight. "One day you're having dinner with your family, imagining everything is fine, the next your phone is exploding with calls from reporters.
"There's really not much that you can do to respond because it's pointless to try and explain how the words were spoken in jest or taken out of context or in any case are no resemblance to what you think or want for the country.
"None of that matters. Nobody cares. You know the role you're required to play: You are a sinner, begging the forgiveness of Twitter," Carlson said.
In a previous statement, Carlson admitted that Media Matters "caught me saying something naughty" more than a decade ago but did not apologize.
Meanwhile, Fox News said it "strongly condemns" comments made by Pirro in which she suggested that Representative Ilhan Omar's wearing a hijab was evidence of her adherence to Sharia law.
"Omar wears a hijab, which according to the Koran 33:59, tells women to cover so they won't get molested. Is her adherence to this Islamic doctrine indicative of her adherence to Sharia law, which in itself is antithetical to the United States Constitution?" she said on Saturday's Justice with Judge Jeanine.
Pirro attempted to clarify her comments in a statement: "I did not call Representative Omar un-American. My intention was to ask a question and start a debate, but of course because one is Muslim does not mean you don't support the Constitution. I invite Representative Omar to come on my show any time to discuss all of the important issues facing America today."
Omar thanked Fox News after its statement condemning Pirro's comments. "No one's commitment to our Constitution should be questioned because of their faith or country of birth," she tweeted.
Fox News did not immediately respond to a request for further comment.