Alexei Navalny Team Fixes Sights on Russia Election Showdown With Vladimir Putin
The team around jailed Russian anti-corruption campaigner Alexei Navalny is setting its sights on September parliamentary elections, framing the contest as pivotal in what they call the country's only significant political battle.
Leonid Volkov, Navalny's chief of staff, told Newsweek Wednesday that the politician's team is continuing their operations despite Navalny's jailing and recent ill health, plus intensified Kremlin efforts to shutter their organizations and intimidate Navalny's supporters.
"So far we have been able to survive, we are flexible enough to adapt," Volkov told Newsweek from Lithuania. Volkov is unable to return to Russia due to an outstanding arrest warrant against him.
Navalny was jailed in February after his return from Germany, where he had been recuperating after surviving an August assassination attempt by Russia's FSB security service. The 44-year-old is now serving a two-and-a-half-year sentence for parole violations related to an earlier embezzlement conviction that he maintains was politically motivated.
Navalny went on hunger strike in March, demanding medical attention for serious pains in his legs and back. He ended the hunger strike on April 23 amid deepening concerns about his condition, with one of his doctors warning Navalny could die "at any moment."
Navalny is now receiving the medical treatment he had asked for, though has still not been moved to a civic hospital per his demands. "He's now slowly recovering," Volkov said. "He was on a hunger strike for 24 days, and recovery will take approximately the same period of time."
With Navalny in jail, President Vladimir Putin is cracking down on his allies, supporters and infrastructure across Russia. Navalny has long been a thorn in the Kremlin's side, his popular investigations exposing the kleptomania and cronyism of Putin and his oligarch allies.
Security forces have violently suppressed pro-Navalny protests in major Russian cities since the campaigner returned to the country. Some 13,000 people are thought to have been arrested at such demonstrations.
Now a court is preparing to brand Navalny's Anti-Corruption Foundation (FBK) an extremist organization, putting it alongside groups like Al-Qaeda. A Moscow court placed an injunction on the FBK earlier this week restricting its activities pending the decision on the extremist designation.
With their boss in prison and the Kremlin bearing down, Navalny's team is under pressure. "I hope we are strong enough to survive the latest attacks and crackdowns against us," Volkov said. "The pressure is dramatic...It's a constant fight."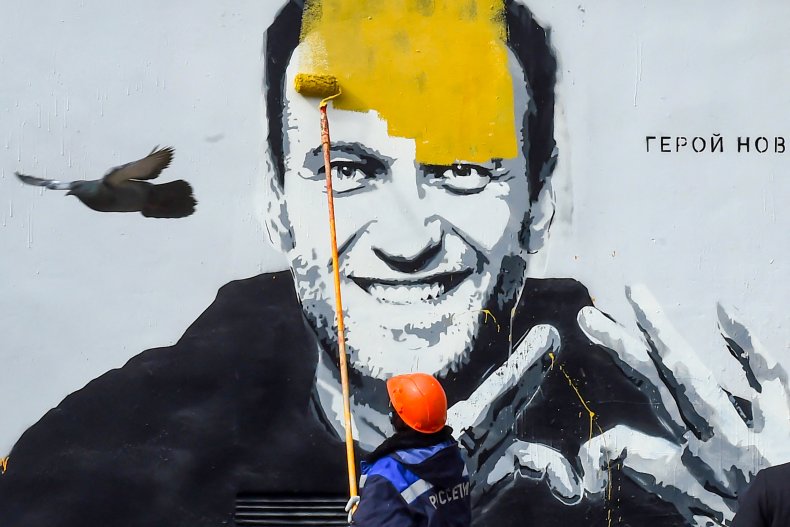 Navalny is not widely popular in Russia despite his growing profile. Still, he has become the face of opposition against Putin and a figure around which Russians can rally with a broad set of grievances. Chief among them is corruption, which has long been rampant in Russia. "Corruption is the basis for the existence of a country like Russia," Volkov said. "Corruption affects everyday life of every Russian citizen."
Navalny might not yet be a realistic political alternative to Putin, but he is an expert at playing on Kremlin insecurities and embarrassing the president. Navalny's most recent major investigation detailed "Putin's palace"—a palace complex on the Black Sea that reportedly cost more than $1.35 billion. The video has to date been viewed on YouTube more than 116 million times.
Putin and his top officials have tried to keep Navalny out of the headlines, the president even refusing to say his name in public. But for all the recent challenges, Volkov is confident that Navalny's message is breaking through.
Navalny's failed assassination and subsequent jailing "increased the level of compassion" for the campaigner among Russians, Volkov said, undermining "many years of smear and fear campaigns against him."
"The poisoning, recovery and his return didn't increase his approval rating as a politician," Volkov acknowledged. "But many people who are still inclined to trust Putin, to support Putin, now also are compassionate to Aleksei."
"Even the majority of the hardcore Putin supporters realize that Aleksei Navalny is now in prison not for the crimes that he has committed, but for the fact that he dared to investigate Putin's palace, that he dared to survive the poisoning, that he dared to investigate the poisoning, and that he dared to return."
Several prominent Putin critics have met violent and public ends. Opposition politician Boris Nemtsov was shot dead in 2015 within view of the Kremlin walls. Dissident Alexander Litvinenko died over the course of three weeks in the U.K. in 2006 having been poisoned with radioactive polonium.
Navalny survived last summer's attempt on his life, but his ill health and imprisonment raised fears that the Kremlin would again try to silence him permanently. Volkov said he preferred not to consider a future without Navalny, but added: "We are well prepared to work when there is no connection to Alexei.
"The fundamental reasons for protest are not gone and will not be gone. Whatever level of political repression against us, the fundamental reasons for dissent and protest are here...historically, we are designated to win, we are designated to prevail. But this, of course, could take a lot of time. And we are well prepared."
Navalny's struggle has won him significant foreign support. President Joe Biden has demanded his release and imposed sanctions on those believed to be behind the assassination attempt, as has the European Union. National security adviser Jake Sullivan warned Moscow that "there will be consequences if Mr. Navalny dies."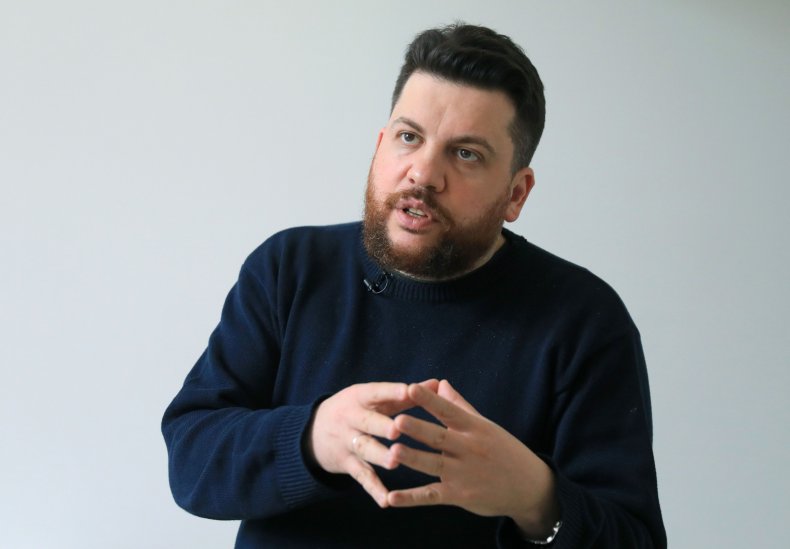 Navalny is fast becoming a hero in the human rights arena. The Geneva Summit for Human Rights and Democracy will award Navalny its 2021 Geneva Summit Courage Award at its annual conference on June 8. His 20-year-old daughter, Daria Navalnaya, will receive the award on his behalf.
"It's very important that his achievement and courage are being recognized," Volkov said. "Alexei Navalny managed to prove, I believe, that the fight against corruption in countries such as Russia is also an essential human rights fight."
As for support from foreign governments, Volkov said Navalny's team is "very grateful." But it "is not sufficient," he added. Volkov repeated demands from Navalny's organizations that the U.S. and EU apply "personal targeted sanctions" against Putin and his inner circle of oligarchs and officials. "Putin cares very much about money," Volkov said. "And these could be really very painful."
Some Western liberals have been hesitant in backing Navalny, citing past controversial comments interpreted by some as xenophobic or even racist—for example advocating for deportation of migrants and railing against Muslims. Amnesty International even stripped Navalny of his "prisoner of conscience" status following complaints over nationalist rhetoric.
Volkov dismissed concerns about such remarks, noting some were more than 15 years old and made more sense given the politics of the time, for example Navalny's harsh rhetoric on illegal immigration at a time when the issue was prominent in Russian politics.
Volkov also suggested the Kremlin had a hand in directing international concern about Navalny's politics and that media organizations had some of the comments out of context. "The majority of these statements just are not something he has to be ashamed of," Volkov said.
Regardless, Navalny and his team have more immediate concerns. Elections for Russia's Duma—the lower house legislature—are scheduled for September.
Putin and his United Russia party will win this latest instalment of Russia's electoral theater handily, but the Kremlin will want a crushing victory to ease fears that the coronavirus pandemic, economic struggles, Putin's constitutional reforms, and the Navalny situation have chipped away at the strongman's favorability.
"Our closest priority is the Duma elections," Volkov said. "We have a lot to do." Navalny's team will be promoting its tactical voting strategy to "unseat as many United Russia incumbent members of parliament" as possible, he explained.
Navalny "is the most important case now in Russian politics," Volkov said. "There are two independent political actors in Russia now," he added—Putin and his political infrastructure versus Navalny and his. "This has to be very clear to everyone in Russia, and we're working hard to make it clear for everyone within the country. But this also has to be very clear to everyone abroad."
"It's very important that the world doesn't allow Putin to silence Navalny's case, to avoid it, to try to make it look insignificant," Volkov said. "Putin will not succeed, because it is significant. It's probably the only thing that really matters."