Alexei Navalny—Russia's most famous anti-corruption and pro-democracy campaigner—remains languishing in a penal colony east of Moscow, confined to the prison's hospital as his health deteriorates amid an ongoing hunger strike.
International media coverage, sanctions and mass protests have failed to puncture the Kremlin's public indifference to the health of one of its most prominent critics.
One doctor warned that Navalny could die at "any moment." But outside those prison walls, Moscow is still cracking down on his allies as they try to arrange fresh rallies. Some Navalny staff have gone into hiding, while others have been detained. Top aide Lyubov Sobol, for example, was dragged from a taxi and arrested on Wednesday.
A Moscow court, meanwhile, is planning to designate Navalny's Anti-Corruption Foundation and his regional political headquarters as extremist organizations next week. This label has previously been used to prosecute Al-Qaeda members and Jehovah's Witnesses. Any staff, supporters, or financiers caught up in this net could face large fines and long jail terms.
While Navalny's network was being rolled up on Wednesday and protests violently broken up, Putin delivered his annual State of the Nation address in Moscow.
The president lauded the "solidarity of the people" during the coronavirus pandemic, praising the country for "coming together" even as people marched demanding "freedom" and Navalny supporters desperately tried to dodge police and organize protests. Putin made no mention of Navalny in his address.
"The Kremlin is killing him in prison," the European Council on Foreign Relations' Gustav Gressel told Newsweek of Navalny. "They have removed someone whom they perceive as a threat to Putin's power."
Navalny was arrested and jailed earlier this year on his return to Russia from Germany, where he had been recuperating after surviving an assassination attempt by agents of Russia's FSB security services.
President Joe Biden is among those demanding his release, having imposed sanctions on those believed to be responsible for last year's poison attack. The White House has thrown its weight behind Navalny's cause, which for Moscow is an unacceptable challenge to Putin's unquestioned authority.
This week, Navalny's allies said they would organize new protests if 500,000 people signed a new petition supporting him. They failed to reach their target, reaching some 466,000 names before deciding they would push ahead regardless. Footage from several cities showed police beating and arresting protesters who took to the streets.
Navalny has become the face of anti-government dissent outside Russia, even though Putin and other government officials have tried hard to keep him out of the headlines. The president, for example, has a longstanding policy of not using Navalny's name in public.
Navalny is not a political alternative to Putin, but his work is a continued embarrassment to the Kremlin and its network of oligarch benefactors. Navalny won't win any elections, but his videos exposing government corruption and largesse—including that of Putin himself—have drawn hundreds of millions of views. The campaigner won't topple the president, but he is an expert in playing on the Kremlin's deep insecurities.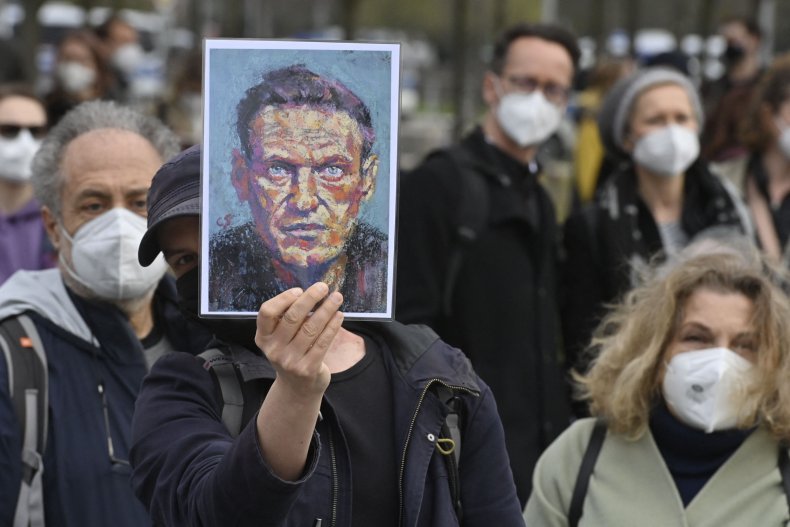 Navalny is not a threat as a political alternative, but "he is in terms of breaking Putin's agenda," Nikolay Petrov, a senior research fellow at the U.K.'s Chatham House think tank, told Newsweek. "And that's why Putin hates him...It's very important for Putin to demonstrate that anybody who could oppose him should be punished without any mercy."
Navalny himself is not widely popular in Russia, particularly among older people. His past racist and nationalistic comments—for example advocating for deportation of migrants and railing against Muslims—have also earned him criticism from liberals and human rights groups in the West.
But Navalny—in particular his investigations into corruption among Russian leaders and oligarchs, including Putin and former president and prime minister Dmitry Medvedev—have pricked deeper grievances among Russians frustrated by elite kleptocracy and cronyism while they struggle to keep their heads above water.
"Navalny has just simply become symbolic for a lot of people," explained Mark Galeotti, an academic and the author of We Need to Talk About Putin. Navalny's battle against the Kremlin is symbolic of wider Russian concerns about the "thuggish and uncaring regime" that Putin heads, Galeotti said.
"Most of the people who came to protest before did not come out to protest for Navalny, really. They came out because they were fed up for a variety of other reasons, and this just provided a suitable kind of catalyst and unifying point."
Navalny's investigations, the recent attempt on his life, and his subsequent imprisonment have already grown Navalny's profile at home and abroad. "When Navalny and his movement strike into topics that interest a wider range of Russians, Navalny—as the topic—becomes interesting," Gressel said.
That interest might sharpen if Navalny does die, making him a symbol of state brutality and a vindictive justice system, neither of which are a secret in Russia. "If his followers can frame his death in that way and he becomes a symbol of that, the legacy becomes a problem for Putin," Gressel added.
The Kremlin will be sure to spin Navalny's potential death to its benefit. "I guess the Kremlin will frame it as, 'Navalny is weak, the West should send better agents who are man enough to put up with the Russian prison system,'" Gressel said. "If they convince the large part of the Russian population that that is the case, then basically Navalny will die and be buried somewhere, and that will be it."
Navalny's untimely death would also likely bring more sanctions, and certainly more condemnation from abroad. But outside pressure has done little to force Putin's hand in the past.
"I think they have priced that in," Gressel said of the Kremlin and its top officials. "If they have a villa in Tuscany, they might think of selling it. But if not, they won't care...I don't think they feel enormously threatened by it."
Galeotti added that the previous round of sanctions over Navalny's treatment hinted at limited Western interest, for all the public condemnation and political posturing. "We saw actually a pretty lukewarm response to when actually Navalny's own people requested international assistance," he said "We saw some sanctions which were really the least that they could get away with doing."
Navalny's death, as Galeotti put it, would be "significant but not existential" for Putin and his allies.
Biden and the European Union have bigger Russia worries. Both are nervously watching the Ukraine-Russia border, where more than 100,000 Russian troops are now believed to be deployed for spring military drills.
With the war in Donbass dragging on, there is concern that Moscow might launch a cross-border offensive into Ukraine or send fresh weapons and soldiers to support its separatist allies, who are still fighting against the Western-facing government in Kyiv despite years of ceasefire efforts.
Pentagon Press Secretary John Kirby described the build-up as "very seriously concerning." Russian forces have also closed off airspace over Crimea and a significant portion of the Black Sea for military exercises, in what Ukrainian officials have described as an attempt to undermine Ukrainian businesses and extend full control over the area.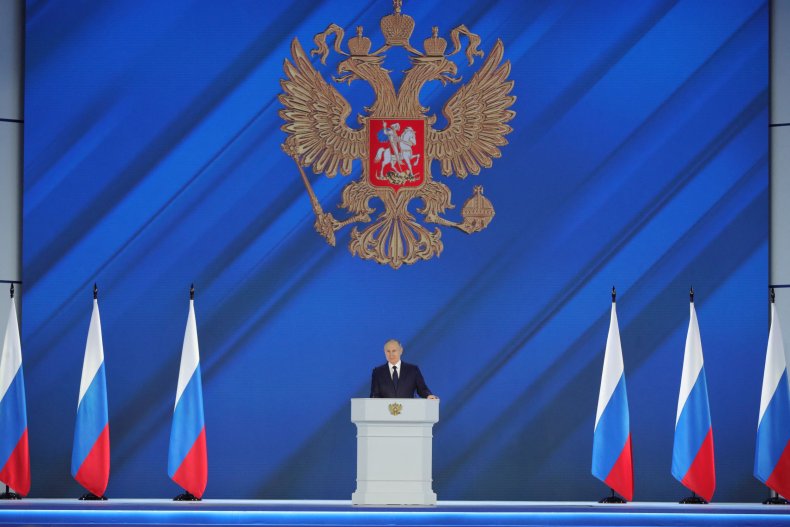 Internationally, Putin has come under increasing scrutiny over Russia's covert influence programs against foreign rivals, and its assassination and intimidation program against dissidents both at home and abroad.
With Biden now in the White House, Putin faces a more difficult and fractious contest with the Americans. While former President Donald Trump did not let Moscow have its own way on all fronts, four chaotic years of his administration allowed Putin to advance Russian interests abroad and chip away at American democracy, encouraging social tensions and meddling in elections.
Already, Biden's administration has announced new sanctions on Russian companies and individuals over the Navalny assassination attempt, meddling in U.S. elections, and the SolarWinds hack. Russia has vowed retaliation, and its leverage in Ukraine offers Putin a way to throw the White House off-balance.
Putin also has a window of opportunity as Biden settles into the White House, seeking to rein in the coronavirus pandemic and guide the nation through serious social unrest.
Putin is drawing up his battle lines, deciding who is useful and who is a threat. "The Europeans are not a threat, but more of an asset," Gressel said. "Biden and the Democrats with their human rights agenda are a threat. He's moving along these lines." Gressel added: "They feel frightened by the Biden administration, they have their own security paranoia."
Petrov explained: "It's also very important to demonstrate that, regardless of who is in the White House, Russia has the right to do whatever it wants" in Ukraine, as well as in Belarus—where the Kremlin helped ally President Alexander Lukashenko survive mass protests and demands to resign.
In Ukraine, Moscow is using the start of the annual campaigning season—the snow and ice having thawed and the resulting mud having dried—to push back on President Volodymyr Zelenskiy, who himself has been applying pressure on oligarchs tied to Russia, particularly those running pro-Kremlin television and media organizations.
"Moscow is fed up with the stalemate," Galeotti said of the simmering Donbass war. "There is, I think, a hope that they could try and force Kyiv back to the negotiating table, and on terms that are favorable to Russia." He added: "I think the Russians wanted to try and push on Ukraine earlier. But obviously, there's just no point in trying to do it during the COVID crisis."
Putin still wields unquestioned power in Russia with no realistic alternative leaders. But the president is coming off the back of a difficult year, his tsarist power grab overshadowed by the coronavirus pandemic, which left grand social and economic proposals in tatters.
Putin has long promised prosperity, but the country's mineral-dependent economy has struggled due to sanctions, rising goods prices, inflation, and, more recently, the pandemic. Incomes have fallen by around 10 percent since 2014 and poverty is rising fast. At his Wednesday address, Putin promised a raft of investment to ease the pain, but many people are angry and increasingly desperate.
Navalny and the popular movement coalescing around him are unwelcome complications. While the pro-Navalny movement struggles to operate without its leader—and with no clear replacement—Moscow's crackdown could indicate a more rigidly authoritarian ideological shift.
Galeotti described Putin's regime to date as "post-modern authoritarianism," one that "relied on controlling the narrative, rather than actual force on the streets." But the poison attack on Navalny was a more "traditional" authoritarian play, one from which it may be hard to retreat.
"Once you've basically decided that everyone who is opposed to you is an extremist or a terrorist, and therefore needs to be suppressed, re-educated or just stuck behind bars, well then in a way you pick your fight," he said.
"And these kinds of regimes, as we know unfortunately, can survive for quite some time. But they can't step back, and these regimes will ultimately fail."
"Paranoia is now dominating policy," Galeotti said. The Kremlin is believing its own propaganda, that any challenge to Russian regional hegemony represents a U.S.-instigated plot. In Ukraine, Belarus, and with Navalny, Moscow sees the shadowy hand of the CIA and Washington.
The paranoid fortress mentality will only get worse as Biden exerts more pressure and Putin ages, with no clear successor or transition plan in place. The president has proven reluctant to surrender power, and recently passed a new law that might keep him in office until 2036.
"This is about the fifth column that is being generated precisely to bring down Russia from without," Galeotti said of the Navalny crackdown. "That's why it's not just appropriate, but necessary, to deal with it very forcefully."