Alexei Navalny a Warning to Putin Challengers as He Condemns 'Traitors'
Russian opposition leader Alexei Navalny was sentenced to nine years in a maximum-security prison Tuesday on fraud charges. Navalny's punishment came only days after Russian President Vladimir Putin railed about "traitors" in his country, and critics have suggested Navalny's stiff sentence was sent as a warning to those critical of the war in Ukraine.
On March 16, Putin delivered a speech during a government meeting in which he warned about Russian "traitors" that he claimed the West was attempting to use as a "fifth column" to destroy the country. The Kremlin has also been waging an information war against dissidents to the invasion of Ukraine, with state media portraying the attacks in the country as a "special military operation." Meanwhile, thousands of protesters have been detained in Russia since the military attacks began on Ukraine on February 24.
Lithuania's Ministry of Foreign Affairs was among those who condemned Navalny's sentencing and Putin's attempts to silence his critics in light of the war in Ukraine.
"We condemn today's politically motivated sham court decision on new criminal charges to Navalny for his fight against the corrupt #Kremlin's regime," the ministry wrote on Twitter. "It reflects the persistent regime's policy to purge Russian voices, who stand up to the regime & its war against #Ukraine."
Navalny may be the most extreme case of a prominent Kremlin critic being punished, by Marina Ovsyannikova has similarly been smeared by Russian state media. The Russian journalist notoriously protested the war in Ukraine by interrupting a live television broadcast from the channel where she worked on March 14.
Ovsyannikova was fined last week for her actions and could still face more charges that carry a maximum penalty of years in prison. Over the weekend, her motivations were also questioned and her personal character impugned by Channel One, her former employer.
On Monday, the head of Channel One's news division, Kirill Kleimyonov, claimed during an on-air segment that Ovsyannikova had been communicating with the U.K. embassy prior to her protest.
"Marina Ovsyannikova spoke with the British embassy. Who of you has ever negotiated with a foreign embassy?" Kleimyonov said, according to a translation by Business Insider, without providing evidence of the claim. "I mean to call a spade a spade, that's all. An emotional outburst is one thing, but betrayal is quite another."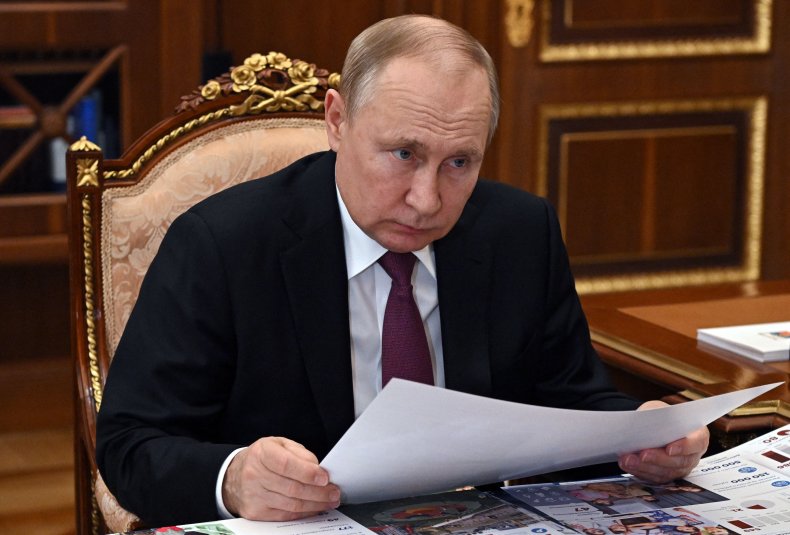 In a recent interview with the German website Der Speigel, Ovsyannikova maintained that she is a Russian patriot and that, while afraid, she doesn't want to leave the country.
Navalny also remained defiant following his Tuesday sentencing. During a Twitter thread, he also called on fellow opponents to Putin to keep on fighting. He encouraged "[a]ny activity against the deceitful and thievish Putin's regime. Any opposition to these war criminals."
Newsweek reached out to the Russian Foreign Ministry for comment but did not hear back in time for publication.