Alexei Navalny's Aides, Brother Put Under House Arrest Ahead of Weekend Protests in Russia
The brother and political aides of jailed Russian opposition leader Alexei Navalny, along with various activists, were placed under house arrest on Friday ahead of new protests expected to take place this weekend.
A Russian court ordered the arrests as part of a Kremlin crackdown targeting Navalny's allies after massive rallies last week demanded that the government release him from jail.
Navalny's supporters are expected to hold more protests across the country on Sunday. In response, Moscow police announced plans to close seven metro stations and streets surrounding the Kremlin, Reuters reported Friday.
Among those placed under house arrest until March 23 were Navalny's brother Oleg, prominent aide Lyubov Sobol, and Maria Alyokhina, a member of the Pussy Riot punk band.
The coordinator of Navalny's Moscow office, Oleg Stepanov, and Anastasia Vasilyeva, head of a medical workers' union critical of the government, were all also placed under the restrictive orders for two months, The Moscow Times reported.
The court ruled that the political activists and aides had violated restrictions related to the coronavirus pandemic by calling for people to join protests.
Last weekend, tens of thousands of protesters gathered across Russia in support of Navalny—one of Putin's most prominent critics—after he was arrested and sentenced to jail for 30 days in violation of parole. The demonstrations led to nearly 4,000 detentions across 120 cities, with several participants facing felony charges
Navalny was detained on January 17, immediately after he returned to the country following his recovery from a chemical nerve agent poisoning in August. He has since accused Putin of ordering his poisoning.
The Organization for the Prohibition of Chemical Weapons, as well as laboratories in Germany, France and Sweden, assessed in October that Navalny had been poisoned by a type of Novichok nerve agent known to be used by Russian agents.
Putin and other Russian officials have since denied their involvement in the poisoning, and said that Russian agents would have finished the job if they wanted him dead, according to Reuters.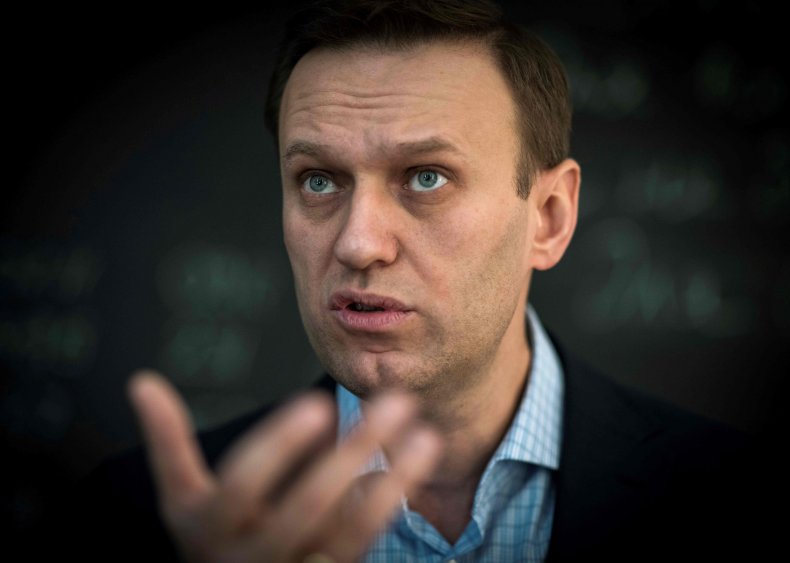 Navalny says his most recent arrest is an effort to silence him and his supporters. In a message from jail on Thursday, Navalny urged Russians to stage new rallies this weekend.
"The majority is on our side. Let's wake them up," he wrote from Moscow's Matrosskaya Tishina, a high-security detention center, The Moscow Times reported.
The United States government and European officials have backed Navalny's claims, and called for his release and a thorough investigation into the poisoning.
On Monday, White House press secretary Jen Psaki said that the U.S. is calling for Russia's "immediate and unconditional" release of Navalny.
"I'll just reiterate our call from here on Russian authorities to release all those detained for exercising their universal rights," she said.
"We also urge Russia to fully cooperate with the international community's investigation into the poisoning of Alexei Navalny and credibly explain the use of a chemical weapon on its soil," Psaki added.
President Joe Biden spoke with Putin for the first time since taking office on Tuesday and confronted the Russian leader about Navalny.
In a summary email to Newsweek on Biden's Putin call, the White House said, "President Biden made clear that the United States will act firmly in defense of its national interests in response to actions by Russia that harm us or our allies."
Newsweek reached out to the White House for additional comment but did not hear back in time for publication.