The Rise and Fall of Alina Habba
Alina Habba's role as one of Donald Trump's most trusted attorneys may be coming to an end after just over a year.
On Monday, it appeared that Habba was no longer representing the former president in the lawsuit filed against him by former Elle columnist E. Jean Carroll, who accuses Trump of raping her in the mid-1990s. The former president has denied the allegations.
Instead, Trump has hired high-profile criminal lawyer Joe Tacopina to represent him in the sexual battery and defamation suits due to head to trial in April.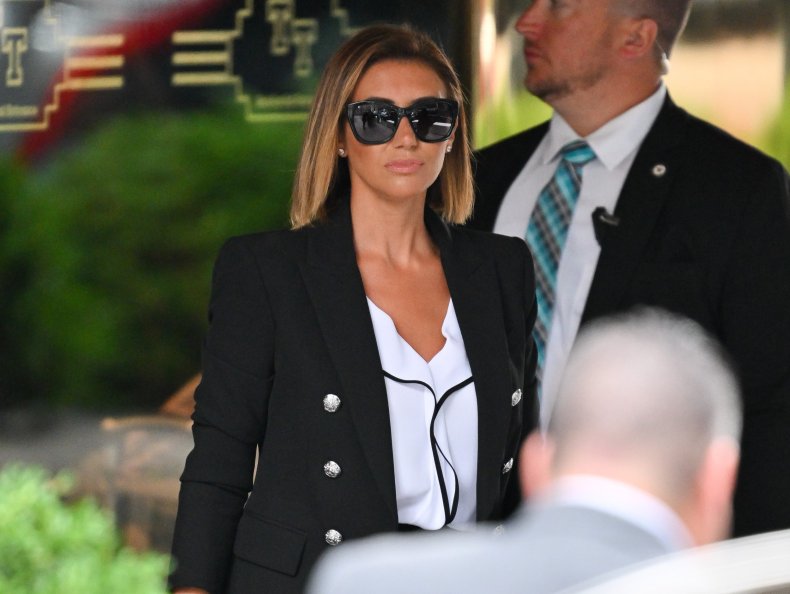 Habba downplayed the significance of Tacopina replacing her as Trump's lead counsel in the Carroll case.
"While I appreciate the left-wing media's attempt to fabricate any story to fit their narrative, I am so happy to have Joe step in and assist," Habba told Newsweek.
"I handle a half a dozen cases for the president and there is no one more in the president's corner outside of his family than I am."
The decision to remove Habba from the Carroll suit arrived days after Judge Donald Middlebrooks of the U.S. District Court for the Southern District of Florida sanctioned Habba, along with Trump, for filing "frivolous" lawsuits against Hillary Clinton and former FBI director James Comey, among others.
The suits—thrown out by Middlebrooks in September 2022—accused Clinton, the federal government, and other Democratic figures of conspiring to damage Trump's chances of winning the 2016 election by weaving "a false narrative" of his campaign's alleged ties to Russia.
In his ruling ordering Trump and Habba to jointly pay nearly $938,000 in legal costs for the 31 defendants, Middlebrooks said the suits were "drafted to advance a political narrative" and should "never have been brought."
"Its inadequacy as a legal claim was evident from the start. No reasonable lawyer would have filed it," the judge wrote in his ruling. "Intended for a political purpose, none of the counts of the amended complaint stated a cognizable legal claim."
Habba was first hired by Trump in September 2021 after having previously worked at a small law firm in New Jersey, located just a few miles from the former president's Bedminster golf club.
She was brought in to replace senior attorneys who had worked for Trump for years, including Marc Kasowitz and Charles Harder.
Almost immediately, Habba made headlines after she filed a $100 million lawsuit on behalf of Trump against The New York Times and his niece, Mary Trump, following the paper's publishing of his tax returns in 2018 and articles claiming Trump and his father allegedly used schemes to avoid paying tax.
Last year, associates of Trump reportedly expressed concerns that the former president was using an "inexperienced" lawyer to stop New York Attorney General Letitia James from carrying out a civil investigation into allegations The Trump Organization inflated or decreased the value of their assets and properties for financial perks.
"He has some lawyers that are very sophisticated with years of experience litigating, and he has now fallen prey to inexperienced lawyers who are just telling him what he wants to hear," an unnamed source close to the former president told Axios in January 2022.
In a response to the news website at the time, Habba said: "It is a sad day when the press finds the need to belittle someone who has elected not to work at a 'white shoe' firm but has rather opted to build and manage her own law firm."
As well as the assault lawsuit filed by Carroll, Habba represented Trump in a defamation lawsuit brought by former The Apprentice contestant Summer Zervos.
Zervos accused Trump of sexual assault and claimed he damaged her reputation while denying the claims. Zervos eventually dropped the suit she first filed in 2017—years before Habba was hired by Trump—in November 2021.
Habba also worked with Trump in the case involving protesters who had sued the former president after they were allegedly attacked by his security team at New York's Trump Tower in 2015, which was settled in November 2022.
After Middlebrooks sanctioned Habba and Trump over the Clinton case, the pair voluntarily dropped two lawsuits against James which sought to block her investigations into the former president and his businesses, which the judge previously warned were also "vexatious and frivolous."
Update 02/02/23, 2:09 a.m. ET: This article has been updated with comment from Alina Habba.