'All Wars Come to an End,' Mattis Says, Reporting Taliban Interest in Afghan Peace Talks
Defense Secretary Jim Mattis discussed prospects for victory and peace talks to end the 17-year-old war in Afghanistan during an unannounced visit to Kabul.
The Pentagon chief defined the final goal of the conflict as political reconciliation between the warring parties rather than a military victory. Mattis said the Afghan government, which offered talks without preconditions to the Taliban last month, should lead reconciliation efforts with the insurgent factions who have expressed interest in talks.
The strategy, Mattis said, is to "peel off" those militant elements who may be tired of fighting, while continuing to pursue a peace process with the Taliban leadership. "It may not be that the whole Taliban comes over in one fell swoop. I think that would be a bridge too far right now to expect, but there are elements of the Taliban clearly interested in talking to the Afghan government," Mattis told reporters.
For the first time, reporters were asked to withhold publishing their stories until arrival at the U.S. coalition headquarters in Kabul—a security concern dictated by the rocket attack against the Kabul airport a few hours after Mattis visited in September.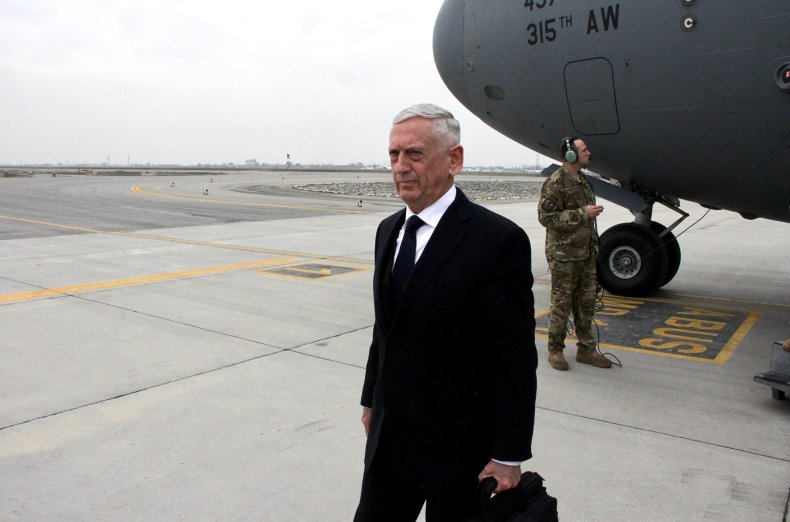 The Taliban have waged an insurgency to restore Islamic rule since being overthrown by the U.S.-led coalition in 2001 in the wake of the 9/11 attacks.
More than 2,000 U.S. soldiers have died in the conflict, America's longest foreign war, and nearly 3,500 Afghan civilians were killed last year, a record-high number.
After a bomb attack against an ambulance in January killed more than 100 people, Afghan President Ashraf Ghani offered talks, proposing to recognize the Taliban as a legitimate political group, a ceasefire and a release of prisoners. The Taliban leadership has so far refused to negotiate with the Afghan government, proposing talks with Washington instead.
Taliban representatives have also shunned an Afghan peace conference scheduled to take place in Uzbekistan at the end of March, in which participants are expected to call for direct talks between the insurgents and Kabul.
The talks do not mention a withdrawal of U.S. military and NATO troops, whose numbers have increased since President Donald Trump's election. "All wars come to an end," Mattis added, according to the The Washington Post. "You don't want to miss an opportunity because you weren't alert to the opportunity. So, you need to have that door open, even if you embrace the military pressure."