All 'The Wire' Actors Who Star in 'We Own This City'
We Own This City sees David Simon return to the city of Baltimore for the first time since creating The Wire two decades ago.
The HBO true crime drama explores the creation and ultimate corruption of the city's plain-clothed police unit the Gun Trace Task Force (GTTF), with Jon Bernthal taking on the lead role of Sergeant Wayne Jenkins.
Simon collaborated on the show with George Pelecanos, who told Newsweek he felt the show was a natural successor to The Wire and that he wanted to make it with Simon and The Wire producer Nina Noble because they could "round up some of The Wire writers as a karmic thing."
Pelecanos explained that he thought they could "get the band back together and go back to Baltimore and make a coda to The Wire 20 years later."
Not only did the duo bring back people they worked with on The Wire behind the camera, they also cast several actors who appeared in the iconic HBO show.
Here is everything you need to know about The Wire actors who appear in We Own This City.
All 'The Wire' Actors Who Star in 'We Own This City'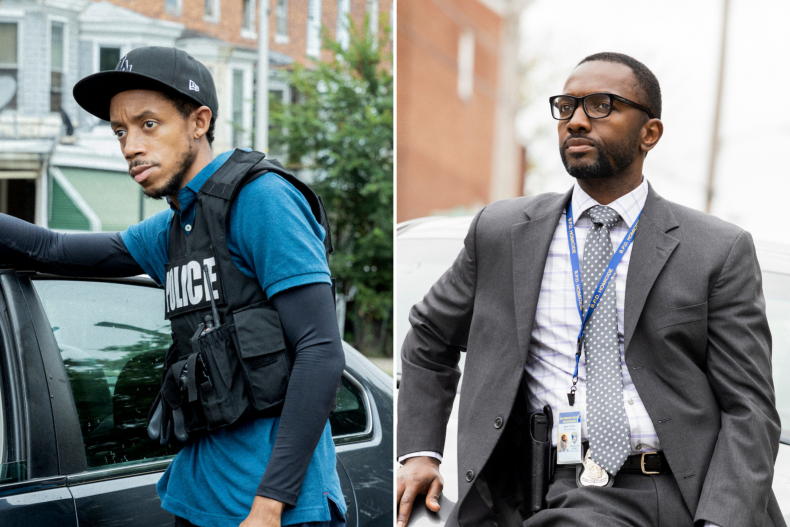 1. Jamie Hector
At the forefront of We Own This City is Jamie Hector, who was Marlo Stanfield in The Wire and he plays police officer Sean Suiter and in We Own This City.
Suiter was a detective who died a day before testifying in court against the officers. A medical examiner ruled Suiter's death a homicide, while the police's internal review board labeled it a suicide.
Of bringing the pair back for the new show, Pelecanos said: "I know Jamie outside of work, you know, we're friends... if you only know him as Marlo you [might] think he's this cold blooded, vicious person, but he's actually closer to Sean Suiter. He's a very spiritual soulful guy, and, and we thought he'd be really good in that role.
2. Darrell Britt-Gibson
Darrell Britt-Gibson is also one of the lead cast members in We Own This City and he portrays Jemell Rayam, one of the members of the GTTF.
The actor appeared in The Wire as Darius "O-Dog" Hill, who was a member of Stanfield Organization.
Pelecanos said of Britt-Gibson: "Darrell had a sort of a personal connection to the subject, he had an uncle who was shot and killed by police.
"We welcome all the different types of people with different views that come into something like this, we'd like to collaborate with that. Darrell was fantastic in this role, really good."
3. Jermaine Crawford
Britt-Gibson and Hector are also joined in the cast by Jermaine Crawford, who portrays Baltimore police officer Jaquan Dixon in We Own This City and starred in The Wire as Duquan "Dukie" Weems from 2006 to 2008.
4. Bobby J. Brown
Bobby J. Brown has also reunited with Simon and Pelecanos to portray Sergeant Thomas Allers, a senior member of the GTTF, in We Own This City. In The Wire, Brown portrayed a police officer who shared his name, Bobby Brown.
5. Tray Chaney
Tray Chaney first appeared in The Wire as Malik "Poot" Carr, and he stars in We Own This City as narcotics officer Gordon Hawk.
6. Delaney Williams
Delaney Williams is another The Wire alum to appear in the new HBO show, in which he appears as Baltimore Police Department Police Commissioner Kevin Davis.
In The Wire, Williams portrayed squad sergeant Jay Landsman.
7. Domenick Lombardozzi
Another We Own This City cast member who first worked with Simon on The Wire is Domenick Lombardozzi, who played Detective Thomas "Herc" Hauk in the HBO classic and now takes on the role of Stephen Leary.
We Own This City airs Mondays on HBO.