Alleged Buffalo Shooter Called 'Coward' by Unknown Woman After Hearing
During a court hearing on Thursday, Payton Gendron, who has been accused of killing 10 people and injuring three others at a Tops Friendly Market in Buffalo, New York, was indicted in connection with Saturday's shooting.
As Gendron was taken out of the courtroom, a woman yelled: "Payton, you're a coward."
The woman hasn't been identified, but news station WIVB reported that she sitting in the family section of the court.
Gendron was indicted on a charge of first-degree murder Thursday. In a statement provided to Newsweek, Erie County District Attorney John J. Flynn said proceedings in the case will continue on June 9.
"The defendant continues to remain held without bail. At this time, the defendant remains charged with one count of Murder in the First Degree in Buffalo City Court," Flynn said.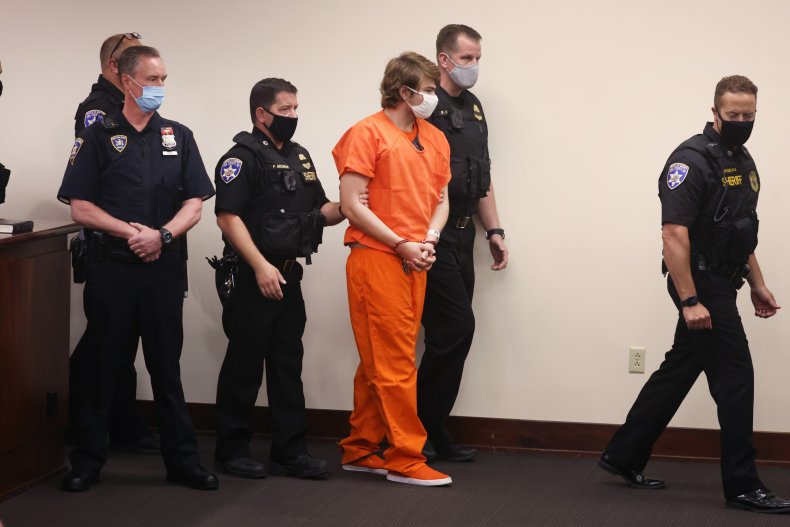 "As indicated by prosecutors in Court this morning, the Grand Jury has voted to indict the defendant. The Grand Jury investigation has not been completed. Our office cannot comment further until there is an indictment reported to the Court following a complete investigation by the Grand Jury. As are all persons accused of a crime, the defendant is presumed innocent until proven guilty in a court of law," he added.
Following the shooting, a memo believed to be written by Gendron surfaced online containing white supremacist, anti-immigrant views. Erie County Sheriff John Garcia said during a news briefing on Saturday that the deadly attack was a "racially motivated hate crime."
New York news channel WGRZ reported this week that a dispatcher in New York allegedly hung up on a woman—identified as a Tops assistant manager—calling from the supermarket for help during the mass shooting.
"I tried to call 911, and I was whispering because I could hear him close by," the employee said. "And when I whispered on the phone to 911, the dispatcher started yelling at me saying 'Why are you whispering? You don't have to whisper.' And I'm trying to tell her, like, 'Ma'am, he's in the store. He's shooting."
Buffalo Police Commissioner Joseph Gramaglia told ABC News this week that investigators believe Gendron intended to carry out more violence after the shooting at the grocery store.
"We have uncovered information that if he escaped the [Tops] supermarket, he had plans to continue his attack. He had plans to continue driving down Jefferson Avenue to shoot more Black people ... possibly go to another store [or] location," Gramaglia said.